YARPN invites you to our next 48th Networking Social, where you will be able to meet interesting, ambitious Russian speaking professionals
About this Event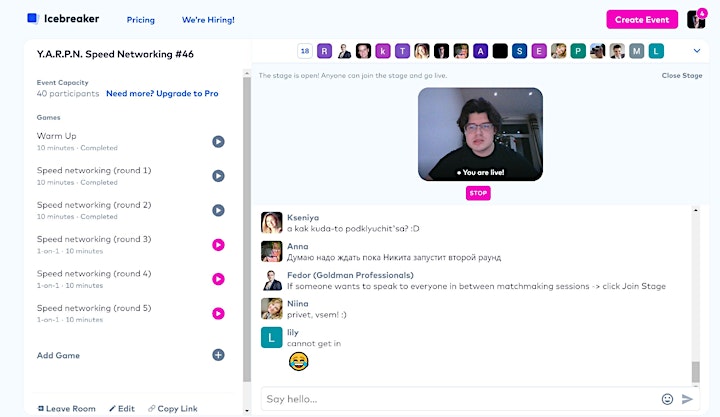 Young Anglo-Russian Professionals Network (https://www.linkedin.com/groups/8490249) invites you to our next 48th Networking Social, where you will be able to meet many interesting, ambitious young Russian speaking professionals, living and working in London.
To make your evening pleasant and networking more effective, we run speed-networking sessions on the first Friday of each month since March 2016. During COVID we adopted our famous offline wristband table-numbering system to a 1-to-1 video speed networking via Icebreaker app! We highly recommend all guests to have their cameras ON for the full face-to-face networking experience and keep the dress code to smart casual.
Don't worry about exchanging contact information with your matches — you'll receive an email after the event with links to get in touch.
~~FULL DETAILS:
~FORMAT: After the short 8min group chat and intro, you will be split into 1-to-1 rooms using the icebreaker.video app. After 10 minutes the system will automatically allocate you to the next 1-to-1 room. You will have 8 rounds in total.
~WHEN: Friday, 5th of March 2021, between 19:00 and 20:30 UK time
~WHERE: icebreaker (you will recieve the unique link in the email after you buy the ticket)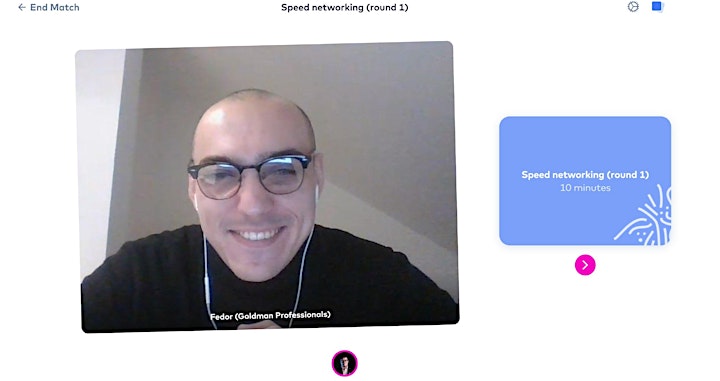 ~~HOW TO PREPARE FOR THE EVENT:
1) Check your video and audio system 5 minutes before the event
2) How to introduce yourself in 4 minutes:
- short bio (where did you study, where do you work now)
- what can you offer (share experience applying/working at your job, any connections)
- what are you looking for (advice on a career change, a good book/course on the topic)
- hobby or fun fact (hiking, pair dancing, singing etc. Yes, you must mention at least 1! Don't be shy)
3) YARPN Challenge! Get yourself a unique drink (alcoholic or non-alcoholic) and mention why your cocktail is special during your intro. It can be an easy way out if you are unsure about what to say in the hobby/fun fact part of your introduction.
~~USEFUL LINKS
to stay in touch with YARPN community outside the regular events
1) YARPN is introducing Telegram channel which should become the main platform for members communication outside the events. Please join the group using the link today:
Y.A.R.P.N: Main Group (jobs, offers, help, etc)
https://t.me/joinchat/GKeaH0gStzPDDkh3iUPcvw
Please use #bio and write a short note as you enter this chat. The next step is to offer something to other members (use #offer_help) before seeking some benefits for yourself (use #seek_help). Learn about other tags in the pinned message and try to click on them to see their usefulness.
2) You can also introduce yourself on a GoogleSheet and ctrl+F other YARPN members/interests/mentors:
https://docs.google.com/spreadsheets/d/14P4tze0t9i3ow1hEhhqC45ksnz1s930da4bdgqP3xhQ/edit?usp=sharing
3) Other YARPN Telegram chats for activities (you can always create your own! e.g. to go hiking or jogging, just suggest it in the main group with #create_channel):
Y.A.R.P.N: Tennis
https://t.me/joinchat/GKeaHxfMHEN--8FvXOaHEg
Y.A.R.P.N: Salsa/Bachata/Tango/Jive
https://t.me/joinchat/GKeaHxu4WndZRfFRHCDfug
Y.A.R.P.N: Football
https://t.me/joinchat/GKeaH0tLiqdADS7r3ufJDA
Y.A.R.P.N: memes and jokes
https://t.me/joinchat/GKeaH1ewuPLqfCb2pjtW7Q
~~CONTACT US / FEEDBACK:
If you have any questions, comments or wish to discuss a partnership/promotion of your products, please do not hesitate to contact us directly via email, on our Facebook or Linkedin pages.
Email (enquiries@yarpn.com)
LinkedIn (https://www.linkedin.com/groups/8490249)
Website (https://yarpn.com)
Telegram (https://t.me/joinchat/GKeaH0gStzPDDkh3iUPcvw)
Facebook (https://www.facebook.com/YARPN/)
Instagram (https://www.instagram.com/y_a_r_p_n/)
Twitter (https://twitter.com/y_a_r_p_n)
~~OUR MEDIA PARTNER:
ZIMA Magazine is one of the most recognised Russian-speaking media project based in London, which is comprised of a website zimamagazine.com, a print magazine ZIMA and an offline-community ZIMA Club. We write about important social, economic and cultural aspects of living in the country, support, inspire, give advice and introduce our readers to the prominent people. Among its audience, ZIMA has successful professionals, HNWI and students, who live, study and work in the United Kingdom, as well as who are planning to either relocate or just visit the United Kingdom.
Zima in Numbers:
- Over 260,000 unique visitors and more than 365,000 page views per month for www.zimamagazine.com;
- The circulation of 10,000 copies and distribution across 377 the most prestigious London locations and via subscription;
- More than 20 events of ZIMA Club per year
Date and Time
Location
Refund Policy