No experience needed & All materials provided. Free step by step visual process cards.100% proceeds funds Nottingham wellbeing initiatives
About this event
Good News! Next Year 2022 Painting Invitations are open for everyday locals living within Nottinghamshire.100% Refund will apply if any changes occur.
Painting for self expressions, living/working spaces and desired causes are our favourite ways to express gratitude. Our collection of uplifting art are inspired by acrylic gloss landscape artworks gifted to Nottingham based supported housing enterprise and motor neurone disease charity.
For curious thoughts, you may email us at myartuplifts@gmail.com to inquire about fundraising and team art socials for communal and charitable initiatives.
You're always welcome to join us for bi-weekly and monthly socials!
🎟️ Select your place 🎨Paint 🥂Sip and🍡Nibble
Treat yourself to a variety of sips and nibbles at the bar.
Unwind with new people for social expression - great vibes only! Re-energise with diverse locals, meet friends and engage with creative neighbours.
Variety of hand-painted landscape templates inspired by local snaps for your inspiration. Simply have fun experimenting with step by step visual process cards - free to express your unique flair!
Encouraged by our seasoned artist(s) as we group share free flowing tips and techniques.
Paint for personal decor, gift to loved ones and donate to a desired cause. Together, we are creating our uplifting art collection throughout each bi-weekly or monthly social.
Group art photos - vibrant moments of each creative evening will be captured and flaunted on our socials as we paint.
You are welcome to view kind words by our locals here https://www.myartuplifts.co.uk/kind-word
#MyArtUplifts 🎟️Select your place - Happy socials! 🎨Paint 🥂Sip 🍡Nibble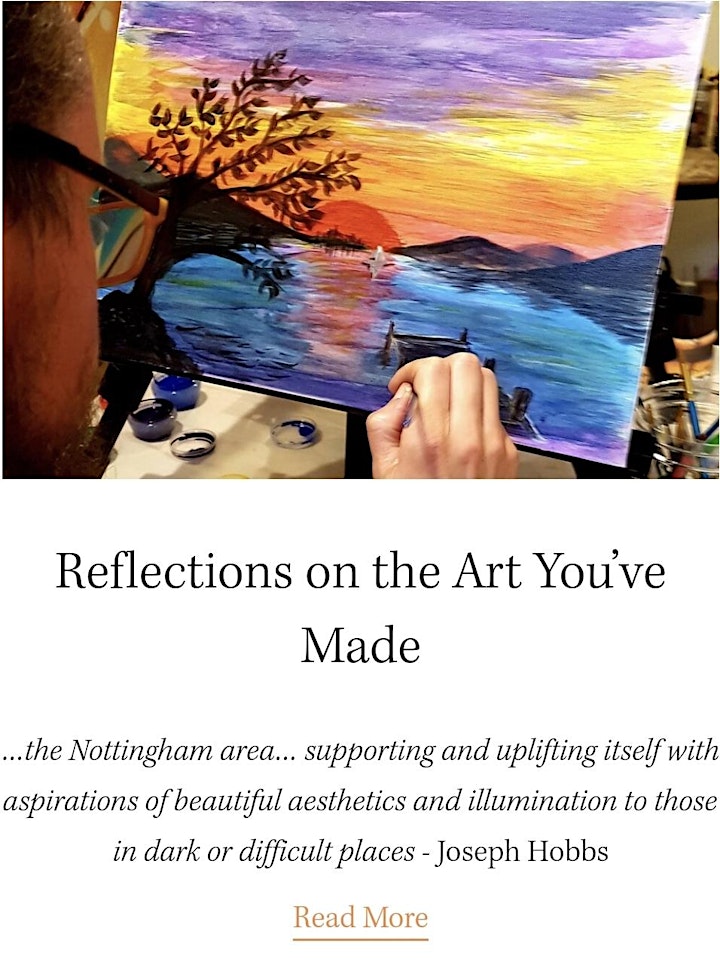 Organiser of Year 2022 Nottingham Social Painting with a Difference! For Everyday Locals
My Art Uplifts A Fine Art Painting Initiative Nurturing Our Social, Mental and Expressive Wellbeing for Healthier Living. A Pop up and Virtual Space for Social Painting with Everyday People from All Walks of Life! Paint Artwork for Living Spaces and Desired Causes to Uplift Wellbeing Initiatives. #MyArtUplifts https://www.instagram.com/myartuplifts/