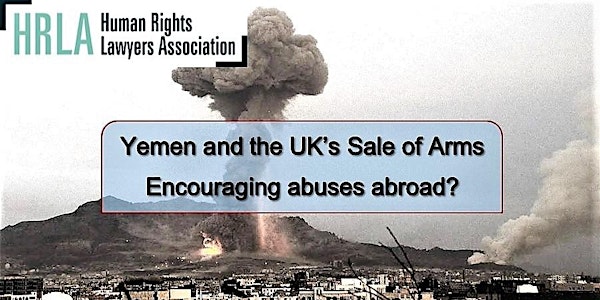 Yemen and the UK's Sale of Arms: Encouraging abuses abroad?
Yemen and the UK's Sales of Arms: Encouraging abuses abroad?
About this event
Join the HRLA for an unmissable online event on 10th November, where our excellent panellists from both domestic organisations and those in the region will discuss legal issues relating to the UK's role in the conflict in Yemen in the context of arms sales.
Over the last 6 years of conflict in Yemen, the United Nations High Commissioner for Human Rights has documented at least 7,825 civilians killed. As of April 2019, Amnesty International had documented 41 Saudi Coalition air strikes that appeared to violate international humanitarian law, with many amounting to war crimes. These particular airstrikes resulted in at least 512 civilian deaths and 433 civilians injured.
In June 2019, UK arms sales to Saudi Arabia were halted after a Court of Appeal decision that the Secretary of State had not made the necessary assessment as to whether Saudi airstrikes in Yemen violated international humanitarian law. In a recent House of Commons statement by the International Trade Secretary Liz Truss, it was declared that the UK granting of export licences to Saudi Arabia would resume, after an official review concluded that there had been only "isolated incidents" of airstrikes in Yemen that breached humanitarian law. CAAT have since issued a new judicial review following this statement.
Drawing on the experiences of our diverse panel of international experts, advocates and activists, we will explore the current rule of law and international responsibility when it comes to the sale of arms.
Chair: Wayne Jordash QC, a founding partner of Global Rights Compliance LLP (GRC), and barrister at Doughty Street Chambers. Wayne is currently engaged in GRC's Yemen Accountability Project and is a world leading expert in international humanitarian law, international human rights law, as well as being internationally recognised in the global network of international tribunals.
Panellists:
Bonyan Gamal, Accountability Specialist at Mwatana for Human Rights. This is an independent Yemeni organization that advocates for human rights through the documentation of violations, provision of legal support to victims, lobbying, awareness raising, and capacity building.
Andrew Smith, head of media at Campaign Against Arms Trade. In 2019, the Court of Appeal ruled in CAAT's favour, finding that government decisions to grant export licenses to Saudi Arabia, for arms that may be used in Yemen, were 'irrational and therefore unlawful'. CAAT have since brought new proceedings this year.
Molly Mulready, former lawyer at the UK Foreign & Commonwealth Office. Molly represented the State in the initial proceedings brought by CAAT in March 2016, before resigning. She has recently made public her view that the current export of arms to Saudi Arabia, by the government she used to represent, is illegal.
Nikolaus Grubeck, barrister at Monckton Chambers. Nikolaus represented the first interveners (Amnesty International, Human Rights Watch and Rights Watch (UK)) in the 2019 Court of Appeal hearing of CAAT's Judicial Review. He has conducted training for military forces, governments, NGOs, journalists and human rights activists on international humanitarian law and civilian protection.
Anna Stavrianakis, Professor of International Relations at the University of Sussex. Anna's first book, Taking Aim at the Arms Trade: NGOs, Global Civil Society and the World Military Order (Zed Books, June 2010), analysed the way that NGOs work for tighter controls on the arms trade.
Introduction by Rehab Jaffer, HRLA Executive Committee and Future Pupil Barrister at Garden Court Chambers.
The HRLA are grateful to One Pump Court Chambers, who will kindly be hosting this event via Zoom.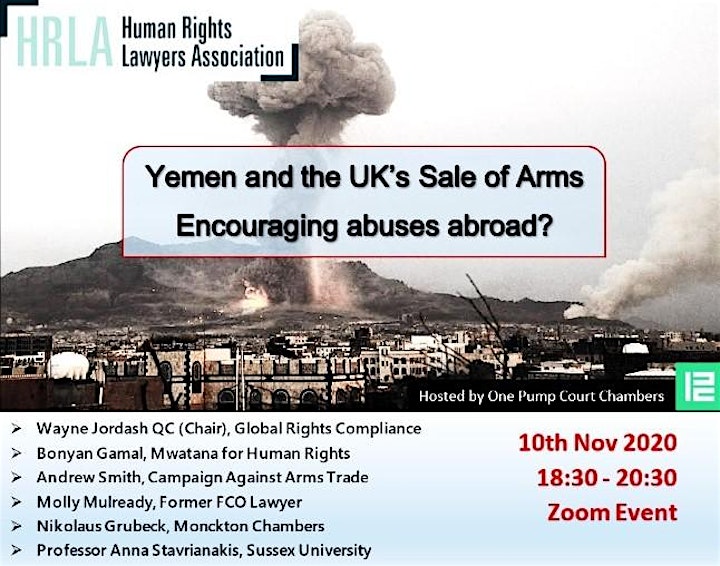 Organiser of Yemen and the UK's Sale of Arms: Encouraging abuses abroad?
The Human Rights Lawyers' Association (HRLA) is a forum for those involved in the law and legal professions to discuss human rights issues. We facilitate the sharing of knowledge and ideas about human rights law and foster the exchange of views between specialists from different areas of expertise and the wider legal community.