Refund policy
Refunds up to 1 day before event
A Holistic journey through Yin yoga, mindfulness & Reiki Healing. Online gathering to support you to unwind and realign body, mind & soul.
About this event
Yin and Reiki invite you to come into stillness, allowing your heart to unfold and release tension and emotions that might be holding you back from living aligned.
It is an ideal gathering for those who loves the meditative feeling of Yin yoga combine with the uplifting feeling of Reiki Healing.
We will travel to the places in your body, mind or soul you may have neglected to be seen, loved or healed.
I will bring you to your safe place, your heart, to cultivate and nourish yourself with loving compassion, acceptance and forgiveness.
Each month we will dedicate our gathering to one of The Five Elements (Water, Wood, Fire, Earth and Air) and to target the areas in your body connected to those elements.
During the class, I will share some wisdom about body meridians, chakras and there will be moments of silent, so you can just be.
This class is designed for everyone and every-body. We will hold asanas (yoga poses) for about 3 to 6mins, not worry if it is your first time, I will guide you with ease.
If you feel overwhelmed and over exhausted come to practice yin, meditate and receive healing with me.
Sometimes the greatest gift we can give ourselves is to trust in what we don't know and see where it takes us.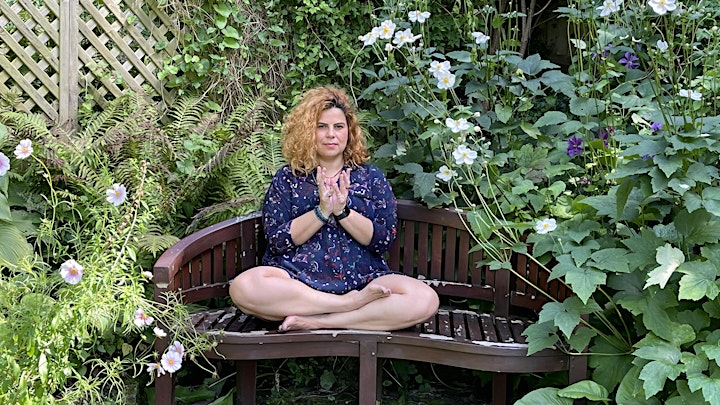 About Me...
Hello, my name is Maria Alfaro.
I am Usui Reiki Master/Teacher & Holy Fire Reiki II practitioner. I am also a Crystal & Sound Healer and Yin Yoga & Mindfulness teacher.
My living purpose is to dedicate my time and being to teach The Gift of Reiki-Ho, and guide those seeking clarity and harmony in their journey of self-healing through my holistic offerings.
𑁍 My three core values are to welcome you with kindness, accountability and warmth.
𑁍 My purpose as Master is to illuminate your path and guide you to become the Master of your own Self.
𑁍 My role as a Healer is simply to lead you home to your heart in a soft, nourishing and empathetic manner.
𑁍 My mission as a Yoga teacher is to guide you through movement back to your authentic self.
Feel welcome to contact me on my email: saraswatisuniversenow@gmail, facebook or instagram account. I would be happy to get to know you.
If you are curious to know more about my offerings, you are welcome to check my page.
Love & Reiki, Maria Alfaro.

Benefits of Yin Yoga
Calms and balances the mind and body.
Reduces stress and anxiety.
Increases circulation.
Improves flexibility.
Releases fascia and improves joint mobility.
Balances the internal organs and improves the flow of chi or prana.
Benefits of Reiki Healing
Relaxes and Releases Tension From The Body
Cleanses Body of Toxins and Supports Immune System
Helps spiritual growth and emotional cleansing.
Clears the mind and improves focus as you feel grounded & centred.
Aids better sleep.
Breaks Down Energy Blocks and Balances The Mind, Body, and Spirit
How to prepare
Create a cosy space at your home (enough for you to be sit and lied down).
If you have a yoga mat is great, otherwise throw a blanket on the floor for your comfort.
Gather a yoga bolster or as many cushions you have (as supportive props), add couple of blankets to roll up and wear your comfy pants and jumper.
Make some tea and have some water with you. Have your journal and pen to write down any thoughts, emotions or ideas might come along the practice.