Description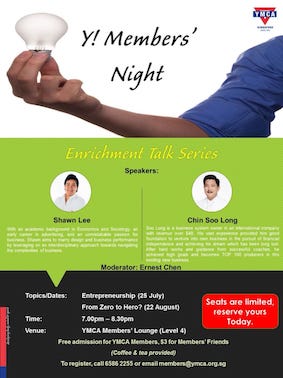 Do you know that independent minds can potenitally breed innovation and inspiration?
On 25 July, 7pm at YMCA of SIngapore, find out from two amazing entrepreneurs who choose the path less travelled in the way they live and think. Shawn Lee will show you how integrating design thinking into businesses, especially in the service industry, can help you create holistic and compelling experiences for your stake holders.
Chin Soo Long will shed light on why he gave up a five-figure salary to build his own business with his work experience and the knowledge he gained from successful coaches.
The two speeches are part of YMCA's Enrichment Talk Series hosted by Dr Ernest Chen. ADMISSION IS FREE FOR YMCA members. Friends of YMCA Members need to pay only $3.00 per pax at the door.
To register, call Tel 65862255 or email to members@ymca.org.sg.