Description
Inspirational Illustration Talks
Yo Illo Talks presents — Crafts in Illustration
We're proud to announce details of the latest event in our ongoing series of inspiring talks, Crafts in Illustration.
In recent years we have seen an increase in the slow-living movement which emphasises conscious living and more traditional manufacturing processes. This has brought with it a resurgence of handcrafts including home knitting, macrame, calligraphy, embroidery and letterpress and paper cutting. The trend has been seen in illustration too, with artists successfully using craft in illustration, and balancing traditional techniques with contemporary ideas.
This December, we have invited two speakers who work in traditional craft methods. We ask them to talk about how they balance the old with the new, their inspirations and how traditional working processes can fit into a digital world.
This free event is open to all illustrators — whether you're a professional, a student or keen enthusiast — as well as art directors, designers, fine artists, typographers, textile designers or anyone who wants to get more involved in the illustration scene. We're a friendly bunch, and we always love meeting new people, so feel free to come along — even if you're by yourself and you don't know anybody, we'll make you feel welcome!

The speakers
Yo Illo are delighted to be hosting two speakers, whose different styles and approaches allow us to understand different aspects of crafts in illustration and to inspire illustrators to develop their own practice.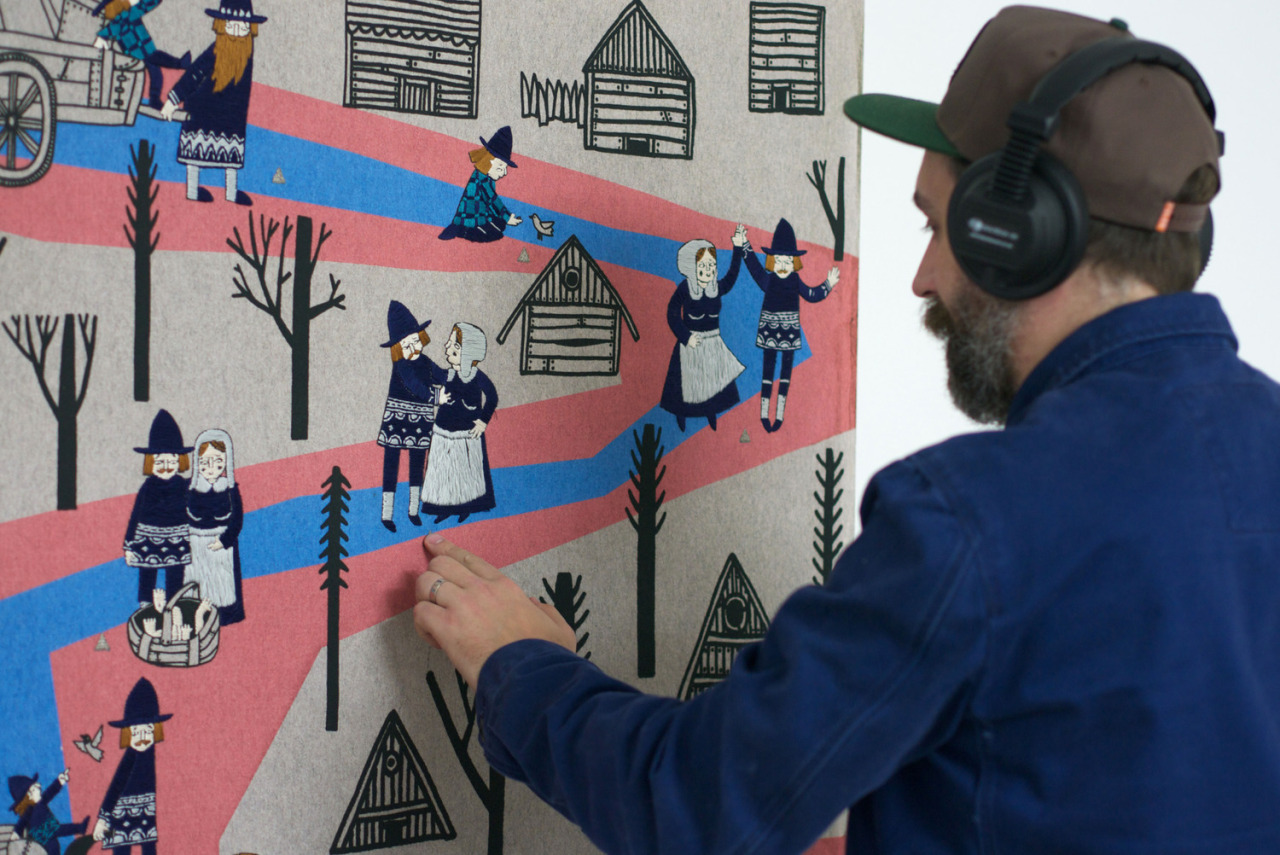 Stewart Easton is an artist who works in hand embroidery and weaving. He uses folk song as a starting point to weave narrative into his large scale embroidered panels and tapestries.
Stewart uses a hybrid technique mixing digital print , and occasionally animation with hand embroidery. Using both modern and traditional methods of creating, he straddles the lines between Craft, Illustration and Fine Art.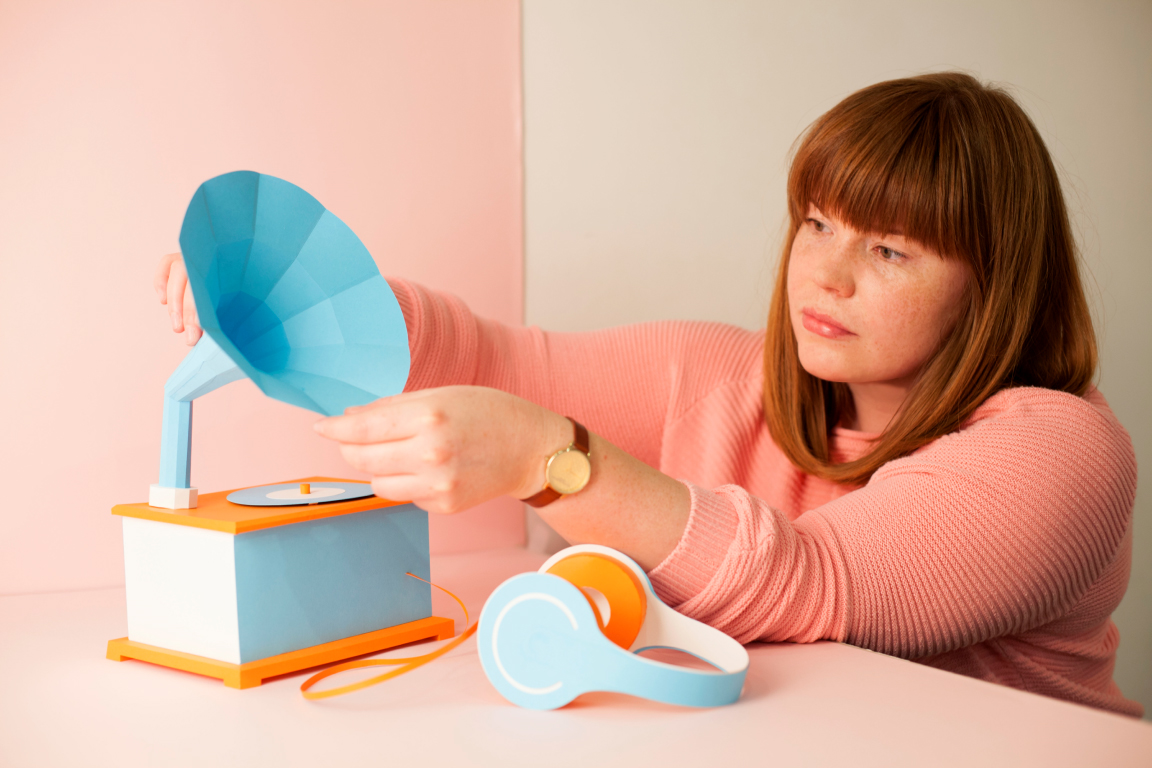 Helen Friel is a paper engineer and illustrator who has worked in London since graduating from Central Saint Martins in 2009. She folds and shapes paper into fun and colourful miniature 3D stage-sets; filled with finely detailed cut-outs to create depth and narrative.
Helen is represented by Debut Art and is a member of renowned Puck Collective. Her clients include TIME, Ascot, Etsy, Vogue and Tatler.
Free beer and pizza! Thanks to FreeAgent

FreeAgent, the award-winning accounting software for sole traders and small businesses, is generously sponsoring Yo Illo Talks for this event and over the next year.
Along with other benefits, this allows us to offer a couple of free beers to all attendees, to help you wind down after a hard day at work, so be sure to help yourself to a bottle when you arrive! (Soft drinks will also be available.) And due to popular demand, we're bringing back the pizzas! There will be a selection of enormous and delicious pizzas from Voodoo Ray's upon arrival, to help you get your evening started properly. Help yourself, but arrive in good time to make sure you don't miss out!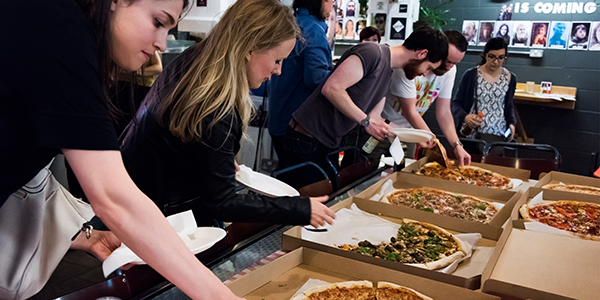 The pub
After the Talks, we will be moving around the corner to a local pub (venue TBC), to continue the evening with our audience and guest speakers, and anyone else joining our regular Yo Illo meetup.
The evening's schedule
6:30pm – Doors open. Help yourself to a drink and a slice of pizza!
7:00pm – Welcome & Introduction to first Talk
7:10pm – TALK 1 — Stewart Easton, followed by Q&A
7:50pm – Short break
8:00pm – Introduction to second Talk
8.05pm – TALK 2 — Helen Friel, followed by Q&A
8:45pm – Close
9:00pm – Move to the pub (The Crown and Shuttle). Also open to non-ticket-holders.
Feedback from previous Yo Illo Talks
"I really enjoyed my experience and learned a lot during the talk, the atmosphere was really nice and everything was positive, so carry on doing the same things!"
"Just such a lovely atmosphere with lovely people. Very insightful and inspiring. I look forward to all future events!"
"I loved the location, speakers and how it's run. I've been twice and both have been an absolute joy."
"Inspiring, educational and fun event with [Yo Illo] last night. Well done team, very much looking forward to the next one."
"The talk was really well run, organised and executed. I'll defintely want to attend again! Thank you!"



Who's behind the event?



Yo Illo is a monthly illustrators' meetup in both London and Berlin. It was created in 2011 by Rob Barrett as a way to help get illustrators away from their desks and to meet each other in the real world. Since then, Willa Gebbie and Kevin Nally have joined the team, helping to organise special events (including these Talks!) and starting and running Yo Illo Berlin.

FreeAgent, the award-winning accounting software for sole traders and small businesses, will be generously sponsoring Yo Illo Talks for this event and over the next year. As well as providing for free drinks for attendees, it secures funds for an event photographer (this helps us with organising future events, and helps our speakers, who are all volunteering their time), and gives us the opportunity to cover travel costs for further-afield speakers, so that we can bring in the best talent from around the country.
You can try a free 30-day trial of FreeAgent here
(I use FreeAgent myself, and recommend it, so feel free to pull me aside with any questions! — Rob)

In order to be able to provide these talks for free, we are delighted to be partnering with the digital product studio, ustwo, who share in our aim of encouraging community and creating opportunities for all.


Can't come to the Talks, or missed out on a ticket?
We do expect to release a second batch of tickets closer to the event, so make sure you either add yourself to the Waitlist or sign up to our mailing list to be notified of any announcments (we'll also let you know about any future meetups or Talks).
If you aren't able to join us for our speaking event, you're very welcome to join us at the Crown and Shuttle pub afterwards, where we'll be having drinks in the usual Yo Illo meetup fashion. We will be there from 9pm.


Are you coming along?
We've created a Facebook Event page, so if you want to show that you're attending, or find out who else may be coming along, be sure to add yourself as 'Attending' over there!