Description
Inspirational Illustration Talks
Yo Illo Talks presents — Political Cartoons
Yo Illo are proud to announce details of latest event in their ongoing series of inspiring talks: Political Cartoons.
Politics seems, well, a bit more interesting recently. The last couple of years have escalated ideas and movements and, whether we like it or not, with multiple referendums and general elections, we have all had to get involved. From refugee crises to terrorist attacks, climate change, Black Lives Matter, Brexit, Trump and Kim Jong-Un, we all now need to have an opinion.
Political cartoons have always held an important role within media. Through satire and caricature, they communicate complex ideas, draw attention to corruption, political violence and incompetency. In no other form of illustration are the artists expected to have such a strong voice.
What does it mean to be a political cartoonist today? How did the attacks at Charlie Hebdo change the industry? How has the internet affected such a traditional medium? We have invited two speakers to talk about their experience of political cartooning; covering everything from classic editorial satire through to contemporary political internet memes.
The speakers
Yo Illo are delighted to be hosting two speakers, who have different experiences of cartoons in current affairs and can give an insight into the inner workings of the journalism industry.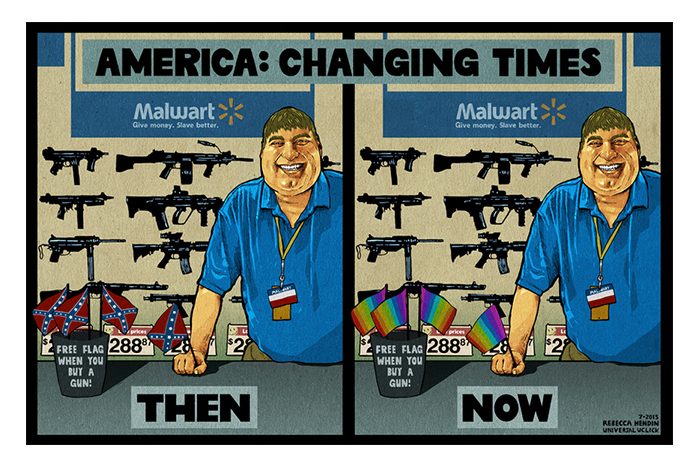 Rebecca Hendin is a multi-award winning American illustrator and cartoonist. She currently works in-house at BuzzFeed UK, and is best known for her work in current affairs and politics. Rebecca's contemporary style embraces animation and her short animated gifs create a new style of modern political memes.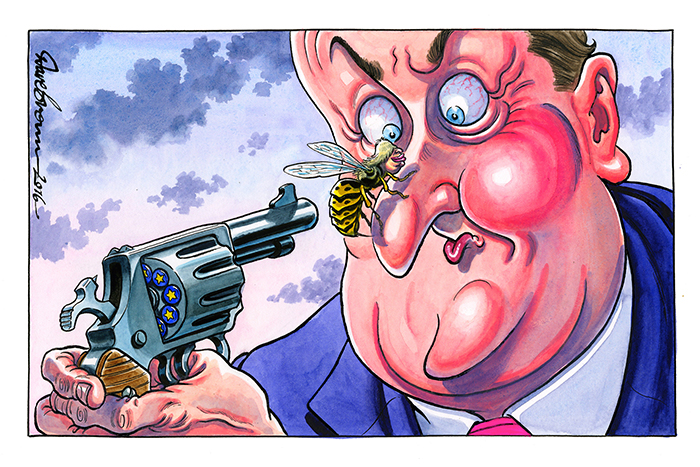 Dave Brown is a visual journalist and political cartoonist for the Independent newspaper. A graduate in Fine Art and a professional cartoonist since 1989, after working for a number of British newspapers and magazines he took up a regular post on The Independent in 1996. He was named Press Award's Cartoonist of the Year for 2013 and, among other . honours, has also won the Political Cartoon of the Year award in 2003, 2006, 2010 and 2012. He has had three collections of his cartoons published, has exhibited widely and his work is held in several major collections.
He lives in North London and is also the drummer in rock band Empire of Rust.

The pub
After the Talks, we will be moving around the corner to The Owl and Pussycat, to continue the evening with our audience and guest speakers, and anyone else joining our regular Yo Illo meetup.
The evening's schedule
6:30pm – Doors open. Help yourself to a drink!
7:00pm – Welcome & Introduction to first Talk
7:10pm – TALK 1 — Rebecca Hendin, followed by Q&A
7:50pm – Short break
8:00pm – Introduction to second Talk
8.05pm – TALK 2 — Dave Brown, followed by Q&A
8:45pm – Close
9:00pm – Move to the pub (The Owl and Pussycat). Also open to non-ticket-holders.
Feedback from previous Yo Illo Talks
"I really enjoyed my experience and learned a lot during the talk, the atmosphere was really nice and everything was positive, so carry on doing the same things!"
"Just such a lovely atmosphere with lovely people. Very insightful and inspiring. I look forward to all future events!"
"I loved the location, speakers and how it's run. I've been twice and both have been an absolute joy."
"Inspiring, educational and fun event with [Yo Illo] last night. Well done team, very much looking forward to the next one."
"The talk was really well run, organised and executed. I'll defintely want to attend again! Thank you!"

Who's behind the event?

Yo Illo is a monthly illustrators' meetup in both London and Berlin. It was created in 2011 by Rob Barrett as a way to help get illustrators away from their desks and to meet each other in the real world. Since then, Willa Gebbie and has joined the team, helping to organise special events (including these Talks!) and starting and running Yo Illo Berlin.

In order to be able to provide these talks for free, we are delighted to be partnering with the digital product studio, ustwo, who share in our aim of encouraging community and creating opportunities for all.


Can't come to the Talks, or missed out on a ticket?
We do expect to release a second batch of tickets closer to the event, so make sure you either add yourself to the Waitlist or sign up to our mailing list to be notified of any announcements (we'll also let you know about any future meetups or Talks).
If you aren't able to join us for our speaking event, you're very welcome to join us at the Owl and Pussycat afterwards, where we'll be having drinks in the usual Yo Illo meetup fashion. We will be there from 9pm.


Are you coming along?
We've created a Facebook Event page, so if you want to show that you're attending, or find out who else may be coming along, be sure to add yourself as 'Attending' over there!