Description
Lunchtime talk:
Yoga in Indonesia
- Dr Andrea Acri (École Pratique des Hautes Études, PSL University, France)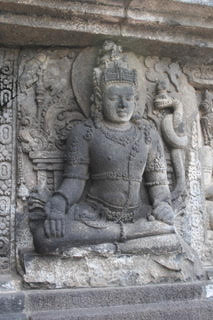 This talk will survey the Indic yoga and meditation traditions that developed in what is now the nation-state of Indonesia, from ca. the eight century CE to the present. It will present evidence from premodern Sanskrit-Old Javanese texts on the philosophical and soteriological traditions of Pātañjala yoga and tantric Śaiva yoga and discuss in a comparative fashion their Indic roots vis-à-vis their local reconfigurations, as well as their continuation into modern Balinese Hindu practice. It will then discuss yoga motifs that have survived in an Islamic garb in Classical Malay texts from Sumatra and in modern Javanese mystical currents.
This event is part of our Yoga Studies Week, for the full listings for this event see our event page at www.soas.ac.uk/yoga-studies/events or go straight to centreofyogastudies.eventbrite.com to book.
Speaker
Andrea Acri (PhD Leiden University, 2011) is Maître de conférences/Assistant Professor in Tantric Studies at the École Pratique des Hautes Études (EPHE, PSL University, Paris). Prior to joining the EPHE in 2016 he has held teaching and research positions in India (Nalanda University), Singapore (NSC-ISEAS and NUS), Australia (ANU), and the Netherlands (IIAS). He studies Śaiva and Buddhist tantric traditions in South and Southeast Asia from a text-historical and comparative perspective. He has published the monograph Dharma Pātañjala (Egbert Forsten/Brill 2011, Aditya Prakashan 2017, and the Indonesian edition by EFEO/KPG, 2018) and a number of edited volumes, including Spirits and Ships (ISEAS, 2017), Esoteric Buddhism in Mediaeval Maritime Asia (ISEAS, 2016), and From Laṅkā Eastwards (KITLV, 2011).
Organiser of Yoga and Meditation Traditions in Indonesia with Andrea Acri
SOAS is leading the way in the new field of yoga studies, which is growing rapidly around the globe. We host the Hatha Yoga Project, a research initiative funded by the European Research Council, which will chart the history of physical yoga practices, and we are one of only four universities in the world to offer an MA in Yoga and Meditation. The Centre of Yoga Studies is a hub for scholars, students and all those interested in yoga and hosts lecture series, seminars and workshops in order to share our work, learn from that of others and develop new collaborations.
Sign up to our Facebook page to stay up to date with news and events.  We also have a YouTube channel with event recordings.