You're warmly invited to this spacious villa with sea & mountain views to practice morning & evening yoga with a fab group. Adventures too!
About this event
Join us on the mat, under the stars and beside the sea for a truly nourishing, nurturing and spiritual journey on the magnetic white isle of IBIZA with Amanda York who is highly experienced in teaching classes and retreats and very knowledgeable in Ibiza to afford you the best experience possible during your stay... you won't want to leave!
Fully sanitised daily for your safety and neg lateral flow tests are requested before arrival
PCR TESTS FOR ENTRY TO UK INCLUDED!
HIGHLIGHTS:-
- Energizing & restorative yoga classes (5 mornings / 5 evenings)
- Guided meditation sessions
- Chakra Cleansing & Pranayama
- Cruise to Formentera
- Snorkelling, SUP, swimming, hiking, diving, hiking etc.
- Guidance by a highly experienced yoga teacher who knows the island well
- Healthy and delicious breakfasts and dinners at the villa
- Full Moon Yoga, Meditation & Mini Pool Party @ Villa
- Trip to the alluring and magnetic Es Vedra and beaches
- Explore the wonders of Ibiza
~~~
You're invited to 60 minute yoga sessions each morning before a deliciously nutritious breakfast served at the villa with free time to relish one of the many excursions or to simply chill at the spacious villa or on the nearby beaches before another nutritious meal, socialise with a lovely group or relax on one of the several balconies with mountain and sea views or lounge around by the pool with a book and have a swim.
End your day with a 90 minute Yin-style yoga class and meditation which will include Pranayama (breath-work) and a deeply restorative final relaxation.
There will be the opportunity to cruise to Formentera, yoga on the beach at sunset followed by a dip in the sea and gorgeous meal at a secret restaurant with a view, a closing night out at the end of the trip or simply kick back and chill with your chosen book at the villa.
There's something for everyone and any age, race, sex and ability is invited. Come solo or bring a friend/partner but HURRY! there's a few spots remaining.
What people are saying:-
"I thoroughly enjoyed retreat, it was amazing. With the aid of Amanda, I completely switched off and focussed on myself, which has not happened in a long while. It was my first experience of this type of event and I will certainly return to learn more about yoga and its benefits" Suzanne
WHAT'S INCLUDED:-
- 5 night's accommodation
- chill at villa with pool
- morning yoga classes
- evening yoga classes & meditation
- daily guidance and assistance with excursions
- photos Emailed to you at the end of your trip
- a pre-travel itinerary and information pack
- GOODY BAG FOR ALL GUESTS!
WHAT'S NOT INCLUDED:-
- air fare
- airport transfers
- holistic therapies
- lunch, snacks etc.
- all excursions
FLIGHTS
Currently rock bottom so be quick!. Ibiza is served regularly from many airports by many airlines who are currently offering flexible fares.
You might want to arrive early / stay on to enjoy more time on the White Isle so please do search on Skyscanner!
PAYMENTS
Due immediately.
There are a mixture of doubles and singles. A single occupancy fee of £200 will apply for a double room. Couples sharing a double room can enjoy a £200 discount for the room. If you bring a friend, you'll receive 50 EUR cash as a reward upon arrival.
You may pay by BACS to alleviate this booking fee.
THE VILLA
This beautiful and spacious villa is very secure and overlooks the coastline of the west of the island, where the best sunsets are to be found. It is situated in a quiet residential area and offers total privacy, whilst being only 800 m from the nearest beach.
The house itself has a living area of 350 m2 built on a plot of 3,500 m2. It was built and fitted out to a very high standard and offers an extremely comfortable environment for 8 people with four spacious bedrooms, all with en-suite bathrooms.
There is free WiFi in the property and several inviting chill-out areas so you can find your own space if you fancy time out, including balconies on which we'll practice some yoga sessions and watch the stars above the sea and mountains.
Outside there is a 6 x 12 m swimming pool surrounded by sun loungers and a covered outside dining area with fabulous sea views. Upstairs the bedrooms access extensive balcony terraces all with sea views out over the large garden of fruit trees.
What people are saying:-
"Beautiful views of the green hills, sea and islands. Impressive sunset. Whole day sunshine around the house, wonderful terraces and a cool sea breeze. Huge amount of space in the house, fully equipped" Michael
"Breath-taking view of the sea and the mountain. There is a large swimming pool and a very beautiful landscaped garden not overlooked, gorgeous beach close by as well as supermarket and nice tapas bar" Manon
FOR MORE INFORMATION CONTACT:
Amanda York: amanda@gymanda.com / 07876 551810
Om Shanti Peace x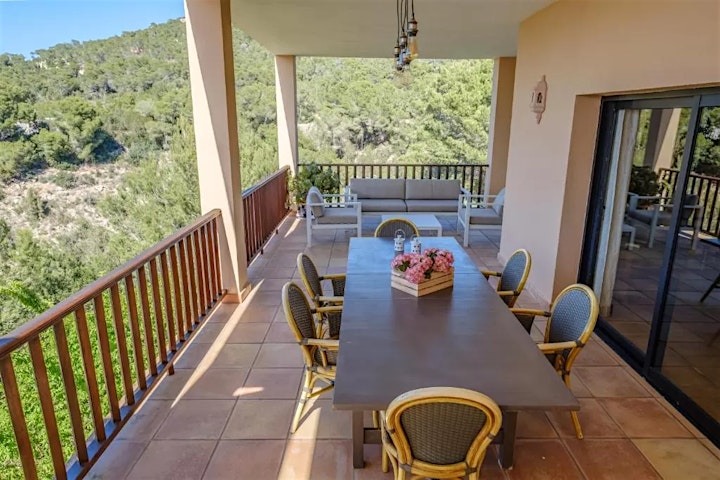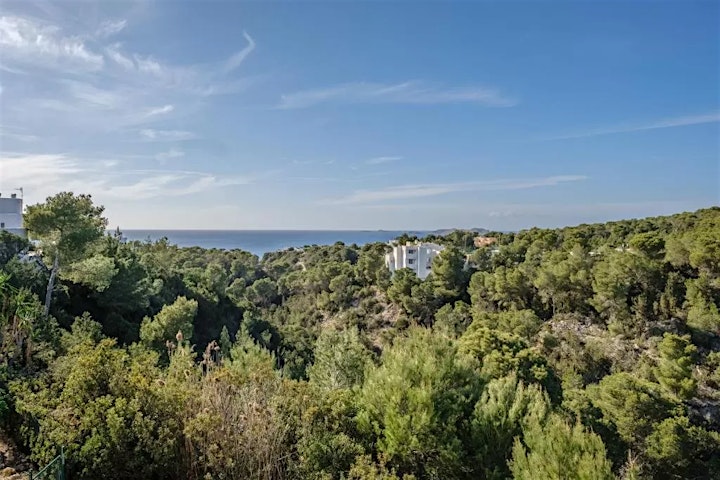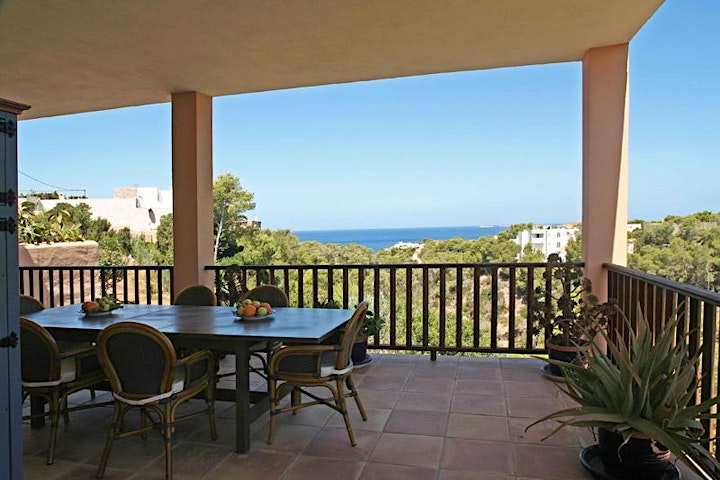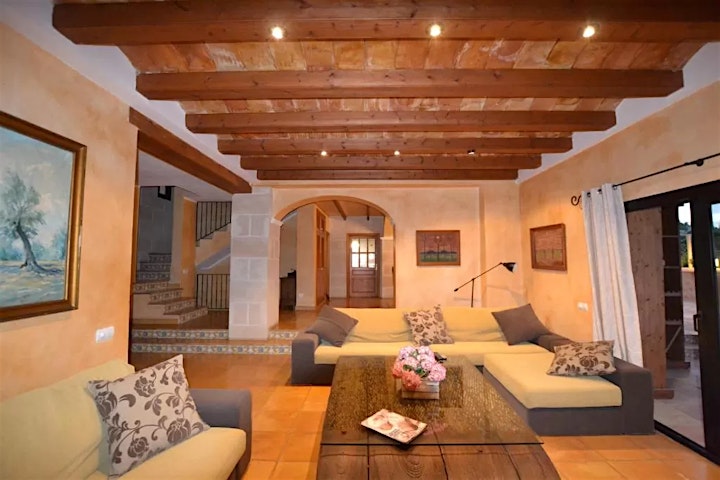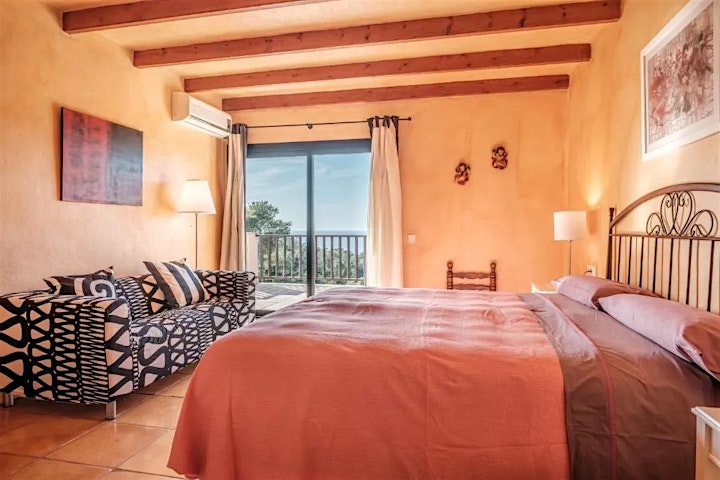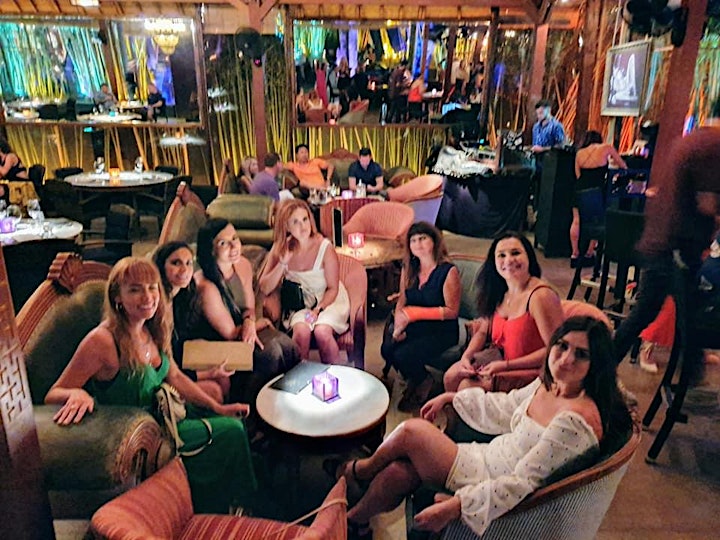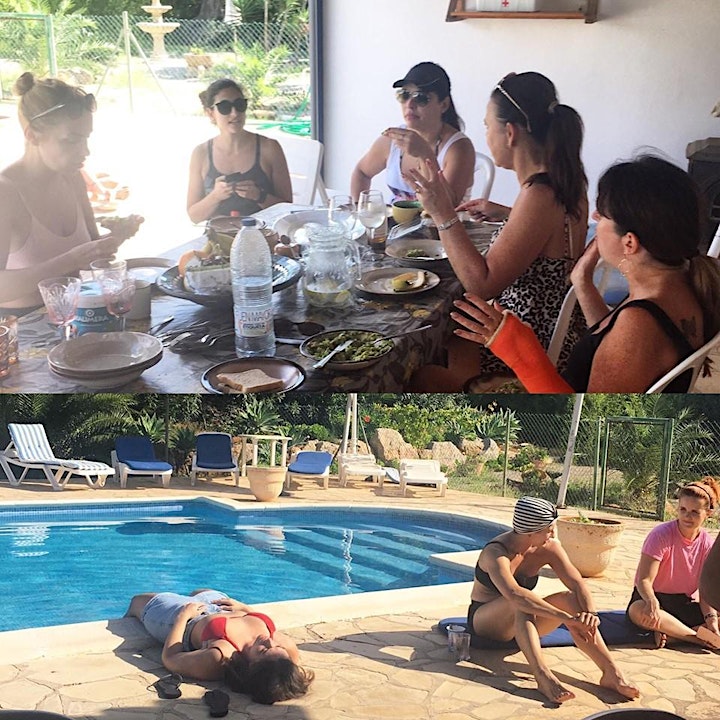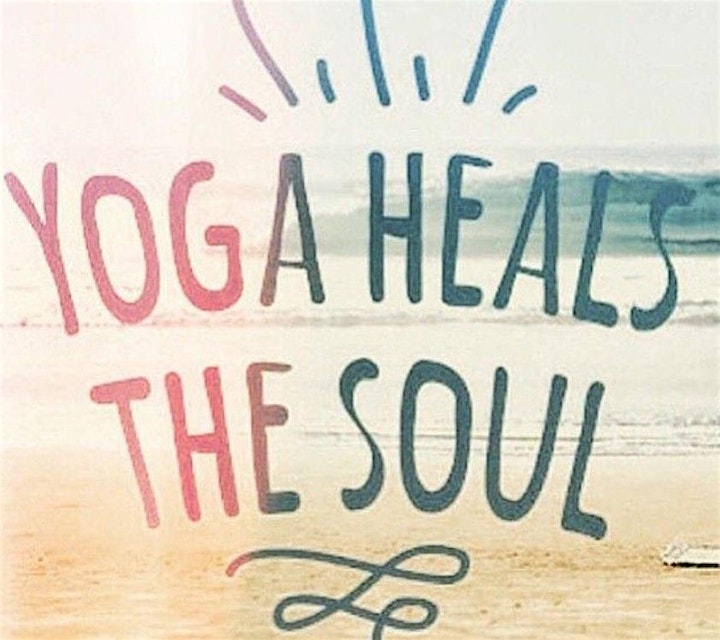 Organiser of YOGA HOLIDAY, IBIZA - Sept '21 - PCR TESTS INCLUDED, LAST MIN OFFER!
Amanda York has been practicing yoga for 10 years to heal herself from poor health in her 30's and has enjoyed learning from prominent teachers in London and in various countries including the Bahamas Sivananda Ashram. A UK-born and London-based teacher, Amanda conjured Yogamanda after qualifying as an Ashtanga Vinyasa teacher 4 years ago having had an enlightened vision during meditation after her own practice about sharing the knowledge in how to obtain vibrant health through holistic health studies and practices.

Amanda taught and delivered workshops at the London Yoga Show in Olympia last year, will be presenting at the Om International Yoga Day at Alexandra Palace on 21.06.15 and leads yoga classes in open spaces in SE London. Her unique style is drawn from an amalgamation of flowing yoga and Kundalini practices with an underlying knowledge gleaned from her 8 years as a Personal Trainer and includes spiritual and postural traditions as well as her experiences as a writer and NeuroLinguistic Programming Practitioner.