Description
H A R V E S T ◦ M O O N ◦ G A T H E R I N G

This is a unique invitation to join us for an anchoring autumn weekend of yoga and ritual in the sacred lands of Somerset.

After the success of their inaugural Day Retreat Gabriella, Katie & Verity are coming together once more, to help bring you home to yourself, replenish energy levels and restore your Autumn glow.

This fusion of female forces will provide an array of enriching experiences, rooted in yoga to rejuvenate the mind, nourish the body and awaken Spirit. Enjoy Hatha and restorative Yoga practices, yoga Nidra, daily meditations, chanting, storytelling, sonic sound healing and more!

Immersed in the magic of Mother Nature we will honour the seasonal rhythms by celebrating the harvest; whether that be the literal harvest of food from the garden or the crop of intentions you set earlier in the year. Take time to reflect, restore and settle into the pulse of life.

As the full moon illuminates our weekend, we will embrace her potent energies with celebration and ritual to awaken creative expression through dance and free movement. It is the ideal time to release what no longer serves us, embracing the transition in seasons and waning phase of the moon to feel recharged and liberated.

About the Venue:
Our home for the weekend is the stunning 42 Acres retreat in Frome. Set in (you guessed it), 42 acres of private land, a tranquil retreat space cocooned by seven hundred acres of ancient woodland.

Sustainability and comfort are at the forefront of the 42 acres vision, with reclaimed materials used to outfit the interiors of the property and full use of renewable power, self-generated through biomass and solar.
For more information and photos you can visit their website - 42acressomerset.com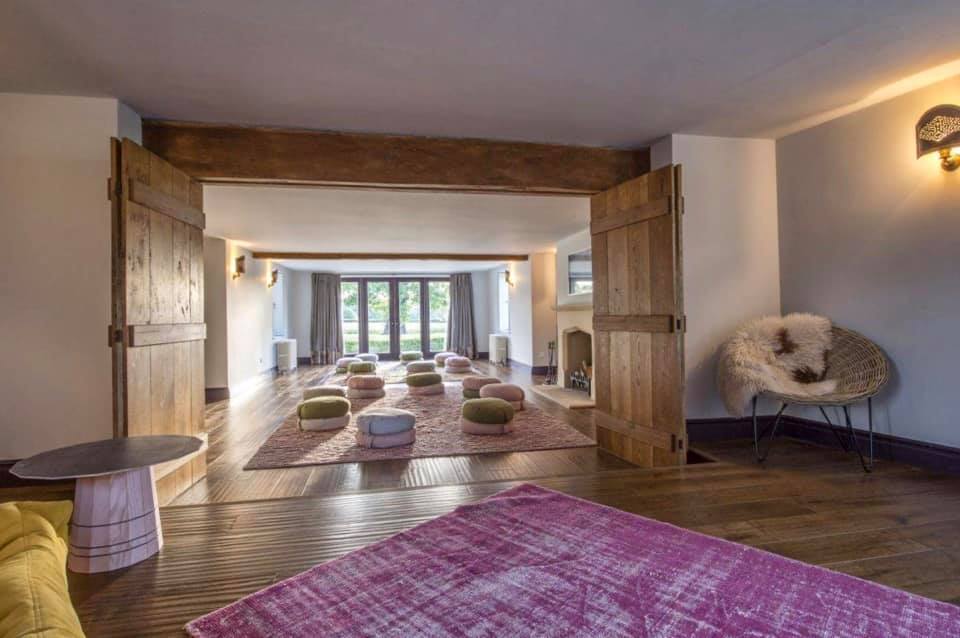 On the Menu:
We embrace a healthy, yogic lifestyle and will be offering a vegetarian diet consisting of pure, simple, natural foods to optimal promote health and digestion. Our meals will be lovingly prepared by resident chef, using delicious, locally sourced organic produce!
* Should you have any dietary requirements or allergies please let us know at the time of booking.

Accommodation & Investment:
Prime Room/ Master suite (single occupancy) £695 per person or £650 per person (double occupancy for a couple)
Double Ensuite £595 per person
Luxe Dorm (Three double futons) with shared bathroom £550 per person
Twin Ensuite £525 per person
Double with shared bathroom £495 per person
Small twin with shared bathroom £450
Stable Block £350 per person
* Rooms are assigned on a first come first served basis, therefore early booking is recommended!
To book directly (which will avoid processing fees) please contact veritymeganyoga@gmail.com
What's included:
Your accommodation and full use of the stunning facilities

Daily yoga classes; 2 hour flowing practice in the morning and 2 hours of restorative in the evening.

Morning and evening meditations

Chanting (kirtan)

Vedic Storytelling

Crystal sonic sound scape

A full moon dance ritual

Delicious homemade organic vegetarian food
*Massage treatments are available at an additional cost, with an incredible massage therapist £60 for the hour.

Weekend Schedule:
Friday 13th September
16:00 - 17:00 Arrive and settle into your room
17:00 Unwind from your travels with a cup of herbal tea and healthy treat. An excellent opportunity to meet your fellow voyagers
17:30 - 18:30 Evening practice; gentle Restorative yoga to ground you from your journey with guided meditation and soothing sounds
18:45 Welcome supper prepared by the 42 Acres Chef
20:00 - 21:30 Evening Kirtan - chanting mantras to open your heart and mind to the weekend ahead
22:00 Retire to bed
Saturday 14th September: Full harvest moon
Optional AGNI HOTRA - Sacred sunrise fire with morning mantras
06:30 Freshly brewed herbal tea/coffee available and a light fruit snack
07:00 Early morning contemplations, honouring silence until our asana practice (an ideal time for journaling and self-enquiry).
08:00 - 09:30 Flow slowing morning practice with pranayama and mediation
09:45 A nourishing breakfast prepared by the 42 Acres Chef
11:00 - 13:00 Free time for walking, exploring, reading, or a massage
13:00 Delicious lunch prepared by the 42 Acres Chef
14:00 - 17:30 Free time - walk outside, take a treatment, rest whatever you need
17:30 - 18:30 Evening practice: Yin yoga with an alchemy crystal sound bath
18:45 Sumptuous dinner prepared by the 42 Acres Chef
20:00 - 21:30 Full Moon dance ritual; dress in white to honour the harvest moon through dance and free movement
22:00 Retire to bed, or option to stay up late around the campfire for Vedic storytelling with warm milky drinks.
Sunday 15th, September
Optional AGNI HOTRA - Sacred sunrise fire with morning mantras
06:30 Freshly brewed herbal tea/coffee available and a light fruit snack
07:00 Early morning contemplations, honouring silence until our asana practice (an ideal time for journaling and self-enquiry).
08:00 - 09:30 Vinyasa yoga, invigorating and rinsing the whole body, soothing the mind and peeling away any remaining layers of stress
09:45 Nourishing breakfast prepared by the 42 Acres Chef
11:00 - 13:00 Active meditation with chanting
13:00 Our final lunch prepared by the 42 Acres Chef
15:00 Retreat closing circle and farewells
Your Journey:
Travelling to 42 Acres from London straightforward, yet feels like an escape to another world. The nearest train stations are Bruton (17 min drive) or Frome (20 min drive). Trains depart regularly from London Paddington - Frome, the duration of the journey, varies between 1 hour 55 min - 2 hours 18 min
London Paddington or London Waterloo - Bruton the duration varies from 1hr 56min - 3 hours 12 min
By car - 42 Acres is an hours drive from Bristol, 1 hour 45 min from London Heathrow and 2 hours 30 minutes from West London.
Address: 42 Acres, Holt Road, Witham Friary, Frome BA11 5HL
Meet the Teachers:
Gabriella, Katie & Verity during their 500-hour yoga teacher training, blossoming and evolving together over two years of studies. They have each discovered their vocation within the realms of yoga and wellness, and will be offering something equally unique to our weekends events.

Gabriella Burnel:
Gabriella is a trained Yoga teacher and Sanskrit scholar who first came across the Sanskrit language as a toddler when her mother chanted Vedic prayers before bed. Seeds of intrigue were planted in this bright young mind, and the study of Sanskrit became a life long passion. ⠀⠀⠀⠀⠀⠀⠀⠀⠀
Gabriella will be guiding us through evening Kirtan- chanting mantras to awaken, enlighten and evoke joy! You'll also be invited to stay up late and enjoy Vedic story-telling around the campfire!
Chanting these scared sounds connects us to the pure vibrations of Sanskrit which can be felt in the body, mind, and spirit. Sanskrit is a natural extension of our inner sound and so can be a meditation and healing tool as well as enlighten our understanding of ourselves.
Everyone is invited to join in, no singing experience or knowledge of Sanskrit is necessary. We encourage you to release any self-judgement, instead feel the sounds moving through you, to awaken and open your heart.
Katie Turner:
Katie had a career as a professional dancer and has been teaching pre-school children dance for the past ten years.
She has studied ISHTA yoga with YogiRaj Katrina Repka and regularly travels to the OSHO International Meditation Resort in Pune which has become a second home. Katie finds a more profound connection by living naturally and is a Wellness Advocate for dōTERRA Essential Oils. All of these passions have been part of her healing journey, and her teaching is practical and honest.
Katie will be sharing her vast knowledge of essential oils, leading the afternoon dynamic mediations and a full moon dance ritual to celebrate the Harvest Moon.
Verity Megan:
Verity is a master yoga and meditation teacher trained in the ISHTA lineage. She embraces the tools of Ayurveda and Yoga to invite a more a conscious, balanced existence both on and off the mat; passionate about living and sharing yoga!
She will be offering a unique blend of yoga, guided meditation and conscious rest, with the added dimension of sonic sound healing from her collection of Crystal Singing Bowls.
Verity teaches an alignment-based flow, incorporating breath awareness, Kriya techniques and Tantric meditation designed to balance the body, mind, and Spirit. Her classes provide a safe, nurturing space for you to explore mindful movement with sensory awareness, connecting with the physical, causal and subtle bodies, to leave you feeling grounded, nourished and revitalised.