Description
Yogmanda invites you to her new hillside retreat in
Spain, Mar & Nov 2018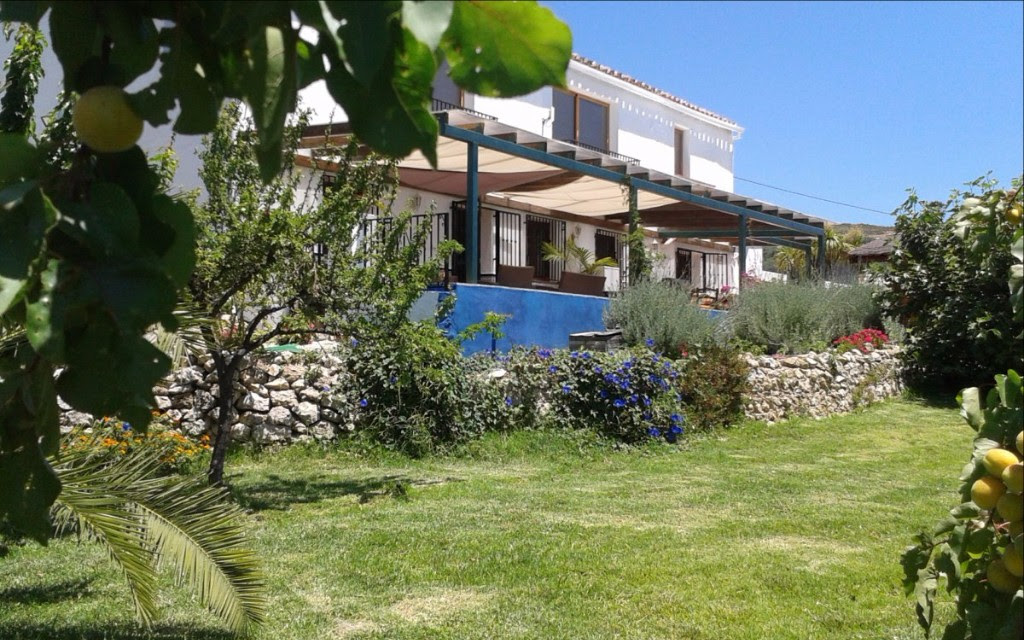 Going on retreat can be a powerful way to process what is happening in your life.
Giving ourselves time to reflect and heal can be a powerful way to process the things that are happening in our lives, and one of the best approaches to do this is by going on a retreat. Going on a retreat means that we have set the intention to heal and learn more about our spirit, and doing this is a decision that we make for ourselves.

Come and escape the tail-end and threat of winter next March and November 2018 and rediscover yourself...
This stunning villa in Spain is the perfect base to explore the beautiful region of Andalusia and it is a farmhouse converted to the highest standards. You will feel warm and welcomed.
Whether you want to spend your holiday relaxing by the heated pool or exploring Andalusia's caves, beaches and rustic villages after and before the morning/evening yoga, there is something for everyone and the villa is set in a secluded spot over looking the Sierra Tejadas National Park.

Yogamanda has been to explore for you so that you can settle in smoothly and enjoy the yoga, local views and indulge all of your senses whilst really kicking back and retreating. I've even sourced and incredible Spanish teacher for you who is from the UK and retired to this area. Angela is amazing and will answer all of your touristic questions. She even has a classroom set up in the local village for our lessons! (optional). The we can go and practice by ordering tapas or visiting the local market. Everyone is so laid-back and friendly... a far cry from London life!

I've kept this to 7 SPOTS ONLY so that you can make the most of my hands on and experienced yoga & meditation lessons so please don't delay in your inquiry. Room prices are scaled depending on the choice starting from £450; see below.
YOUR ITINERARY, ACCOMMODATION & WHAT'S INCLUDED
Suggested Itinerary plus morning/evening yoga & meals:-
Monday - arrivals @ Malaga c11:15 / settle in / evening meal & yoga / meditation
Tuesday - cab to natural outdoor thermal baths / hiking / hillside dinner
Wednesday - walk to Periana (local village) for

Spanish

lessons

& local market
Thursday - car to Torres del Mar for markets, beaches, tapas & sunset yoga
Friday - chill at villa (or you can take a day trip to Grenada)
Saturday - depart after yoga & breakfast... you may stay on in Malaga before an evening flight if you do not take an earlier flight (10 mins by train from the airport)

HIGHLIGHTS:-
Retreat to the

Spanish

Hills; escape the start and end of winter in 2018
Learn

Spanish

, walk in the peaceful hills amongst nature and sunshine, enjoy local tapas and markets, practice yoga on the beach and at the stunning rural villa morning and night, read a good book, kick back and let Yogamanda take care of you
5 night / 6 day stays on 19-24 Mar 18 and 5 to 10 Nov
Flights currently between £54-80 return from London to Malaga, 2 hrs 50 mins
Journey from the airport is one hour max up in to the stunning hills
There's only 7 spots available:-
- 2 upstairs doubles in main villa
- 1 downstairs double & 1 downstairs twin
- 1 twin OR double in the gorgeous external cabin
ALL ROOMS ARE ENSUITE!
All rooms are provided with bath towels, pool/beach towels, robes and shower/bath products
can be shared or booked solo with a single supplement

What is provided:-
- 4 evening Yin style yoga / 4 morning Ashtanga style YOGA classes
- airport transfers (if recommended flights are booked)
- 4 breakfasts / 4 dinners at the villa
- herbal teas
- yoga mats & blocks
- bath towels and robes
- heated pool
- log fire

What's NOT provided:-
- air fares
- lunches
- excursion travel costs and fees (eg. thermal baths, taxis, Spanish lessons)
- one evening meal out
PRICES START FROM £450 PER PERSON (EXCLUDING FLIGHTS)
Spaces are limited; please Email or call me asap for more information and breakdown of room prices...
Hasta luego x