Sales Have Ended
Ticket sales have ended
Thank you for join us.! Hope you enjoy the experience.
Sales Have Ended
Ticket sales have ended
Thank you for join us.! Hope you enjoy the experience.
Yoga Al Fresco/ Gentle Yoga/ Yoga Suave
About this event
English & Spanish
Hatha Flow is a classic set of Hatha poses that flow from one to the other with a few pauses for further instruction and teacher demonstration. Hatha yoga aims to achieve a balance between male and female energies through the use of postures that seek to find the balance between strength and flexibility.
The synchronization of conscious breathing and body movement promotes stress reduction and purification of the mind. Other benefits of practicing Hatha yoga include strengthening and toning muscles, facilitating digestion, improving organs function, and promoting sleep. It improves the immune system with the contractions and stretches of the muscles and the movement of the organs, helping the lymphatic system to eliminate toxins from the body.
It tones our spinal column, which connects the nerves with different organs and with the brain system. Increases flexibility by favoring cells that bind muscle fibre. Improve our daily posture with the realignment of our back. Relaxes and centers the mind helping us to be present and happy. And it fills us with energy.
Hatha Flow es un conjunto clásico de posturas de Hatha que fluyen de una a otra con algunas pausas para las instrucciones y demostraciones del profesor. El Hatha yoga tiene como objetivo lograr un equilibrio entre las energías masculinas y femeninas mediante el uso de posturas para encontrar un equilibrio entre fuerza y flexibilidad.
La sincronización de la respiración consciente y el movimiento corporal promueve la reducción del estrés y la purificación de la mente. Otros beneficios de practicar Hatha yoga incluyen fortalecer y tonificar los músculos, facilitar la digestión, mejorar la función de los órganos y promover el sueño. Mejorar el sistema inmunológico con las contracciones y estiramientos de los músculos y el movimiento de los órganos, ayudando al sistema linfático a eliminar toxinas del organismo.
Tonificar nuestra columna vertebral, que conecta los nervios con diferentes órganos y con el sistema cerebral. Aumenta la flexibilidad al favorecer las células que se unen a la fibra muscular. Mejora nuestra postura diaria con la realineación de nuestra espalda. Relaja y centra la mente ayudándonos a estar presentes y felices. Y nos llena de energía.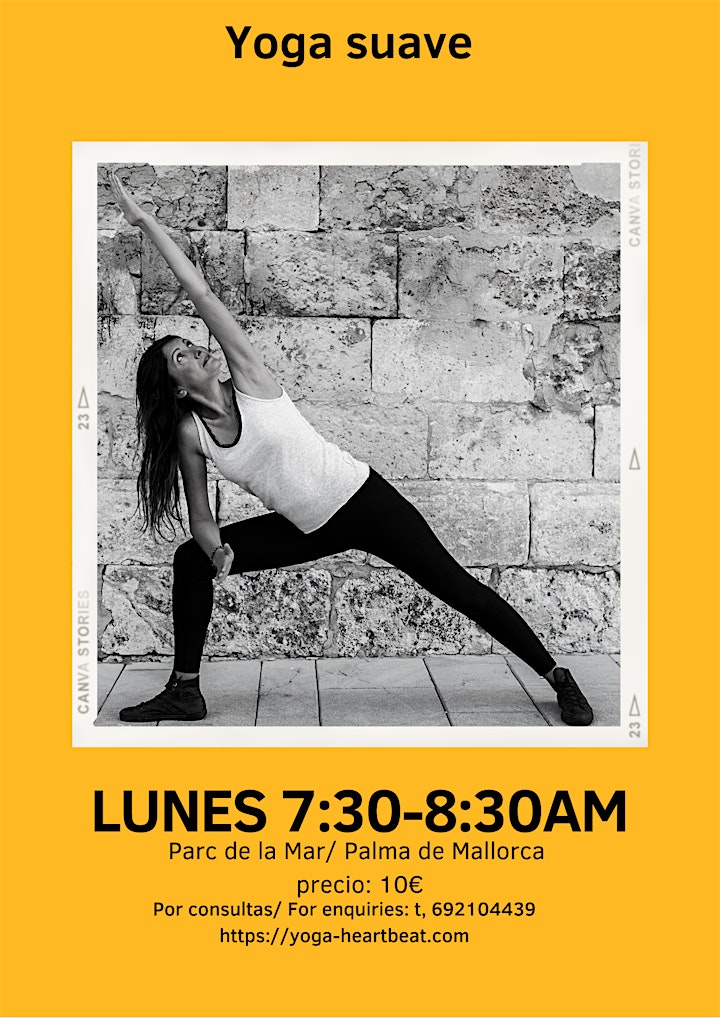 Date and time
Location
Refund policy
Organizer of Yoga Suave/ Gentle Yoga
I qualified as a Hatha Flow, Kundalini, Yin, Pregnancy and mums + babies teacher. My classes focus on alignment through postures, breathing work and meditations. I teach a gentle form of yoga. The outcome is a more flexible and stronger body that increases the sense of wellbeing.