FREE Yoga Teacher Training Open Day @ at1.SPACE!
About this event
Come and join us at our beautiful studio retreat centre in the heart of Nottingham to find out more about our 200 hour Yoga Teacher Training course.
We open our doors to give you the perfect opportunity to learn more of what we are offering on our unique YTT programme, designed with you in mind. We look at the individual student and help you find your teaching style with our guidance on this beautiful transformational journey.
Meet your teachers who will be guiding you through this process and your chance to sample a little bit of the magic here at our yoga and retreat space ..
You will also have the opportunity to talk to our current YTT undergraduates, as well as participating in one of our classes.
Our course can be completed from the comfort of your own home, or in studio with us.
We have payment plans available, and students will receive FREE online yoga membership with us during your studies.
There has never been a better time for a career change, or to pick up a new hobby!
Sound like something you could be interested in? Join us on the 26th June!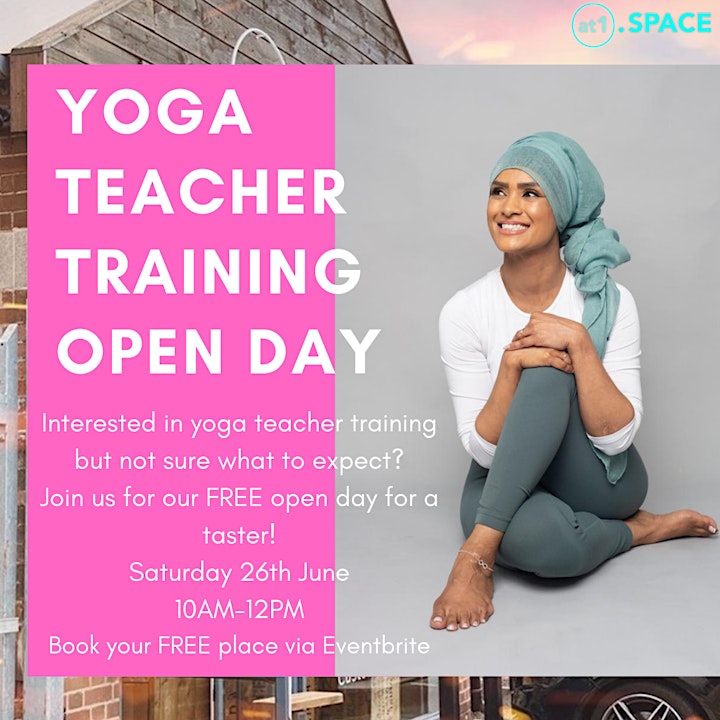 Organiser of Yoga Teacher Training FREE Open Day
at1.SPACE provides a welcoming unique approach to yoga and wellbeing with access to some of the regions most respected practitioners in yoga, mindfulness and mediation. In addition to this at1.SPACE offers counselling, nutritional consultations and sports massage, café and kitchen.
The above can be accessed in the setting of a 4500 square foot state of the art yoga and wellbeing complex on Triumph rd (off Derby rd). with convenient, free parking to the front and rear of at1.SPACE.
"I realise that busy modern people with work and family commitments have little time to invest in themselves, their wellbeing. This is why I have created at1.SPACE which gives easy access a variety of wellbeing services conveniently under one roof. I believe this convenience coupled with a welcoming approach in a calm environment can positively impact the wellbeing of individual and community: the meaning of being at1.''
Founder Yasmin Gregory 
Yasmin & Mumtaz have worked closely together over the last 18 months to create the at1.STUDIO. Indivdual and community can access yoga, mindfulness and meditation, in a calm, warm, nurturing enviroment. We pride ourselves on making the practice of yoga inclusive to everyone. 
We live in an increasingly fast paced society therefore underpinning any one class with our 5 teachers' is the ever important theme of mind + body connection.
SERVICES:
yoga | nutritional consultations | Sensory kitchen & studio| juice bar | yoga shop | counselling | reflexology | events & workshops centred around wellbeing| Food based experiences | audiology | aesthetics |sports massage| 
We look forward to meeting you soon! xx
What to bring: