About this event
Class Description
A morning blend of flow and long hold postures with a focus on breathwork. This class will include a guided meditation, and move through gentle flow sequences to long hold asanas with a sense of curiosity and non-judgement. Modifications will be offered throughout with lots of options for and chances to rest.
The Details
Location - Studio 2, Telegraph Hill Centre, Kitto Road, London, SE14 5TY
To Bring - your own mat, lots of water and your wonderful self.
To Wear - something nice and loose and comfortable that you feel like you can move in.
Safety first - For the safety of you and everyone else please adhere to the following;
- You'll need to bring your own mat and any equipment you require with you to class.
- You'll need to wear a mask at all times, unless you're on the mat.
- Alcohol-based sanitiser will be provided, but please bring your own if you would like.
- There are hand washing facilities available in the centre, and these will be pointed out to you when you get here.
- Please maintain social distancing while at the centre, and if you arrive early, try not to wait in large groups.
Cancellations
If you cannot attend the class for whatever reason please cancel and contact me regarding refunds.
On the day
Please arrive at the centre at least 5 minutes before class starts. The main door to the centre may be locked, but I regularly come down to let people in, so please wait a few minutes if nobody is around. If you know you are going to be late, please email me (yoga@hebevaliantnutrition.com) to let me know.
Pricing
In order to make these classes as accessible as possible, pricing is offered on a sliding scale, from £6-8, depending on your circumstances, (£5 for virtual attendance). Please feel free to pay what feels most suitable and applicable to you. There is a limited number of spaces available to ensure social distancing.
How to find us
Studio 2 is located upstairs at Telegraph Hill Centre.
Telegraph Hill Centre sits behind St Catherine's Church at the top of Telegraph Hill. Situated at the junction of Pepys, Jerningham, Kitto and Vesta Roads.
There is free on-street parking on Kitto Road.
The nearest train station is New Cross Gate. Followed by New Cross, Brockley, Queen's Rd Peckham and Nunhead stations.
Buses 343 and 484 stop opposite St Catherine's Church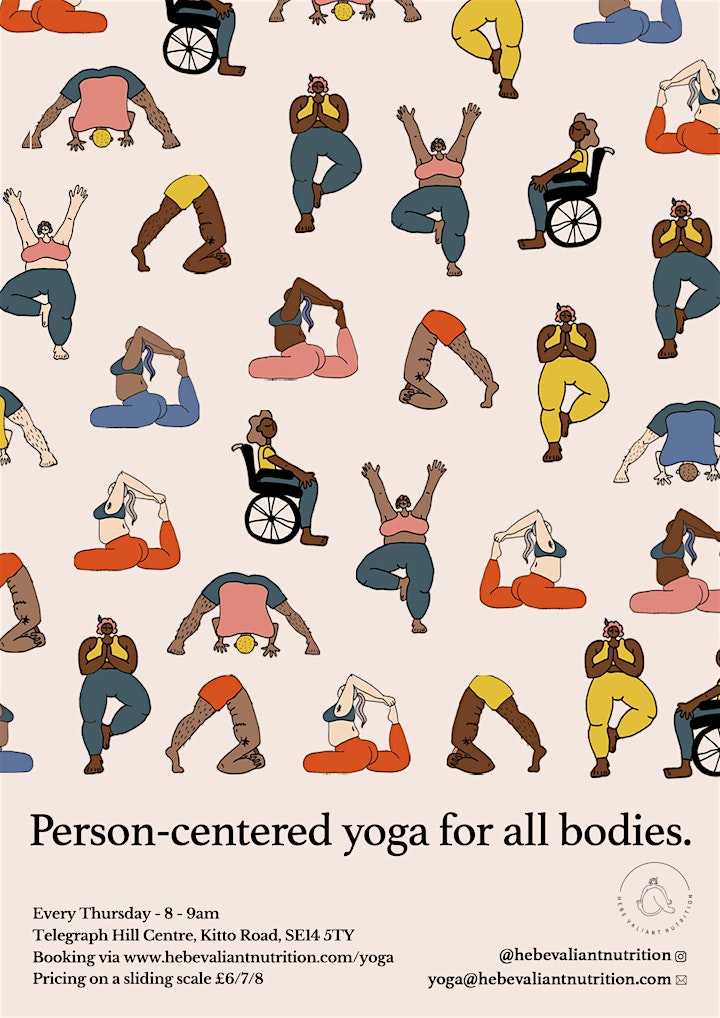 Organiser of Yoga @ Telegraph Hill Centre