Event Information
Location
Easton Farm Park
Easton
Woodbridge
IP13 0EQ
United Kingdom
Refund policy
Refunds up to 1 day before event
Eventbrite's fee is nonrefundable.
Yoga with Goats Come and play, move, laugh and hug our goats.
About this event
Join us for outdoor Yoga with the Goats.Class is suitable for everyone from 6-106! No yoga (or goat) experience required.Bring a mat and any props you use. Probably not your best Yoga outfit.If the weather is very bad we will be in the barn.Please dress weather appropriate.You may experience goaty bodily fluids. Long hair tied up please.
There will be time for selfies, cuddles and group photos to enable you to cherish your memories of this unique class.
If you wish to visit the farm after your class you are requested to pre-book tickets via their website.
Refunds are available up to 7 days prior to the event or you can gift your ticket to a friend.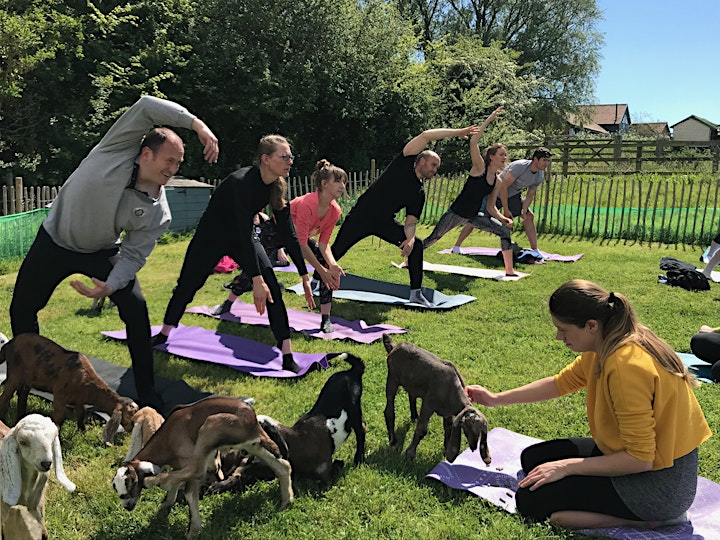 Liability Release-(you know just in case)
In order to participate in Goat Yoga events, you must agree to the following:
This agreement releases Easton Farm Park, Diana Malone and all those related to Goat Yoga from all liability relating to injuries that may occur during Goat Yoga. I agree to hold Easton Farm Park, Diana Malone and all those associated entirely free from any liability, including financial responsibility for injuries incurred, regardless of whether injuries are caused by negligence.
I also acknowledge the risks involved in Goat Yoga. I confirm that I am participating voluntarily, and that all risks have been made clear to me. Additionally, I do not have any conditions that will increase my likelihood of experiencing injuries while engaging in this activity.
I forfeit all right to bring a suit against Easton Farm Park, Diana Malone and all those associated for any reason.
Appearance Release
I hereby acknowledge that you may publish images and/or moving pictures and/or videotaped images of me with or without my voice, or in which I may be included in whole or in part, photographed, taped, videotaped, and/or recorded to circulate the same in all forms and media for art and advertising.
I hereby waive any right that I may have to inspect and/or approve the finished product or products or the editorial, advertising that may be used in connection therewith and any right that I may have to control the use to which said product may be applied.
If you do not wish to be photographed or filmed please do make your wish know and we will take appropriate action not to include you.
Location
Easton Farm Park
Easton
Woodbridge
IP13 0EQ
United Kingdom
Refund policy
Refunds up to 1 day before event
Eventbrite's fee is nonrefundable.