On Sunday12th Dec. Furuki Yo-Kimono is presenting a Japanese-themed market & cultural event YOKIMONO JAPANESE Xmas MARKET in East London.
About this event
Explore traditional and contemporary Japanese arts & crafts, culture and food, and find unique and authentic gifts for Christmas!
YOKIMONO (よきもの, meaning 'good things' in Japanese) Market is a Japanese-themed market and cultural event in East London. Traders will be offering; delicious Japanese food & sweets, vintage kimono, ceramics, illustrations, stationary, clothing, jewellery and much much more – all made in Japan or produced by Japanese artists in London. As well as a wide variety of market stalls, there will be live performances from Japanese musicians and dancers, Furoshiki eco-wrap demonstrations, Kimono dressing demonstrations!
FREE ENTRY & FAMILY FRIENDLY.
Date & Time: Sun. 12th Dec 2021 , 11am-6pm 
Place: THE FACTORY 21-31 Shacklewell Lane, Dalston, London E8 2DA  (map)
Find out the latest information on the event instagram or facbook; 
https://www.instagram.com/yokimono_japanese_market/
https://www.facebook.com/yokimono_japanese_market-688756258241362
LIVE PERFORMANCES:
11.30 am ZASHIKI WARASHI (Taiko & flute duo)
12.20 pm RENA MIZUNO (Nihon Buyo dance)
13.10 pm YUKO TSUBAME (Okinawa MINYO folk music)
14.00 pm MAMIKO SATO from Kimonodego (Kimono dressing demonstration )
15.00 pm ZASHIKI WARASHI (Taiko & flute duo)
15.50 pm TAMAKURYA (Furoshiki eco wrapping demonstration)
16.40 pm YUKO TSUBAME (Okinawa MINYO folk music)
MARKET STALLS:
Japanese food (savoury and sweet, and drink ) :
Aun (Japanese street food) , Ramen Heads (Sushi Heads does Ramen noodles), Drumsco (Sushi) , Gu Choki Pan (Japanese bakery) , OTABE (Brown rice Bento boxes), HIDEN (Japanese style curry), and JINJIN (Japanese style Koso Enzyme Drink) and Kissa Wa Cafe
Vintage kimono: Furuki Yo-Kimono Vintage
Ceramics & Kintsugi ceramic repair : Reiko Kaneko and Ikuko Iwamoto
Illustrations & paintings: Natsko Seki , Saki & Bitches
Jewellery: Kei Tominaga , Momocureatura , Japanese Designers from Objet D'Emotion
Paper craft & toys: Sato Hisao
Japanese paper, stationery, haberdashery and talismans: Bungu Store
Clothing; Koco Kids, Wondrous Theatre, Sujaku Collections (up-cycled kimono dress)
Fashion accessories & Life Style Goods : (ki:ts)
Ukiyoe & Old Woodblock Prints products: Ezen (Japanese Gallery in Angel) , Edo Art ,
Furoshiki eco wrap: Tamakurya Boutique
Please check the latest instagram post for the latest information. 
Looking forward to welcoming you!
皆様のお越しをお待ちしております!
COVID-19 SAFETY INFORMATION
PLEASE READ:
In England, face coverings are now required by law in most indoor public places. Please wear a face mask when entering The Factory building.
Please do not attend if you have tested positive for Covid-19 in the 10 days prior to the event or if you have been asked to self-isolate by Test & Protect (or another Contact Tracing agency) as a result of being a close contact of someone who has tested positive for Covid-19, or if you feel generally unwell.
More information, please see The GOV.UK link below.
https://www.gov.uk/government/publications/face-coverings-when-to-wear-one-and-how-to-make-your-own/face-coverings-when-to-wear-one-and-how-to-make-your-own
Thank you very much for understanding.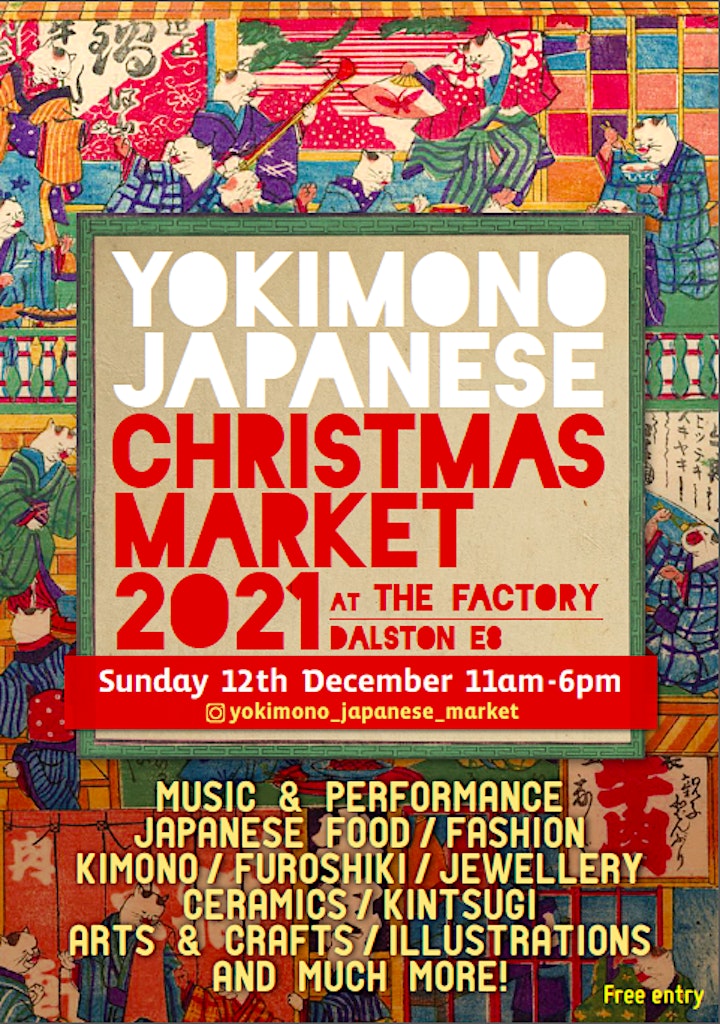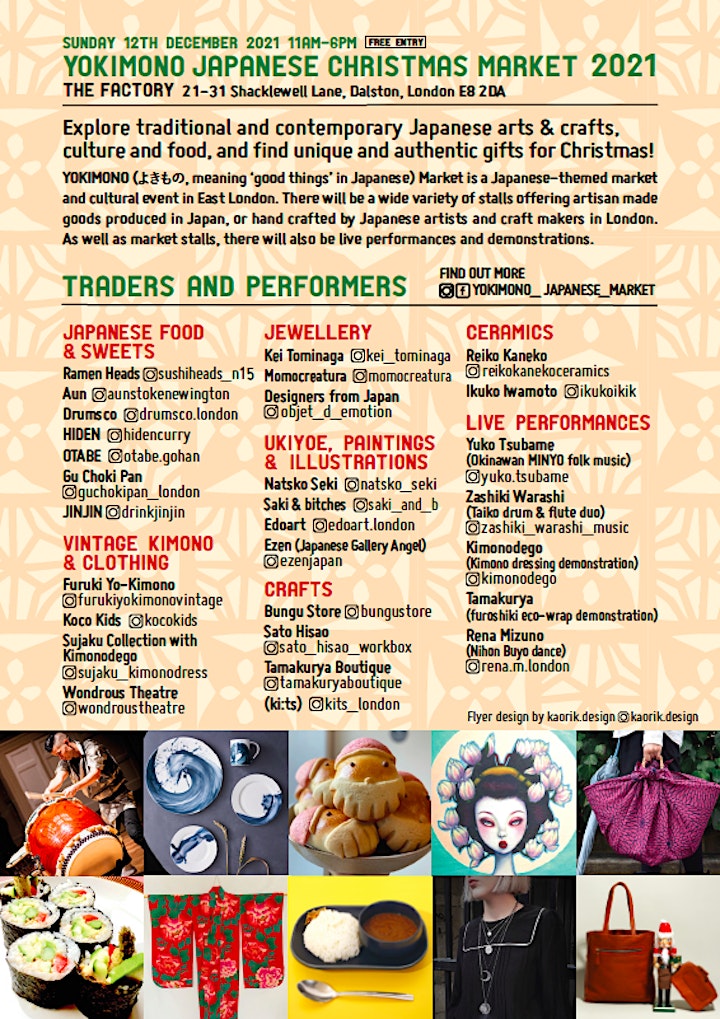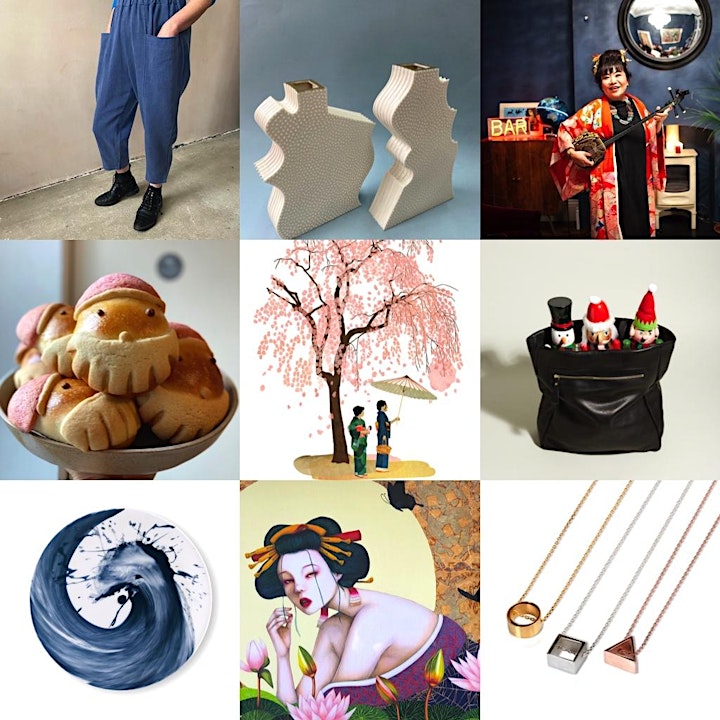 Organiser of YOKIMONO JAPANESE Xmas MARKET 2021