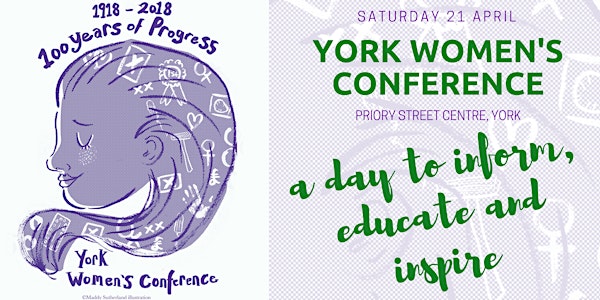 York Women's Conference 2018
Location
Priory Street Centre
Priory Street
York
YO1 6ET
United Kingdom
Refund policy
Refunds up to 30 days before event
Description
In 1918 women (aged over 30, with property) won the right to vote. The same year, other legislation allowed women to stand as MPs. This one-day conference at the Priory Street Centre invites women to explore how far we have come in the past century, and how far we still must go, to achieve full gender equality.
The conference programme includes a fantastic line-up of national and local women speakers, expert panels and workshops. Delegates will have the opportunity to learn, debate, and share ideas for making a real difference to the lives of women. The ticket price includes a buffet lunch, refreshments throughout the day, and a free specially designed cotton tote bag for all your conference papers!
Our keynote speaker is Sam Smethers, Chief Executive of the Fawcett Society, who will be speaking on the history of women's fight for equality since 1918, and the ongoing fight on for full gender equality.
Our two expert panels will consider and question the topics of: Women and Economics, Austerity and Brexit; and Women and Power, Crime and Justice. On our expert panels are: Roxanne Mashari of the Women's Budget Group; Claire Ainsley, Executive Director at the Joseph Rowntree Foundation; Dr Charlotte O'Brien, Senior Lecturer, University of York Law School; Frances Crook, Chief Executive, The Howard League for Penal Reform; Sarah Hill, Chief Executive, Independent Domestic Abuse Service; and Rokaiya Khan - Chief Executive, Together Women www.togetherwomen.org.uk. Our three workshops will address the topics of: Everyday Feminism; Intersectionality; and Care.
There will be an excerpt from an exciting new play in development 'Maiden Speeches' by Hannah Davies - award-winning Poet and Playwright www.hannahdavies.work; and Rachael Maskell - MP York Central, York's first ever woman MP, www.rachaelmaskell.com, will end the day with a call to arms - what happens next?
It promises to be an exhilarating day - a day to inform, educate and inspire!
FAQs:
Who can attend?
The conference is inclusive of everyone who self-identifies as a woman. Due to the nature of some of the themes/topics that may be discussed at the conference, we advise using your discretion when considering booking tickets for any younger women (under 16).
What are my transport/parking options for getting to and from the event?
The Priory Street Centre is situated just off Micklegate and is a short walk from York Railway Station. There is limited blue badge parking available which must be booked in advance - please contact yorkwomensconference@gmail.com to arrange this.
How can I contact the organiser with any questions?
Email us at yorkwomensconference@gmail.com.
Is the venue accessible?
Yes, fully accessible building and facilities. There is limited blue badge parking which must be booked in advance. If you require a parking space, or have any access queries, please contact yorkwomensconference@gmail.com.
Why are there different ticket prices?
There are two prices to ensure that all women who are interested can afford to attend. The number of concessionary rate tickets is limited so please consider whether you can afford to pay the general admission fee to allow those on lower incomes to enjoy the conference too. No evidence of income will be requested.
I have special dietary requirements - who should I tell?
Please contact the organisers at yorkwomensconference@gmail.com and let us know your needs.
What if tickets sell out?
We are releasing tickets in two batches, one on Tuesday 06 February to celebrate the centenary, and another one month later on Tuesday 06 March. If tickets have sold out please contact us at yorkwomensconference@gmail.com to get on the waiting list.
The conference is organised by York Labour Women's Forum. It is open to all self-identified women across the political spectrum and is not a Party political event.