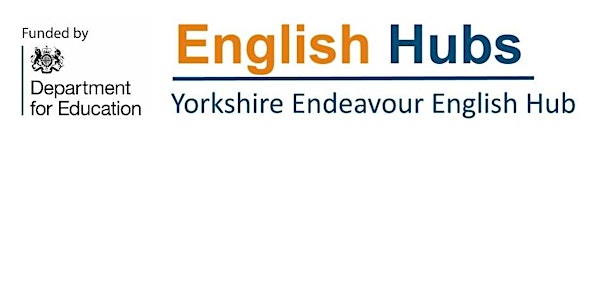 Yorkshire Endeavour English Hub - Early Language Conference - FREE EVENT
Yorkshire Endeavour English Hub - Early Language Conference **Northern Hub's event serving hub catchments only**
About this event
Yorkshire Endeavour English Hub - Early Language Conference - FREE EVENT
** Northern Hub's event serving hub catchments only - see maps below **
Inviting: Headteachers, EYFS leads, Reading leads and EYFS/KS1 class teachers
Key note speakers:
Megan Dixon
Megan is Acting Co-Principal, Director of English for the Aspire Educational Trust and Co-Director of the Aspirer Research School. She regularly writes for the Times Educational Supplement on all things research and literacy related and in her spare time is studying for a PhD researching effective ways of teaching reading comprehension.
Session title: What is the role of early language in the development of Literacy acquisition?
In this session, she will consider the role of early language in the development of literacy (reading and writing) acquisition – drawing on the research evidence and her professional experience. She will explore the practical application of developing effective language provision in school and how this contributes to the effective development of reading and writing skills.
Stephen Parsons @WordAware 
Stephen is a Speech and Language Therapist, trainer and author of practical language development resources for teachers and SaLT. He has over 30 years' experience in the field, including 20 years in Hackney and the City of London where he was Speech and Language Therapy Service Manager for a number of years. Stephen is co-author of best-selling resources 'Language for Thinking' and 'Word Aware' (primary and Early Years), as well as the recently released 'Language for Behaviour and Emotions.'
Title: Words, words everywhere, but which words should we teach? 
This session will focus on early verbal concepts, such as 'through, early, next' as these are the types of words which are most closely linked to learning. Early verbal concepts are the foundation for science and maths learning, and without them children will struggle… Luckily, they also benefit from direct teaching and an engaging and effective method will be presented.  The approach is all based on research and theory which will be explained in an accessible manner.   
Kirstie Page – Launchpad for Literacy
Kirstie qualified as a Speech and Language Therapist and specialised in the Early Years before training as a Teacher. Her experience, learning and people she met along the way led her to develop the Launchpad for Literacy Approach.
Title: Where does Speech & Language fit in with Phase One?
Kirstie's session will focus on the specific speech and language demands that children need for Phonic readiness and discuss how these fit in with Phase One. We will explore:
the specific conceptual and auditory memory demands of Phonic preparation and early Phonic teaching.
the developmental, incremental detail of auditory discrimination and phonological awareness.
By doing so, this session will give Leaders and Practitioners:
a greater understanding of the speech and language skills needed before, during and alongside Phase One.
the ability to differentiate and progress these skills for ALL children and to take children's starting points into consideration.
awareness of some skill areas to investigate and support with older children where Phonic learning or progression is problematic.