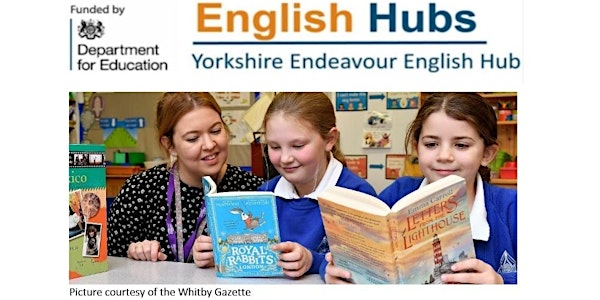 Yorkshire Endeavour English Hub - Open Event at Huntington Primary Academy
Location
Huntington Primary Academy
23 North Moor Road
Huntington
YO32 9QU
United Kingdom
Why not join us at our open event at Huntington Primary Academy on Wednesday 25th September 2019, between 9:00am and 12:00pm?
About this event
At our Open Events see the teaching of early language and reading, including phonics, in the EYFS and KS1.
Observe:
How language and English skills are embedded throughout school;
Best practice in action;
How to ensure that a love of reading is nurtured and developed throughout a child's primary school years.
Take part:
Reflect on your own school's reading journey;
Time built in for action planning and next steps in accessing English Hub funding.
Book now! The Yorkshire Endeavour English Hub will provide:
Two free places per school at an Open Event.
Headteachers, Deputy Heads/Assistant Heads and Senior Leaders with a responsibility for phonics or early reading should attend.
Potential funding of up to £6,000 for schools - for those meeting the eligibility criteria - to invest in resources or training for phonics and early reading;
An opportunity to apply for additional support from the English Hub (free of charge, eligibility criteria apply) including the following:
A full audit of a school's early language and phonics provision carried out by one of our experienced Literacy Specialists and support with further action planning;
Access to further training.
£250 will be paid to the school of each participant to cover release/travel costs and writing an action plan (maximum 2 attendees per school). *Please note, this will only be paid to schools for attendance at our Open Events, not our launch events).
The programme is open to all state-funded schools and academies in the area.
For more information: visit our website: http://www.yeat.co.uk/english-hub/ and follow us on Twitter @YeatEnglishHub