Yorkshire Ladies Links Conference 2015

Thursday, 5 March 2015 from 09:30 to 16:30 (GMT)
Event Details
Don't miss out on booking FREE tickets to join us at our Yorkshire Ladies Links Conference on the 5th March at the Pavilions of Harrogate
Join us to celebrate women of achievement from Yorkshire with 60 exhibition stands, 11 inspirational speakers and networking opportunities with hundreds of like-minded people from all over Yorkshire. 
9.45 - 10.00 Abi Pick 
Abi has enjoyed an extensive international career in strategic marketing, commercial management and recruitment; having lived and worked in Australia and across Central Europe. 
Working with global clients and highly talented people - Abi has developed and delivered their strategic, corporate and professional goals - opening new opportunities, markets and creating business growth.
Setting up Why Marketing was a lifelong goal, acting as an outsourced marketing provision, Why helps organisations to achieve their objectives through clever marketing strategies.

A lover of lightbulb moments and killer questions, Abi will share some valuable top tips on Why Marketing?
www.whymarketing.co.uk
10.10 - 10.30 Tracey Barraclough 
Tracey is an Inspirational Speaker with a media story spanning 15 years, and it's rare to find a speaker with such a wealth of experience. A former Co-Director of a family business, she's also a Hypnotherapist, Athlete, Single Mum and BBC Radio Leeds personality. 
Tracey's Twitter, 'IAMICANIWILL', is also the title of her upcoming book, and if her mindset story doesn't infuse you with a 'can-do' attitude towards your own life and business, then nothing will!
www.traceybarraclough.org.uk
10.40 - 11.10 Elizabeth Wright 
Paralympic medallist and motivational speaker Elizabeth Wright is one such lady who has never let the biggest obstacle of her life hold her back.
So, you've set your goal, you're plodding along, and suddenly life throws a BIG FAT OBSTACLE in your way! You panic, you freeze, you sniff back tears, and wonder "how can I move on from this?"
Born with missing limbs Elizabeth has gone on to achieve more in the first half of her life then many do in their entire lifetime. What is her trick? What keeps her motivated, focused, and determined to achieve despite the odds? The answer is simple, pure self belief.
www.elizabethwright.net
11.20 - 11.35 Dally Riyat 
Dally is one of the key members of the marketing and design team at Print Ideas Ltd - an established design and print business based in North Leeds.
She will be telling you about her career journey, starting as a Junior Designer at a printing.com franchise to becoming an integral part of the business development of Print Ideas.

Dally's prime role is to help clients from all industries achieve their marketing goals through creative, strategic design and print - from initial concept to completed print / digital collateral.
She'll be sharing her top tips on how to get the most out of your money from your design and marketing budget when developing a brand.
www.printideas.co.uk
11.45 - 12.30 Christa Ackroyd
Christa has been a well known journalist in Yorkshire for more than three decades, the last two as anchor on both Calendar and Look North. Having covered everything from the Yorkshire Ripper to the Hillsborough tragedy, Christa is now using her years of experience to help promote others, particularly women, in her home county. 
Having just come back from Malaysia where she was working with the World Curry Festival promoting her favourite cuisine, Christa has also been making videos for key clients which have seen her at Williams Formula One, Microsoft and Accenture using her skills to spread the word about female role models. She also has a number of key clients which have benefited from her experience to get their story into print both locally and nationally in newspapers and glossy magazines. She also runs a five star bed and breakfast, working on personal media and presentation coaching and occasionally cooking for her family.
12.45 - 1.05 Jacqui Cooper 
Exploring Identity..........
Jacqui will share with you her personal experience in January 2011 that changed her life, her identity and her career. She shares top tips that work for her and her clients for a happier more self fulfilled way of life.

Learn how to make your clothing congruent with who you are and your aspirations. Without exception, this brings the inner confidence and happiness many women are searching for.

It's fun, forward thinking and fabulous, of course!
www.jacquicooper.co.uk
1.15 - 1.30 Charlotte Newman 
Charlotte is an ambassador for and the face of, The Teenage Cancer Trust.
After battling the disease herself, she went on to receive a 1st class honours degree in law and distinctions in all of her legal practice course modules. Charlotte is now following her dream and is doing her training contract at Stowe Family Law, working for the most formidable divorce lawyer in the UK. In her spare time, charlotte arranges and attends charity events, raising money and also awareness about teenage cancers. 
1.40 - 2.00 Claire Harper 
Claire is a leading business figure who has unparalleled experience in marketing, change management, branding and enterprise. With the success of some of the UK's leading brands to her name, including Argos, Ocado, Sainsburys and Mamas & Papas, Claire's journey from corporate marketeer to fledgling entrepreneur is inspirational and full of valuable messages gleaned from working at the heart of business and implementing innovation and cultural change in influential and progressive brands.
Her understanding of online retail as well as 'bricks and mortar' shopping, and the passion that led her to take a new business into a crowded marketplace, by building it on values and customer service, and by selling the highest quality of product, places Claire as one of the UK's most formidable business leaders, who expounds her wisdom and strategies in keynote speeches across the world.
www.indiacoco.com
2.10 - 2.55 Kate Hardcastle 
TV Business Pundit, Kate Hardcastle is featured daily across National and International Media – including BBC, ITV, Channel 4, Channel 5, Sky & more. Kate provides an expert insight on business, charities, community and gives positive hope and messages.
A client of Kate's answered "Why would you need Kate Hardcastle? She is real, dynamic, innovative, exciting, passionate and driven. And more – she gets results"
www.insightwithpassion.co.uk
3.05 - 3.25 Angie Aspinall 
Angie speaks bravely about her experience of sudden deafness, the isolation she felt and the solutions she found. One solution came in the form of social media and led to a friendship which in turn developed the successful business networking phenomenon on Twitter as #Yorkshirehour
www.aspinallink.co.uk
3.40 - 4.00 Sukhvinder Javeed
Sukhvinder left the corporate world behind four years ago to launch her invention Milkysnugz. A brand now found in Mothercare, Tesco, JoJoMamanBebe to name but a few. Sukhvinder also launched her product across 51million homes in America as well as several other international countries. Sukhvinder is also supporting upcoming inventors who are wanting to be just as successful by helping them bring their inventions to life.
Learn what it takes to go from concept to shelf and take a brand from your home study global!                 Married mother of two, Sukhvinder will share with you her journey of how women really can have it all.
www.milkysnugz.co.uk
Meet founder of Yorkshire Ladies Links Melanie Malcolm
Mel is always looking to inspire the women within her network and shares her experience with others. Since launching Yorkshire Ladies Links Mel has grown the network to thousands by using her social media expertise to regularly update and promote events. She believes that every woman should have an opportunity to showcase their business, a talent, achievements in a warm, friendly relaxed environment by bringing together women to share inspire and smile...
www.yorkshireladieslinks.co.uk
Meet our exhibitors
Caler Room
Stand    Exhibitor
1            Pitman Training Group
2            Reallymerunway
3            Anna McKann
4            Aegis Martial Arts & Leadership Academy
5            Henshaws
6            Kate Young
7            Photography by Kathryn
8            The Grand Hotel & Spa
9            Forevermore
10          Handpicked Local & Wetherbyhour
11          Pavilions of Harrogate
12          Yorkshire Garden Designs
13          Yorkshire Shutters
14          Vericrafti
15          Garforth Golf Club
16          Vanessa Richardson Ltd
17          ZaraMia
18          Stroke Association
19          Superfast North Yorkshire
20          Wood Financial Services
21          Nu Skin
22          Leeds Cleaning Services
23          Catherine & Clare Ltd
24          Think Office Supplies
25          Illuminate Training Services
26          Lloyds Bank Commercial
27          NFU Mutual
28          Costco
29          The Oasis School of Human Relations
Derwent Room
Stand    Exhibitor
30          Friends of Alfie Martin
31          Life & Soul
32          Tracey Barraclough – Your Mindset for Success
33          Insight with Passion
34          Arbonne
35          Ison Harrison
36          Ison Harrison
37          The Social Link
37          Print Ideas
38          Jacqui Cooper
39          N.J. Geddes Fine Jewellery
40          Fortius Personal Fitness
41          RachelWears
42          Forever Living
43          About My Area
44          Sacred Bazaar
45          Artizign
46          The Handbag Spa
47          Look at me Lashes
48          Boudoir Superstar
49          Jane Clynes Events
50          Sparkles
51          Taste Cuisine
52          Why Marketing
53          Betty's
54          Schofield Insurance
55          Dee Spice
56          Propolis Professional Services
57          Brain Tumour Research & Support
58          UWM Accountants
59          Acupuncture Stuff Ltd
60          Leeds United
External Exhibitor
KT Green Ltd  Subaru | Isuzu Cars
Everyone welcome to join us at the Yorkshire Ladies Links Conference 2015, The Pavilions, Great Yorkshire Showground, Harrogate. For further information please contact the event organiser Melanie Malcolm direct on 0780 107 2222 email info@thesociallink.co.uk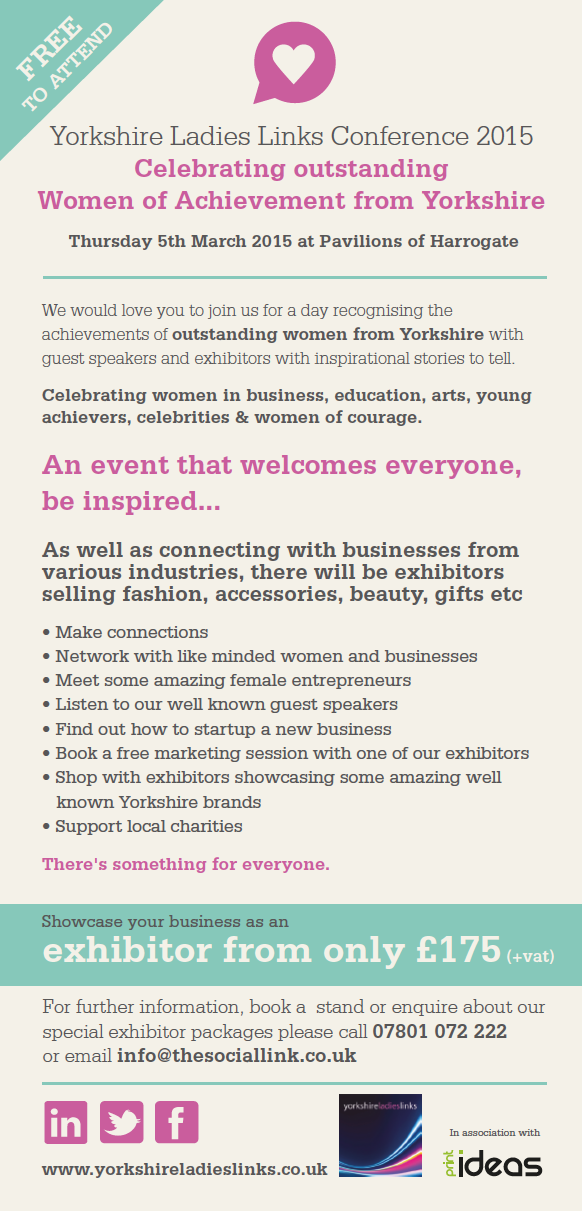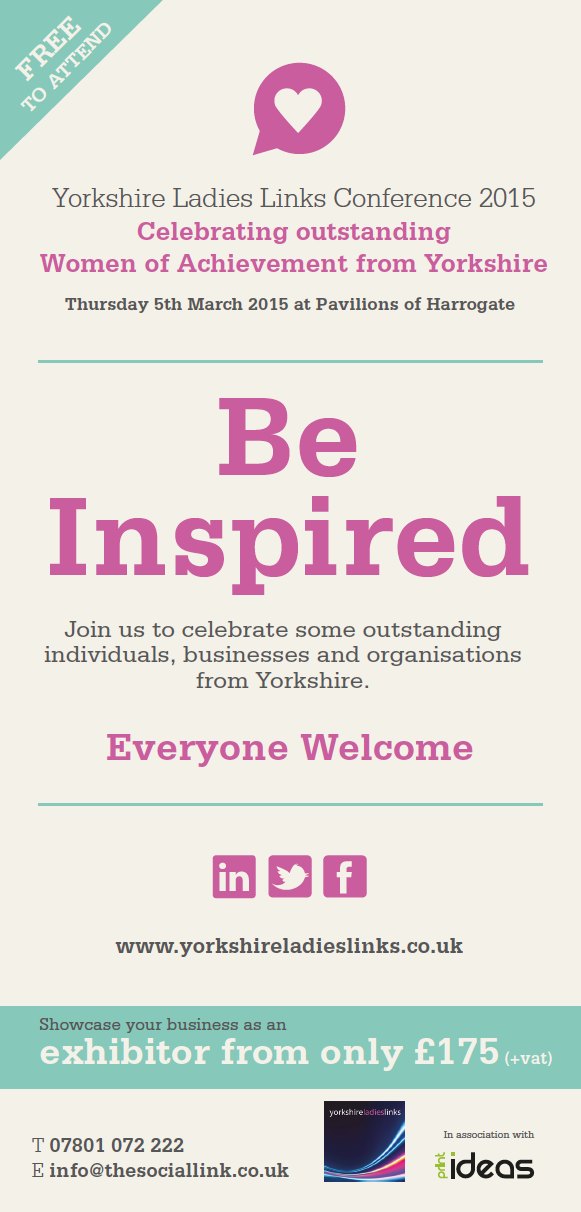 When & Where

Pavilions Of Harrogate

Harrogate
United Kingdom


Thursday, 5 March 2015 from 09:30 to 16:30 (GMT)
Add to my calendar
Organiser
Welcome to Yorkshire Ladies Links
Bringing together women to share & inspire...Yorkshire Ladies Links is a non membership women's networking organisation, supporting professional business women from all sectors both online and offline through networking conferences and events. We welcome professional women, working mums, startup business owners, or those who simply want to support local events and charities. 
Please join us at:
Be Inspired Conference, 8th March, 2019, Wetherby Racecourse, Wetherby, West Yorkshire.
Now taking stand bookings and sponsorship for all our events.
Like us on Facebook & join our Facebook group Yorkshire Ladies Links, follow on Twitter @ladieslinks, Join our LinkedIn group, follow on Pinterest, Instagram and Google+
Yorkshire Ladies Links is a trading division of Bespoke Networking Ltd