Natural England is exploring the possible designation of the Yorkshire Wolds area as an Area of Outstanding Natural Beauty. Please help us.
About this event
The Yorkshire Wolds AONB Designation Project
Working with Natural England, we are running four identical webinars to explain the process for designating an AONB, and to explain how you can contribute. This is in addition to the documents and maps available online.
To book a place on this Webinar:
1. Click the 'Register' button above
2. Check this is the Webinar you wish to attend, then click 'Register' again
3. Fill in both the Contact and Ticket details, then click 'Register' again
You will receive a confirmation email once you have booked. You can only book one person at a time.
Please download and read the background information and maps (from the link in the invitation e-mail) before the webinar.
Click here to contact us if you have any problems or queries.
How will the designation process work?
Natural England has appointed consultants to undertake the assessments required for designation. There will be a strong emphasis on collaboration and engagement so that anybody with an interest in the Yorkshire Wolds landscape has an opportunity to contribute to the process.
The Area of Search shown in the map is based on the Yorkshire Wolds National Character area with a loosely constrained, 'fuzzy' boundary, which forms the starting point for the designation work. Please note that the Area of Search is not a proposed AONB boundary and that it is likely only part of the area will qualify for AONB designation.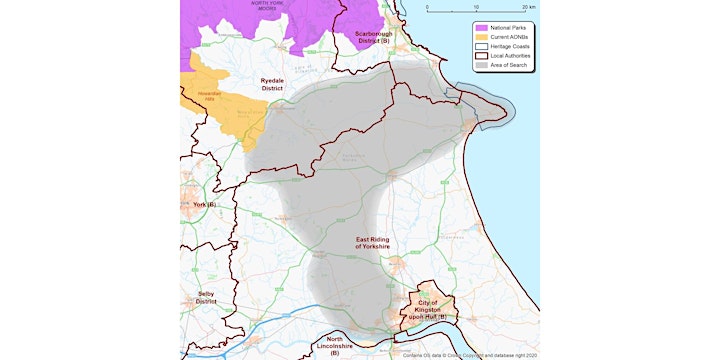 The project began with a 'call for evidence' from Local Authorities and key stakeholder organisations. This ran from the end of March through to the end of April and involved a number of stakeholder webinars, which explained the process and how best to respond with evidence relating to the Natural Beauty and the desirability of designation of the area. This evidence will be used to inform subsequent stages in the process: Evaluation of Natural Beauty and Assessment of the Desirability of Designation.
This Webinar is a part of this 'call for evidence'.