Yoruba Village Square Community Meetup

Multiple Dates
Event Details
Welcome to Yoruba village square (Gbagede Abule Yoruba), the live hub to experience Yoruba culture, language, history, arts and absolutely everything Yoruba. There are no limits, we strongly believe Yoruba culture and its people have made major contributions to the world as it is today.  We can go on this journey together.
As well as this live forum online, yoruba village square will be holding monthly events around Croydon at selected venues for face to face encounters of language, music, yoruba cuisine and many many more. So join us every last Saturday of the month at rotating venues between Croydon BME forum, Croydon Minster church hall or Abidap Restaurant and Bar.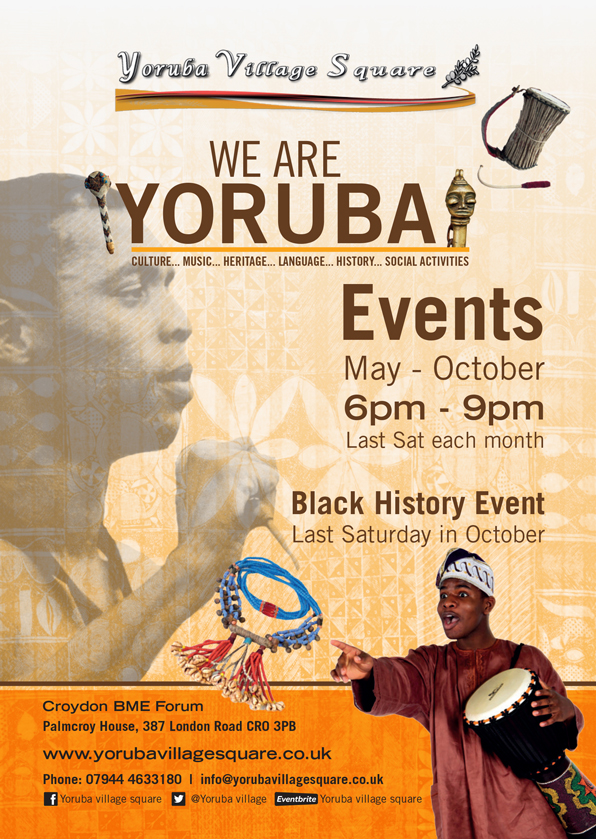 Where

Croydon BME Forum
387 London Rd
CR0 3PB Croydon
United Kingdom


Multiple Dates
Add to my calendar
Organiser
Dayo Adenowo
Dayo Adenowo who would still likes to believe he is still a young man is of Yoruba origin and lives in England, UK. Dayo is on a journey to learn more about himself as a Yoruba man if indeed he is Yoruba, meaning that he thinks the groups of people called Yoruba were given that identity in the early to mid 19th century and they simply have always just lived with it.
Dayo spent a good part of his formative life in south west Nigeria which is the part of the country most yorubas are located so around 40,000,000 (40 million) of them and this also is the largest concentration of Yoruba people compared to other parts of the world where you will find Yoruba people, Brazil possibly being the second to Nigeria.

In his quest he has not had to look very far to find out he is from an ethnic group of people called Owu and also the name of their kingdom which was destroyed in around 1880 and the people dispersed into different Yoruba areas and the largest concentration of them in todays Egbaland in Ogun State also in Nigeria. The former twice president of Nigeria, rtd General Olusegun Obasanjo is from this parts and is the current balogun (also meaning general) of the Owu people.
Where Dayo's family are from in Ijebu, Ogun state is called Ijebu Odo-Olowu meaning the settlement of the Owus. This is a matter of nothing more than 5 miles from Ijebu Ode a well known and ancient kingdom attacked by the British also towards the end of the 1800s.

His mother also is of Owu origin and also from an Owu settlement and called Odo-Olowu but part of a collection of other settlements in Ijebu Aiyepe not far from Ikenne and Sagamu.
With there being other people out there who may have been born and raised outside of Yoruba land i.e in the UK and maybe of a mixed heritage or even a long historical family ties to Yoruba and seeking to make the slightest connection, Dayo thought it made sense to share his quest together and this was the inspiration for Y V S – Yoruba Village Square.

So every last Saturday of the month, join Dayo at Croydon BME Forum at 387 London Road, West Croydon just a matter of doors from the Caribbean supermarket and opposite side of the old Philips Building (tall multi storey tower).
Yoruba Village Square Community Meetup