Location
Conway Hall
25 Red Lion Square
London
WC1R 4RL
United Kingdom
Description
Join us for an inspiring evening with Jodie Jackson to mark the launch of her ground-breaking new book You Are What You Read.
There are so many positive things happening in our world - from daily acts of kindness to life-changing breakthroughs. Yet despite living in the greatest era of progress mankind has arguably ever seen, the news we consume daily has a 'negativity bias', which convinces us the world is falling apart.
We all know the saying 'you are what you eat' in relation to our bodies - but when it comes to our minds 'you are what you read' is equally true. The impact of our mental diet is less visible but just as powerful.
In this empowering talk, Jodie Jackson will explain the impact the news has on our mental health and show us how we can take a more conscious and constructive approach to our media diet. By shifting the way we consume the news, we have the power to boost our mental health, transform our lives and just possibly change the world.
"Timely and engaging... a must-read" ~ Steven Pinker
About The Author & Book
Do you ever feel overwhelmed or powerless after watching the news? Take a breath – the world is not as bad as the headlines would have us believe. You Are What You Read helps us understand how news is produced, who chooses the stories, why the content is mostly negative and what effect this has on us.
Combining the latest research from psychology, sociology, and the media, Jodie Jackson builds a powerful case for including solutions-based news narrative as an antidote to the negativity bias. This is more than a book; it's a manifesto for a movement. It is not a call for us to ignore the negative; rather, it asks us to not ignore the positive.
Jodie Jackson is a campaigner, researcher and author, with a Master's Degree in Applied Positive Psychology from the University of East London.
"An inspiring call to arms to overcome the negativity bias in our news. Refreshing, well-researched, balanced and hopeful. Let's make it happen"
~ Dr Mark Williamson, Action for Happiness

Location and Timings
This event will take place on Tues 9 April 2019 at Conway Hall in London. Doors will open at 18:30 and the event will start at 19:00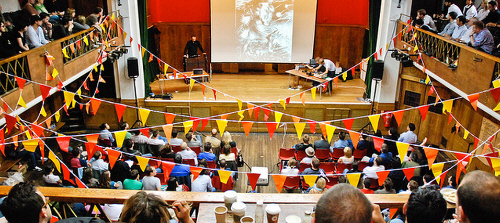 Tickets
This event is in support of Action for Happiness. We want to make it accessible to as many people as possible, so rather than charging a fixed fee we're instead asking you to make a donation. It would be great if you could donate £20, but if you can spare more, or feel unable to give that much, then please give what you feel is appropriate.
Any funds raised (beyond the costs of the event) will contribute directly to Action for Happiness' work to promote mental wellbeing in local communities.
Action for Happiness is a Registered Charity (1175160).
Any questions about the event please contact events@actionforhappiness.org.
We look forward to seeing you there!