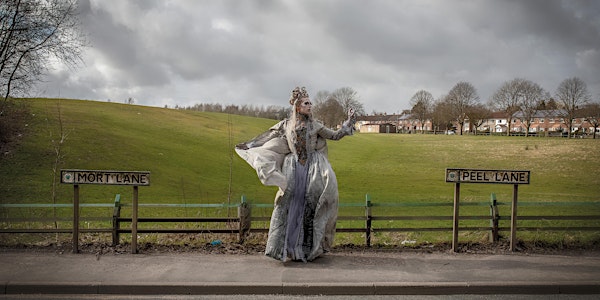 You Belong Here: Cheddar Gorgeous with Liquorice Black and Natalie Linney
Event Information
Location
Salford Museum and Art Gallery
Crescent
Salford
M5 4WU
United Kingdom
About this event
Join Cheddar Gorgeous, Liquorice Black and Natalie Linney for an informal panel discussion led by Greg Thorpe as they discuss Cheddar's commission for You Belong Here.
Drag artist Cheddar Gorgeous uses makeup, costume and performance to create living spectacles and tell stories inspired by everything from historical figures to environmental issues. For You Belong Here Cheddar delved into the history of the old Halls of Little Hulton and in particular the ghost story of Madam Mort. In collaboration with local artists, Cheddar created a new outfit inspired by Madam Mort's story, including fabrics hand-dyed using foraged natural materials from the area, as well as incorporating local people's written memories into the fabric design.
This is an exciting opportunity to find out about the inspiration behind the project and the artists who worked with Cheddar to re-create Madam Mort.
Greg Thorpe is a writer, artist, curator and creative producer. He has written about the project for the exhibition brochure. 
You Belong Here is led by the University of Salford Art Collection and Salford Museum & Art Gallery, on behalf of Salford Culture and Place Partnership. It is part of the wider Rediscovering Salford programme which is generously supported using public funding by the National Lottery through Arts Council England.
Date and time
Location
Salford Museum and Art Gallery
Crescent
Salford
M5 4WU
United Kingdom