Event Information
Refund Policy
Contact the organiser to request a refund.
Eventbrite's fee is nonrefundable.
Don't miss out on a very special virtual panel discussion on why adolescent girls and young women need role models!
About this Event
The girls of today are the unstoppable women of tomorrow. On World AIDS Day, join Marie Claire UK and African NGO mothers2mothers (m2m) on a very special virtual panel discussion that will highlight why adolescent girls and young women need role models more than ever to unleash this potential.
The panel will feature Sophie Williams, author of Anti-Racist Ally: An Introduction to Action and Activism and Millennial Black, Anna Mathur, psychotherapist and Author of The Sunday Times Bestselling Mind Over Mother, and Nozi Samela, m2m Spokeswoman. The conversation will be moderated by Andrea Thompson, Editor in Chief at Marie Claire UK.
Every girl should have the power to choose who she wants to be and how she lives her life. Yet, many girls and young women in sub-Saharan Africa are being left behind. That's why Marie Claire UK and m2m have joined forces to celebrate the next generation of female change makers in Africa, and the women who inspire them.
You won't want to miss out on this inspiring and uplifting conversation to end 2020 on a high – sign up today and join the conversation online using #ShesGotThePower!
Thanks to the backing of a group of generous donors, donations to m2m will be matched until 2nd December, doubling your impact on the ground. Join the movement, and help ensure that this next generation of women can reach their full potential!
The She's Got the Power Campaign
She's Got The Power is m2m's new flagship annual campaign, which celebrates the power that the girls of today have to become the unstoppable women of tomorrow.
By helping girls unleash their power, we can create a healthy, bright, and more equitable future for this next generation. But we face major obstacles to turn this vision into a reality. Girls in sub-Saharan Africa are facing extraordinary challenges – from early and unintended pregnancy and a high rate of HIV infections, to gender-based violence, and forced marriage. COVID-19 has added fuel to the fire by often depriving girls of the vital support networks they rely on at this critical juncture in their life and making it harder for them to access lifesaving health services and education.
About the Panellists
Andrea Thompson, Editor-in-Chief, Marie Claire UK (Moderator)
Andrea has worked as a journalist for a range of publications including The Daily Mail, The Sunday Times, The Guardian, Channel 4, Glamour and Grazia, before joining Marie Claire. For much of her career, Andrea has specialised in investigative journalism and loves helping bring to light inspirational stories from people who traditionally have not been given a voice in mainstream media. At Marie Claire, Andrea oversaw a hard-hitting feature on rape as a weapon of war that won the title an Amnesty Media Award, and now acts as a judge for the awards each year. She regularly chairs events for Marie Claire and mentors young women trying to break into the industry.
Sophie Williams, Author of Anti-Racist Ally and Millennial Black
Sophie is a leading anti-racism advocate and activist. She is a regular panellist, speaker, consultant and workshop facilitator with a focus on anti-racism, and Diversity and Inclusion. Her writing has appeared in publications such as The Guardian, Bustle and Cosmopolitan. Before beginning writing Sophie had a career in advertising, particularly in social agencies, where she has held the position of COO. In 2019 Sophie left traditional agencies in order to create her own business, working with clients such as Netflix on projects combining her professional advertising experience with active anti-racism work. Sophie's second book Millennial Black will be published in April 2021.
Anna Mathur, Psychotherapist and Author of The Sunday Times Bestselling Mind Over Mother
Psychotherapist and bestselling author Anna has a unique way with words and she's not afraid to use them. Whether it's providing advice on anxiety, overwhelm or encouraging self-worth through her own experiences, or supporting mums with her Sunday Times bestseller Mind Over Mother, Every Mum's Guide to Worry and Anxiety in the First Years , Anna has an approach to mental health like no one else. BACP accredited, Anna's passion for taking therapy out of the therapy room, empowering people to utilise simple techniques that will help reframe the way they think has seen her regularly feature in publications including Grazia, Fabulous, Stylist, The Telegraph, Marie Claire, Psychologies and Red. With her informative yet entertaining Instagram page (@annamathur), hugely successful podcast The Therapy Edit and popular online courses on Reframing Anxiety, People Pleasing and Self-Worth, Anna has become a go-to guru for accessible mental health advice, appearing as a guest on podcasts from Deliciously Ella to Emma Gannon's Ctl Alt Delete. A mum-of-three, Anna was inspired to write her brilliant debut book Mind over Mother following her own experience with Postnatal depression. Demand for the book saw it enter the Sunday Times Bestseller list at Number 6 and it remained in the top ten for two weeks.
Nozandulela "Nozi" Samela, m2m Spokeswoman
Nozi was diagnosed as living with HIV while pregnant at the age of 19. With peer-based support from m2m, she survived stigma and discrimination associated with HIV – delivering two HIV-negative children and subsequently working for m2m as a frontline healthcare worker (a "Mentor Mother") – a role she held for seven years. After this time, she transitioned to join m2m's communications team, where she now focuses on equipping Mentor Mothers working in clinics and communities to tell their stories in support of m2m's mission. As a mother of two girls herself, Nozi's ultimate goal is to ensure that girls are not left behind and are given all the tools and education to recognise the own power they possess within themselves to become who they want to be. Her own story shows the power and potential of believing in yourself.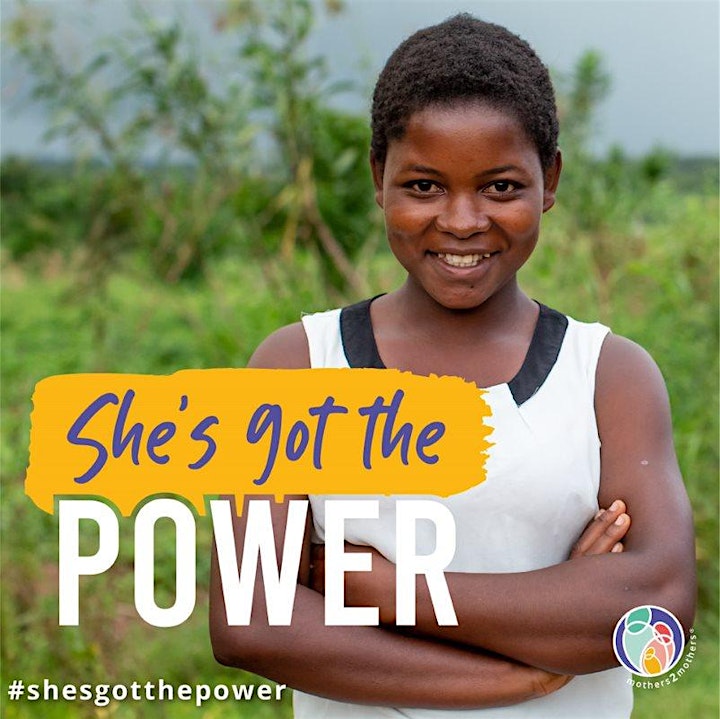 Date and Time
Location
Refund Policy
Contact the organiser to request a refund.
Eventbrite's fee is nonrefundable.