Event Information
Location
Barking Learning Centre
2 Town Square
Barking
IG11 7NB
United Kingdom
Description
"I Remember Srebrenica"
'Honouring & Remembering the innocent victims of the Bosnian genocide'
---
On 11 July 1995, 8,372 were systematically massacred and buried in mass graves in Srebrenica. Thousands of women, children and elderly people were forcibly deported and a large number of women were raped. It was the greatest atrocity on European soil since the Second World War.
On Saturday 28th November 2015, we invite you to join us for a powerful night of music, poetry and spoken word where you will hear a group of talented artist 'rewind, retell and remember' Srebrenica.
---
The project:
You Press has teamed up with Remembering Srebrenica to deliver a unique creative arts project, called 'I Remember Srebrenica'.
On 22-25 October 2015, You Press travelled to Bosnia & Herzegovina with a group of talented artists and students to embark on a once in a lifetime trip to learn about the Bosnian war and genocide. Our aim with the project is to teach current and future generations about the consequences of hatred and intolerance through poetry, spoken word, music, photography and film.
"We're aiming to help people in London communities understand and learn the lessons from Srebrenica. It's so important that we create understanding of the genocide among new generations in Britain". Emily Churchill Zaraa (Songwriter / Musician).
As well as learning about the current situation for survivors and families whose loved ones were killed, the group is looking at the lessons which can be taken from the genocide. Inspired by their experience they have pledged to take social action in their communities across the UK.
"I was born in the year of the genocide. Coming here has opened my eyes and I see the true extent of this tragedy. There has been no closure in Bosnia and the effects are still being felt today. I'm determined to share the lessons from Srebrenica with my peers." Annisa Khan (Student)
We hope to see you there.
Yours sincerely,
Farah Mohammoud
---
Performing Artists:
Aisling Fahey

Asha Mohammoud

D.Tail

Emily Churchill Zaraa

E.S.T

Karoo Chanti

LyricL

Raggo Zulu Rebel

Zaneta Denny
Date & Time:
Saturday 28th November 2015, 6.30pm - 9pm.
Location:
Barking Learning Centre, 2 Town Square, Barking, IG11 7NB
Ticket Booking:
£7 Advance Booking (excluding processing fee)
On the Door & Concessions: Donate what you can.
*All the tickets sales & donations will go to supporting the work of Remembering Srebrenica charity.
Contact Details:
Farah Mohammoud / contactus@youpress.org.uk
Twitter: @You_Press
Facebook: https://goo.gl/U9atdm
Website: www.youpress.org.uk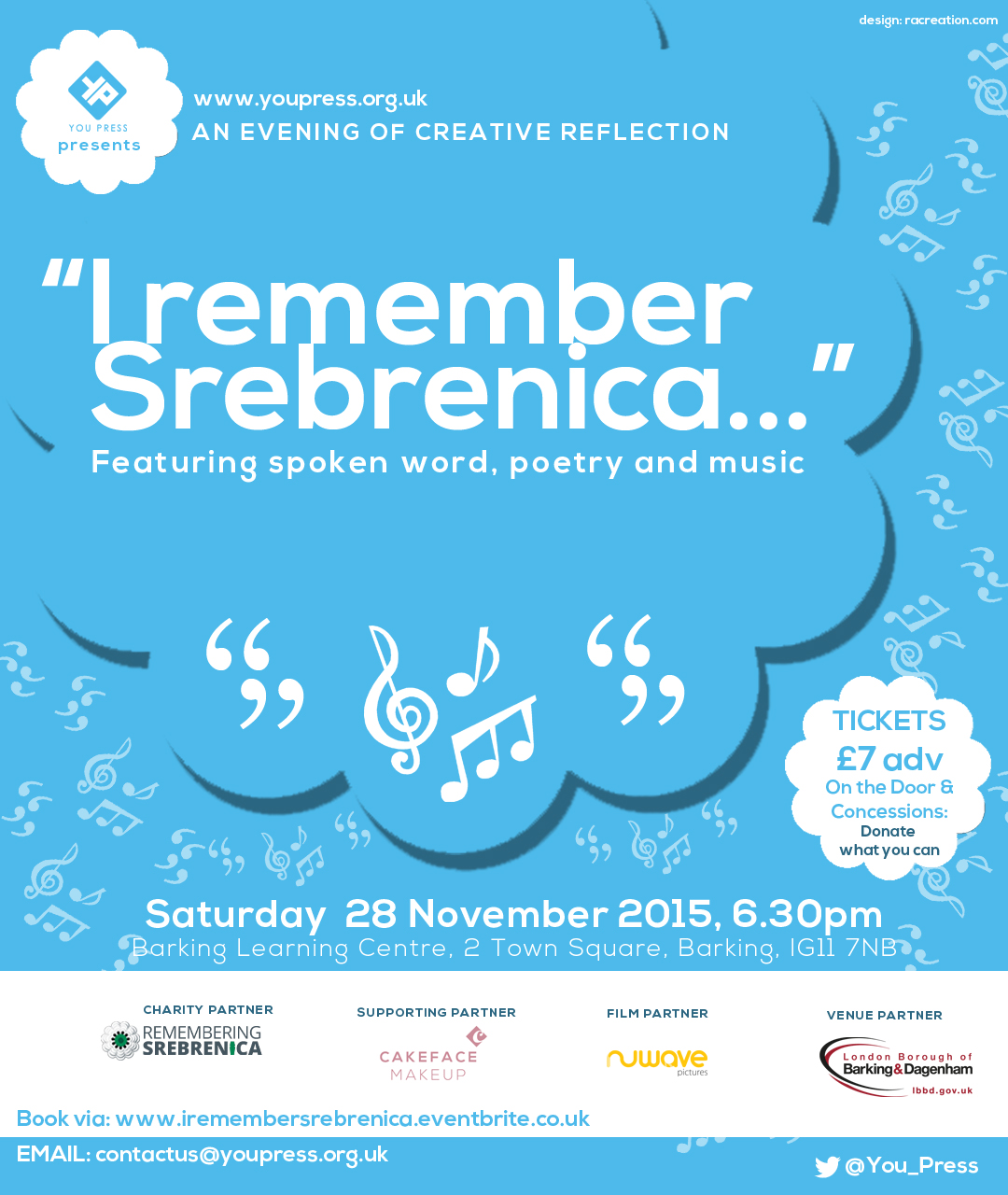 Date and time
Location
Barking Learning Centre
2 Town Square
Barking
IG11 7NB
United Kingdom