You Press Presents 'Voices of Redemption'

Saturday, 10 October 2015 from 18:30 to 21:00 (BST)
Event Details
One Story, Our Voice: Voices of Redemption
"Our future is not determined by the mistakes that we make or by the negative labels and stereotypes that are put upon us". 
On 10 October, we invite you to join us for a powerful night of music, poetry and spoken word where you will hear 10 dynamic artists narrate the phenomenal life stories of 10 ex-offenders.
Reoffending by young offenders has become one of the most pressing issues faced by society today. 45.2% of adult prisoners reoffend within one year of being released. For those serving sentences for less than 12 months, this increases to 57.5%. It is now recognized that the record levels of inmates in prison is not helping to reduce crime.
"In order to prevent re-offending, we need to support offenders to change their behaviours and break the cycle of offending." -The Safer Southwark Partnership Rolling Action Plan
The Project:
The Voices of Redemption project uses creative arts to tackle the stigma associated with ex-offenders and provides a platform for this marginalized group to get their voices heard.
"I was inside for two-and-a-half years so I didn't know what to expect when I came out. I thought I had lost all opportunities out there."
During the project we learned that the vast majority of ex-offenders have a complex range of social problems and that there is a link between re-offending and social exclusion. The participants live in areas suffering from historically high levels of crime. We also learned that the opportunity to participate in a creative arts project helped develop new transferable skills that can enable young people to have better chances in life. We strongly believe that this understanding helps build better communities.
"As somebody who comes from a deprived London council estate with a background in gang violence and uneducated until 17, and have been to prison 6 times (a route that I managed to redirect over the last four years), I can safely say that this has been one of the greatest experiences I've had." 
This event will build on the success of its first that took place on 1st June 2015 at Park Theatre in Finsbury Park and has been designed by the group to showcase their hard work and perseverance. We will also be launching the collaborative project album that has both been produced and created by the group. With the aim of reaching a wider audience, the support from this event will not only help the next generation of artists achieve their potential but also continue to allow ex-offenders to articulate their voices.
"In the past few months I have learned a very powerful lesson that behind every negative label or stereotype there is a real person with dreams and aspirations just like you and I."
We hope to see you there.
Performing Artists:
Asabi Hawah

Ausar Furion

Carmina Masoliver

Emily Churchill Zaraa

E.S.T

 

Ducan Mortimer

Karoo Chanti

Kwaku Kylei 

Miss Jacqui

Raggo Zulu Rebel

Rhythm Of Men

Rouben Alaverdian
Date & Time:
Saturday 10

th

October 2015, 6.30pm – 9pm
Location:
Spotlight, 30 Hay Currie Street, London, E14 6GN
Ticket Booking:
£7 Advanced booking (excluding processing fee)

£10

On the door

Concessions for local community groups, unemployed & students (please contact us)
Sponsors & Partners:
The delivery of our project would not have been possible without the generous support and funding from our sponsors, funders and partners. 

'The Mark Evison Foudation is a charity set up in 2009 in memory of Lt Mark Evison of the Welsh Guards, to promote in young people personal development through challenge. Through its schools scheme it aims to address the most significant barriers to personal non-academic development in students 16-18 years: opportunity and mentoring support. The Foundation encourages a wide range of students in state schools to create, plan, propose and finally carry out challenging non-academic projects of their own choosing - often resulting in life-changing experiences and - then provides funding up to £500 for each'. www.markevisonfoundation.org

Spotlight is a multi-million pound creative youth space designed to inspire. It has been shaped by young, for young people. It offers free, state of the art sound, film, design, art and broadcasting facilities, alongside performance, dance, boxing, fashion, styling and chill areas. Spotlight's vision is for Spotlight to be the leading creative youth destination in London, providing outstanding opportunities for discovery, growth and inspiration. www.wearespotlight.com
Awards for All gives groups an easy way to get small Lottery grants of between £300 and £10,000. "We want to fund projects which address the issues, needs and aspirations of location communities and people. We will fund a wide range of community projects aimed at developing skills, improving health, revitalising the local environment and enabling people to become more active citizens". www.biglotteryfund.org.uk

Queen Victoria Seamen's Rest provides accommodation for merchant seamen and for former members of the Royal Navy, the Fleet Air Arm and other units with martime links. However, beyoung this core group, they also welcome servicemen from across the armed forces and homeless men from many walks of life who require the simple accommodation and fellowship, which they provide. www.qvsr.org.uk
Contact details:
Farah Mohammoud / contactus@youpress.org.uk
Twitter: @You_Press
Facebook: https://goo.gl/U9atdm
Website: www.youpress.org.uk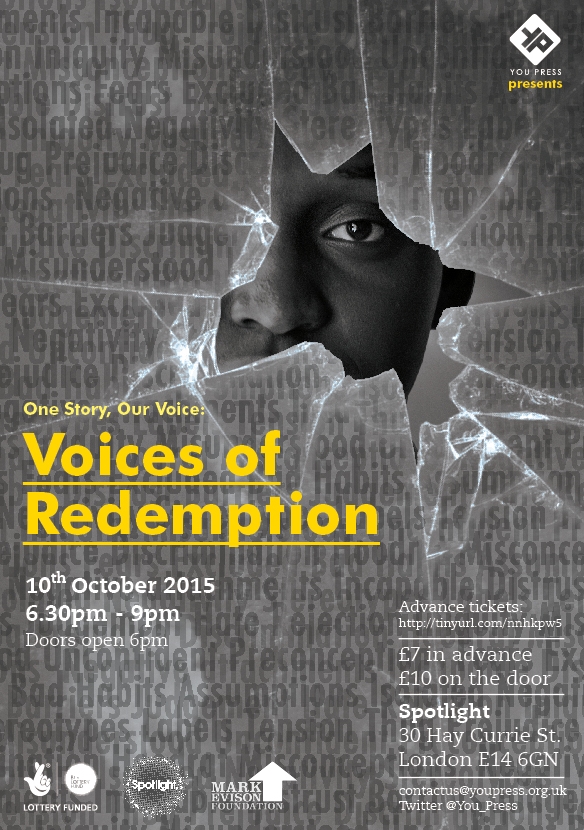 Do you have questions about You Press Presents 'Voices of Redemption'?
Contact You Press
When & Where

Spotlight
30 Hay Currie Street
E14 6GN, London
United Kingdom


Saturday, 10 October 2015 from 18:30 to 21:00 (BST)
Add to my calendar