Description
Step inside Bloomsbury Publishing as we celebrate the most powerful debut novel you'll read in 2019 by the award-winning writer, Damian Barr.
Already picked as a fiction highlight 2019 by the Guardian, Observer and Financial Times, we're delighted to welcome Damian to the Bloomsbury Institute to talk about this deeply moving story of connected parts with his editor Alexa von Hirschberg. Set in South Africa in two time frames, that of the Boer War in 1901 and contemporary South Africa, and inspired in part by real events, You Will Be Safe Here uncovers a hidden colonial history and present-day darkness while exploring our capacity for cruelty and kindness.
Praise for You Will Be Safe Here:
'Completely gripping and profoundly moving – you care for every character. Each of the very different stories is deeply affecting and they're woven together in such unexpected and powerful ways. Barr handles the most difficult material with the lightest touch' - Maggie O'Farrell,
"A gripping, heartbreaking tale of uncomfortable histories and the resilience of love" – Graham Norton,
"Brutal, haunting, redemptive and with not an ounce of fat left on it. Beautiful" – Jojo Moyes,
"It's rare for a novel to go so deep that you come out of reading it a different person from when you went in. Damian Barr's investigation of a part of South Africa's history the British have been trying to forget for many many years is such a book. It was a very brave book to write, and parts of it call for some courage to read, but nothing more unusual and impressive has appeared for years" – Diana Athill,
Event Details:
Date: Tuesday, April 2nd
Timing: Doors open and drinks from 6pm. Damian and Alexa in conversation from 6:30pm, followed by Q&A from 7:30pm and book signing by Damian from 7:45pm. This event concludes at 8:00pm.
Venue: Bloomsbury Publishing, 50 Bedford Square, WC1B 3DP
Nearest station: Tottenham Court Road
Tickets: £20 for adults / £15 students and concessions. Tickets include a copy of You Will Be Safe Here by Damian Barr
This event is hosted by Bloomsbury Institute, a division of Bloomsbury Publishing. Please read our Event Terms and Conditions carefully as by buying a ticket to this event, you confirm that you accept these terms and condition and that you agree to comply with them, alongside the Eventbrite terms and conditions.
***
Damian Barr is an award-winning writer and columnist. Maggie & Me, his memoir about coming of age and coming out in Thatcher's Britain, was a BBC Radio 4 Book of the Week and Sunday Times Memoir of the Year, and won the Paddy Power Political Books 'Satire' Award and Stonewall Writer of the Year Award. Damian writes columns for the BigIssue and High Life and often appears on BBC Radio 4. He is creator and host of his own Literary Salon that premieres work from established and emerging writers. You Will Be Safe Here is his debut novel.
***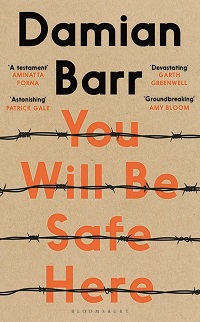 The stunning and shocking debut novel from the award-winning author of Maggie & Me. Set in South Africa You Will Be Safe Here explores legacies of abuse, redemption and the strength of the human spirit

South Africa, 1901, the height of the second Boer War. Sarah van der Watt and her son are taken from their farm by force to Bloemfontein Concentration Camp where, the English promise: they will be safe.

Johannesburg, 2010. Sixteen-year-old outsider Willem just wants to be left alone with his books and his dog. Worried he's not turning out right, his ma and her boyfriend send him to New Dawn Safari Training Camp. Here they 'make men out of boys'. Guaranteed.

You Will Be Safe Here is a deeply moving novel of connected parts. Inspired by real events, it uncovers a hidden colonial history and present-day darkness while exploring our capacity for cruelty and kindness.
Reviews of You Will Be Safe Here:
'You Will Be Safe Here is eviscerating in its rendering of violence and masculinity in South Africa – it brings to mind Goya's devastating painting, Cronos Eating His Children – and exquisite in its depiction of suffering and love. You will see the world differently after reading this – it speaks so eloquently and compassionately against a world defined by dominance and brute force and the blind repetition of history. It brought me to tears – the beauty of the language, Barr's tenderness with his characters, and the horror that is done in the name of power' - Maggie Orford
"This would be an achievement for a third or fourth novel; for a first, it's an astonishingone. Barr's handling of his bravely chosen material - the conjoined shames of British and Afrikaaner history - is deft and the results will haunt you" – Patrick Gale, author of 'Take Nothing With You',
"Devastating and formally ingenious, it traces the paths by which historical grief engenders present violence … A vitally brave and luminously compassionate book" – Garth Greenwell, author of 'What Belongs to You',
"Damian Barr has written a novel concerned with single strain of human history, of how a people are made and unmade and how they go on to make and unmake others, of the stories they tell themselves to allow such things to pass. In so doing he has captured the threads of all of human history. You Will Be Safe Here is as unexpected as it is unsettling, both in the telling and in the way that telling works to reveal hidden trails through the points of light and darkness, such that the reader arrives at the end to stand before a view over one hundred years in the making and says, I see it now" – Aminatta Forna,
"[Barr] has achieved something remarkable – a powerfully moving tale that weaves dazzlingly between the Boer war and contemporary South Africa" – Picks for 2019, Observer
"Sweeping yet intimate, heart-breaking yet often very funny … This book confirms Barr as one of our most brilliant and big-hearted writers" – Alex Preston,
"Few writers can wind you with a word. But Damian Barr doesn't just do that, he tickles and then floors you, delights only to devastate, within a single phrase" – Patrick Strudwick
"Epic … Immersive, moving, horrifying and beautiful. You will LOVE it " – Marian Keyes

"Damian Barr splits open lost history, sunlit moments of love and all private griefwith this novel, a chisel at one end and a telescope at the other. Insightful and compassionate, open-hearted and unblinking, Barr gives us three unforgettable stories in this powerful, groundbreaking book" – Amy Bloom,
"Wonderful. I finished the book in tears ... [Barr] writes beautifully, emotively and yet cleanly, without pressing any point so hard that it becomes polemic instead of truth" – Jessica Fellowes,
"Brave, compassionate and beautifully written" – Fanny Blake,
"Funny, tender, and heartbreaking ... A gifted storyteller" – Independent on Sunday
"Barr has a keen eye for wincingly evocative detail ... Lyrical" – New Statesman
"Barr's writing has a lightness of touch and warm humour which makes it easy to root for him ... His life has become a triumph" – Observer
"A devastating novel about the destruction of childhood which visits a little known part of South Africa's recent shameful history ... Damian writes beautifully and wears his research lightly, in this most affecting of novels" - Kirsty Wark