Young & Connected: Spring into networking action

Tuesday, 19 February 2013 from 18:00 to 21:30 (GMT)
Event Details
This is a FANTASTIC OPPORTUNITY FOR YOU to network with people from a wide variety of industries. Network with and listen to some of the best people in our chosen industries about what motivates them  they'll give YOU advice on how to take the next step in your career or personal life. Young'n'Connected events are NOT TO BE MISSED.
Speakers on the night include: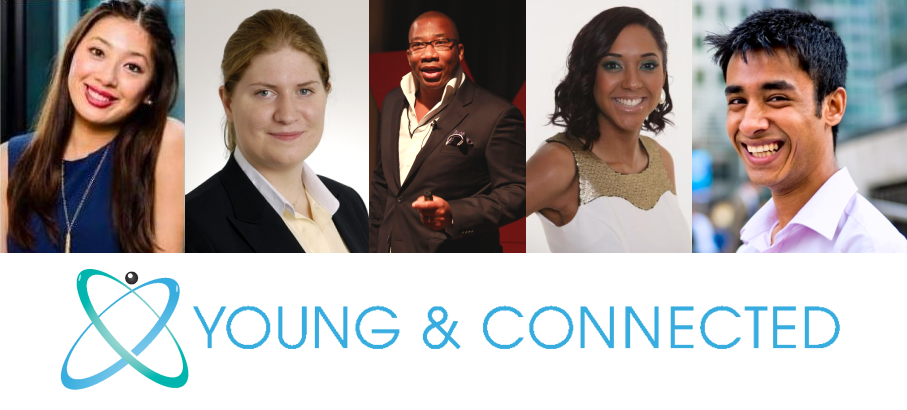 Joanna Abeiye- Journalism
Joanna has published titles in publications such as Cosmopolitan, Sky magazine, Heat, More!, The Mirror, The Voice, The Guardian, Mail Online as well as journalism.co.uk, Radio Times.
Her radio experiences include working for BBC London, BBC Radio 1Xtra, Colourful Radio, playvibes.com and BBC 5 live. Branching into PR she helped with PR for the likes of Kelly Rowland and did placements at BBC Radio 1Xtra and Colourful Radio where she would report showbiz news.
She also won GUBA Award for Best Print Journalist and is a member of the SOLA Foundation Management Board. Follow her on Twitter @JoannaAbeiye or visit her website.
David Villa-Clarke - Wealth Management
David Villa-Clarke works in the Financial Services Industry. He specialises in the field of Wealth Management, working for Towry as a Wealth Advice Manager. David's role is to lead, develop and motivate a team of Wealth Advisers to assist clients in achieving their financial goals.
He is also the Chairman and Founder of Project Volunteer, a charity that helps over 500 orphans living in Botswana. Project Volunteer encourages people to give up a week of their working life to spend time helping the orphaned children living in SOS Children's Villages in Botswana.
Connect with David on Linkedin, Visit www.towry.com and www.project-volunteer.com website for more information. Watch David @ TEDx Square Mile.
Jer Lau- Consultancy
Jer is an Associate Consultant at PwC. Since joining she's had a range of experience across the UK consulting practice and has worked at the Melbourne office in Australia where she supported the Technology and Projects team.
Jer is also the Vice Chair (Communications) of the Young MCA. The Young MCA, established in 2005, provides opportunities for networking and the sharing of experiences for management consultants with 0 - 5 years consulting experience. The mission of the Young MCA group is to contribute to the enhancement and development of the UK management consultancy industry and to maintain the industry's high standards. To do this the Young MCA team deliver a diverse and engaging programme of events and networking opportunities for the Young MCA membership to complement the wider MCA programme.
Find out more about the Young MCA by visiting the website and get connected with Jer on Linkedin.
Rebecca Lloyd - Consultancy

Becky is a Senior Associate in PwC's 'People & Change' team, most recently working on global transformation projects for Oil & Gas clients. She combines psychological insight into issues such as motivation, team dynamics and leadership with technical expertise in people issues such as reward, capability development and communication. Becky studied Psychology at the University of Bath and spent a year training with a Sports Psychologist in Melbourne.

Prior to working at PwC, Becky worked at The Mind Gym where she used psychology research to design tailored learning and development solutions for large companies.

Becky has recently been short-listed for the Young Consultant of the Year MCA Award.

Get connected with Becky on LinkedIn or follow her on twitter @beckyjlloyd
Sabirul Islam -Online Branding
Sabirul Islam, a teen-trepreneur from the age of just 14, a global motivational speaker having spoken at over 600 events worldwide and author of the bestselling books The World at Your Feet and Young Entrepreneur World, with the latter having launched in February 2012
Sabirul became a trader at 16 and his inspiring books have sold over 60,000 copies to date. By 20, he set up Teen-Speakers; a speaker's bureau consisting of 39 of the world's most successful and influential young people, all under 25 striving to empower youth worldwide with a message that 'Generation Y' has what it takes to be successful.
At 21, Sabirul's vision to inspire young people has expanded to a global scale, having set up the Inspire1Million Campaign with a vision to inspire at least one Million people around the world. So far he has delivered the campaigns across Europe, South America, Asia and Africa.
Sabirul's global presence has now landed him his own 13 week TV series in South Africa. A youth business TV show to encourage growth in entrepreneurship across Africa
We look forward to seeing you at the next event below.
Event Structure
6.30pm Doors Open and informal networking
7.00pm Welcome by event host, speaker introduction and housekeeping.
7.15pm Golden Minutes: Opportunities for 4-5 guests to showcase themselves, business or services for 4 minutes each.
7.35pm Networking
7.55pm Speakers – Journalism and Personal Finance; Rooms 1 and 2
8.25pm 10 minute break
8.35pm Speakers – Consultancy and Building your Brand Online; Rooms 1 and 2
9.05pm Closing remarks and open networking.
When & Where

Google Campus London
4-5 Bonhill St
EC2A 4BX London
United Kingdom


Tuesday, 19 February 2013 from 18:00 to 21:30 (GMT)
Add to my calendar
Young & Connected: Spring into networking action