About this Event
Are in interested in a career in curation? Do you want to set up a creative platform to celebrate the work of makers or creatives, and make your voice heard? Or maybe you're interested in putting on creative events such as exhibitions, panel talks or screenings?
Come along to our October meeting where we'll be joined by Bolanle Tajudeen, founder of Black Blossoms, a platform which promotes black women visual artists and creatives, and course leader of 'Art in the Age of Black Girl Magic' at Tate Britain. Bolanle will be talking about her career path in the creative industries, as well as leading some practical activities to help develop some key skills for developing your platform.
As always there will be time to network with fellow creatives, and we'll have some tasty pan-African cuisine to eat during the meeting too.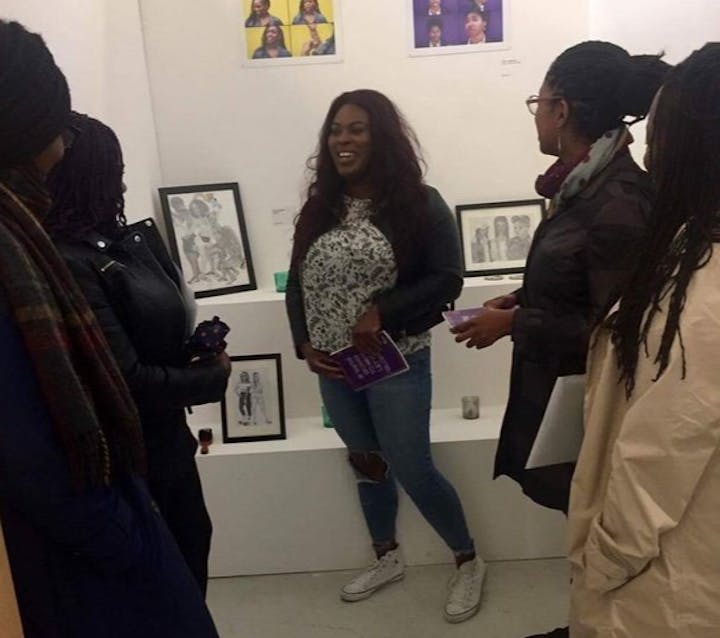 About Bolanle:
Bolanle Tajudeen is the curator and founder of Black Blossoms, a platform which promotes black women visual artists and creatives by hosting regular exhibitions, panels and screenings throughout the UK. The platform has showcased work of UAL alumni as well as touring the exhibition "If we are Going to Heal Let it be Glorious" including the work of 31 black women and non-binary artists.
In 2018 and now 2019, Bolanle has taught the sold out course 'Art in the Age of Black Girl Magic' at the Tate Britain, alongside a commission to curate an evening of performances by black women artists, exploring the intersections of race, African spirituality and climate change.
Bolanle is also the recipient of the Shades of Noir 'Teaching Within' scholarship, lecturing on MA Fine Art at Chelsea College of Art, as well as being a contributing writer for Dazed and Prospect Magazine.
She hopes to inspire a new generations of artists and art professionals to tackle socio-political issues through their creative practise.
More about the Young Craft Citizens:
Creative and aged 16-25? Get involved with the Young Craft Citizens:
This network of Londoners aged 16-25 brings together those who are passionate about craft and making to co-produce projects and events with us at the Crafts Council, and in doing so help shape the future of craft in the UK.
Our mission statement:
"Young Craft Citizens are a young community of creatives, discovering diverse ways of making and sustainable craft, embarking on a powerful journey of passion"
Come along if you love to make, or are just keen to find out more - all backgrounds and experience levels are welcome!
Join a new network of young people passionate about craft and making
Be involved in shaping our young people's programme; work alongside staff and makers to co-produce programmes for other young people
Take part in creative workshops and meet and collaborate with professionals working in the craft and creative industries
Access opportunities, training and advice (including Arts Award)
Learn new skills and develop your CV
We hold monthly get-togethers both at the Crafts Council in Angel and out and about at other venues. To find out more about our young people's programme and to be kept informed of all upcoming events, workshops and opportunities for young people, please email participation@craftscouncil.org.uk
Accessibility
Wheelchair Access Information
Our building is currently undergoing building works, and meetings are being held in our offices at the back of the building. The entrance to the back offices is paved with medium cobblestones. There is a ramp up to the entrance, and an accessible toilet in the building. We do have a lift, but our meetings do take place on the ground floor of the building.
Hearing Loop
During our building works we won't have a induction loop fitted, but when our Home for Craft is complete we will indeed have one in place. In the meantime, please get in touch at participation@craftscouncil.org.uk if you have any hearing access requirements
Assistance Dogs
Assistance dogs are very welcome to come to meetings
Sensory Processing and/or Autism Related Requirements
The room we hold our meetings can be quite echoey, and with lots of people talking can get very loud. If this is a concern, let us know and we will hold the meeting in a quieter room with a closed door. We can also make sure our activity takes place in smaller groups if this is helpful. If there's anything else we can do to ensure you're able to take part, let us know by emailing participation@craftscouncil.org.uk
Learning Access
If you have a learning impairment and find certain adjustments helpful for you to take part, let us know by emailing participation@craftscouncil.org.uk