Sales Have Ended
Registrations are closed
Sorry, its all gone. Call 08164711373
Sales Have Ended
Registrations are closed
Sorry, its all gone. Call 08164711373
Description
YOUNG ECCLESIA NATION SUMMER CAMP
2019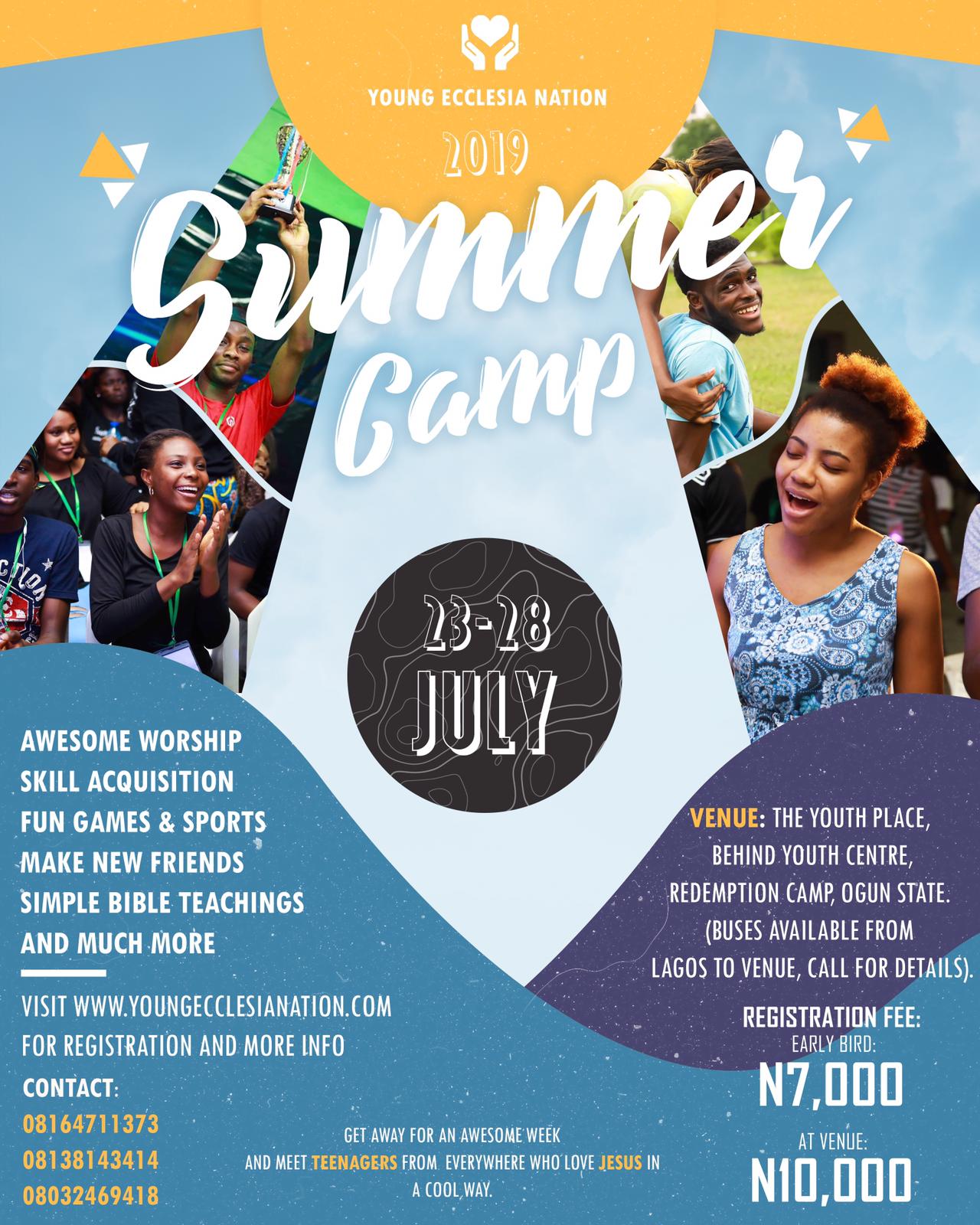 ABOUT Y.E.N. SUMMER CAMP
The summer camp is a 5 day fun event for teenagers designed to positively change their mindsets and ideas about God and the way He works. During the event, teenagers will have the opportunity to experience God's presence, love and power.

Last year's Camp was awesome, we have had countless testimonies of healing, encounters, miracles, hearing God, solved family problems etc...and all from teenagers like you. This is the real deal. If you want to see these things happen, if you want to meet God face to face, COME!!!!
FACILITIES AVAILABLE AT CAMP
Good accommodation

Football field

Basketball Court

Great medical services


Adequate Security
CAMP ACTIVITIES
God discovery sessions

Life coaching and mentoring sessions

Direct counselling sessions

Games and Sports

Skill acquisition classes

Team projects

Live Music performance sessions.

Movie night.

Relationship talks.

Question and answer sessions

Leadership coaching sessions.

Sports and Games.

Academic excellence break-out sessions
TIMETABLE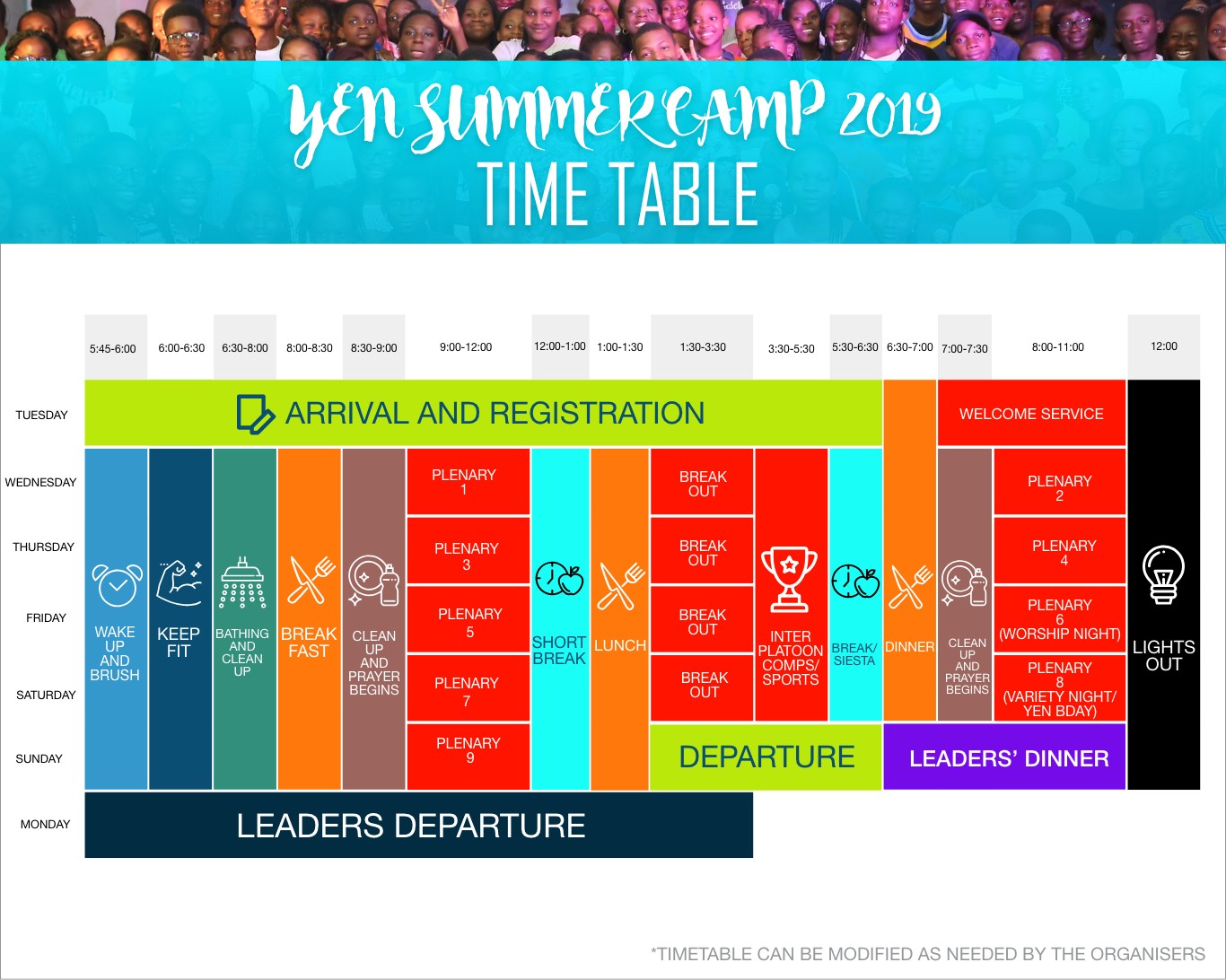 TRAINING COURSES
WORKSHOPS
Arts and craft class

Entrepreneurship class
Accommodation details:
You will be required to camp during the entire event.
Limited Boarding facilities are available.
Call or WhatsApp
08164711373 or 08032469418 for inquiries.
Earlier registrants will be given preference.
You are required to bring:
Toiletries( soap, sponge, toothbrush, toothpaste, toilet paper, towel etc.)
Mosquito repellant
Bucket
Bedsheets, pillow, pillow case and blanket
Sleeping gear
Water bottle

Dress code:
Casual or corporate (your choice)
Sportswear
Decent and smart
Nothing scanty(for ladies)
No excessive makeup

Food and snacks:
Teens are required to bring pocket money to buy edibles. Provision will be made available for breakfast, lunch and dinner.

Money details:
Teenagers are required to bring picket money as there will be many exciting things to buy from books to audio coaching, songs, videos, food etc.

Phones and gadgets are allowed but are required to be switched off during every session.
Bags will be searched during the event to ensure better security for everyone at the event.


DATE
Sun, Jul 23, 2019, 5:00pm - Sat, Jul 28, 2019, 9:00am
FINANCIAL ARRANGMENT
EARLY BIRD REGISTRATION:

N7,000 (Five thousand Naira)
2. PAYMENT AT VENUE: N10,000 (Ten thousand Naira)
PAYMENT

NOTE: AFTER YOU REGISTER YOU WILL REDIRECTED TO A PAGE WHERE YOU CAN PAY WITH YOUR DEBIT CARD. PLEASE CALL MR ESSIEN- 07087933888 TO CONFIRM YOUR PAYMENT AFTER YOU PAY. YOU CAN ALSO PAY ON THE DAY OF ARRIVAL BUT ITS ADVISABLE TO PAY EARLY BECAUSE WE STRICTLY OPERATE A FIRST COME FIRST SERVED SYSTEM AND BED SPACES ARE LIMITED.

Odudu-Abasi Essien
Young Ecclesia Nation
President