Description
YEAh (Young Entrepreneurs Association) run a series of events aimed at young entrepreneurs called YEAh Live.
Addressing unemployment in the 18 to 30 age group head on, this event will give you the opportunity to meet, network, build interpersonal skills and learn from relatable business owners and entrepreneurs making their businesses work despite the so called recession...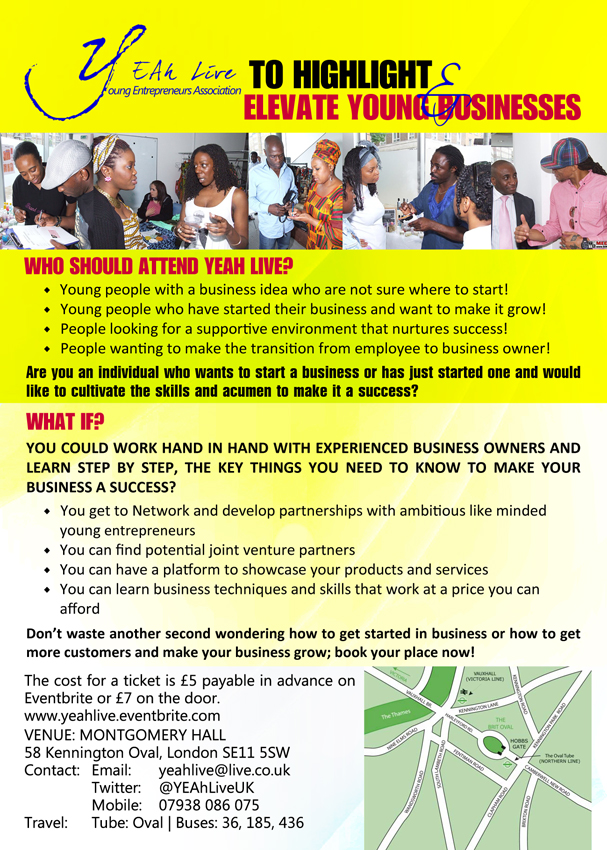 Now here's the deal…
The Young Entrepeneurs Association (YEAh) is a place where young people can come together to realise their ambitions, dreams and talents, by working with each other while being coached, nurtured and guided by the older generation that has been before them in their respective fields.
The aim of YEAh is to bring the youth together so they can progress forward by interacting positively with each other while being guided by the older generation. So the budding photographer can link with the aspiring model, these two can meet the new designer, these three can meet the stylist, these four can meet the fashion blogger, these five can meet the new PR person, the Events Manager, the new web designer, the accountant, the book-keeper and the secretary/admin person etc……… All while learning how to present themselves in the best possible light to the RIGHT people.
So why should you attend YEAH live?
Consider the following:
What if ... You could work hand in hand with experienced business owners and learn step by step, the key things you need to know to make loads of money from any business?
What if you could learn real leadership strategies, staggering returns on investment and time leveraging systems that really work?
What if you could learn how to build a business from scratch with little or no previous experience, little or no investment and develop a 5 to 6 figure income?
What if you could learn the joint venture and marketing secrets that cost literally thousands of pounds and hours to learn?
All this and more is available to you at YEAh LIVE!
More reasons for you to attend YEAh LIVE...
You get to Network and develop strategic partnerships with ambitious like minded young entrepreneurs
You can find potential joint venture partners
You can learn how to transform your knowledge and skills into money
You can have a platform to showcase your products and services
You can learn business techniques that work and get you massive results
You can develop total business skills at a price you can afford
Caribbean Sunday Lunch and drinks will be available for sale
Confirmed Speakers on the day:
Lorraine James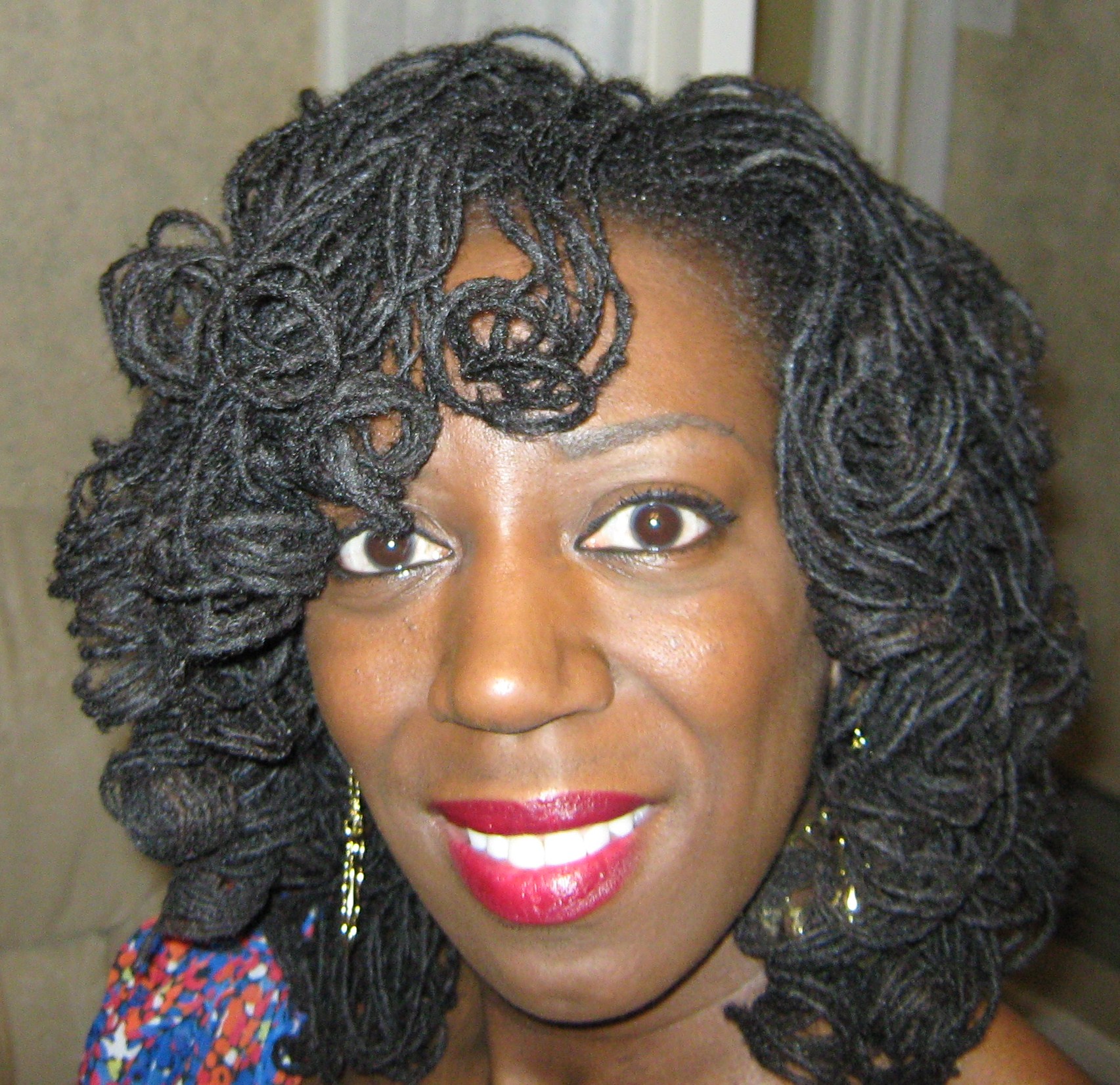 Founder of YEAh; frustrated as a parent at the lack of an obvious organisation where young people can come together to realise their ambitions, dreams and talents, Lorraine developed this dynamic group to enable young people to work with each other while being coached, nurtured and guided by the older generation that has been before them in their respective fields. She is an ATT (Association of Taxation Technicians) qualified Tax Practitioner, with 28 years personal taxation experience. She also runs a online jewellery store LJ Gems which is an outlet for her creative talents.
Lorraine will be sharing her knowledge on setting up as a Self Employed Person with HM Revenue & Customs.
http://www.lj-gems.com/default.asp
Anthony Charles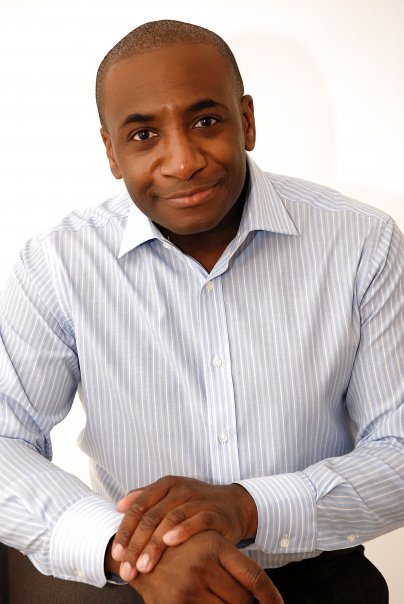 Business Owner, Success Coach, Mentor, Speaker and Trainer; Co founder of Choices Magazine & Team Titanium.
Learn how Anthony used the magic of 'Joint Venture' to start a successful magazine and networking business, with no experience and no money. And learn how he can help you go from employee to entrepreneur.
www.choicesmagazine.co.uk
Mervyn Barrett


Mervyn will be sharing his knowledge as a Life Coach and on the effective use of mindset and how it affects your businsess. A true insight on how the mind and subliminal plays an important part of all our decisions!
Confirmed Entertainment on the Day Include...
Youth Dance Troupe
Inspirational Poetry
Fashion Show showcasing garments from emerging fashion designers and debuting Rise Carnival Costumes
Exhibitors Stands on the Day Include Stalls displaying...
Hair & Beauty Products
Fashion & Lifestyle
Jewellery & Accessories
Books &Magazines
Natural Hair Workshop
Showcasing Natural Hair Styles for the professional work environment
Don't waste another second wondering how to get started in business or how to get more customers and make your business grow; book your place now! The cost for a ticket is £5 available on Eventbrite or £7 on the day. Tickets are going fast they will run out, so book yours today.
Get up to the minute information on this event on facebook: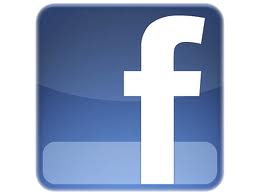 Hope to see you all there and spread the word YEAh!