YOUNG MINISTERS BREAKFAST MEETING

Saturday, 26 April 2014 from 09:30 to 12:00 (BST)
Event Details
PRE- EVENT BREAKFAST MEETING FOR 
THE YOUNG MINISTERS PROPHETIC SUMMIT 2014 
Are you in the five fold ministry or do you have questions about it ?
Are you asking questions about your calling ? 
Would you like to meet -up with other young and passionate ministers etc… ?
Then this is an event for you…  
Our Goal is to gather 50 young ministers who are serious about their commitment to Christ Jesus and have a desire or are already doing something about it… Make sure you are there.
DESCRIPTION:
A high level prophetic meeting for young ministry gifts across the UK.
TARGET GROUP:
1. Anyone who is asking questions about their call, office/ function in the body of Christ
2. Anyone who is called to or already functioning in a five fold or non-five-fold office
OBJECTIVE:
- Networking young ministers and ministries together for kingdom advantage
- Enhancement of functioning ministry gifts through knowledge, instruction and practice 
- Resourcing the body by providing useful information and tools to the ministers
- To grow a community of believers and young ministers organically for mutual edification, benefit accountabililty and service
 EVENT BREAKDOWN:
EVENT TYPE:
Breakfast Meeting
REFRESHMENTS:
Full Breakfast
TIME:
9:30am - 12pm
ADMISSION:
 FREE 
VENUE:
77 Gainsborugh Avenue, Manor Park, E12 6JJ
WHAT TO EXPECT:
Taster sessions of the features listed below that will be fully shared at the main event on 28th JUNE 2014
FACILLITATORS:
HOLA (Young ministers network), Pastor Eugene Adebayo Ajayi, Pastor Odeh Akatu 
FEATURES:
1) Know your ministry, Know your call
2) The Kingdom and You - Messenger or Destroyer
3) Q & A Session
4) Networking
5) Introduction to the HOLA Program
6) Introduction to discipling resources e.g.
   a. The Man, The Male or the Malefactor (MMM) / The Woman, The Female or the Femme Fatale              (WFF) (Understanding your spirit, soul and body and using them intelligently as citizens of the          kingdom of God)
   b. Introduction to the CORE SERIES 1 & 2 (Discipleship Course & 12 M's of Ministry)
   c. Introduction to The Battle We Fight (TBWF)
LIKE OUR PAGE ON FACEBOOK: HOLA - Ambassadors
--------------------------------------------------------------------------------------------------------------------
CLICK THE FOLLOWING LINK TO SIGN-UP TO OUR YOUNG MINISTERS NETWORK TO KEEP UP TO DATE WTH ALL THESE TYPE OF EVENTS:
  -------------------------------------------------------------------------------------------------------------------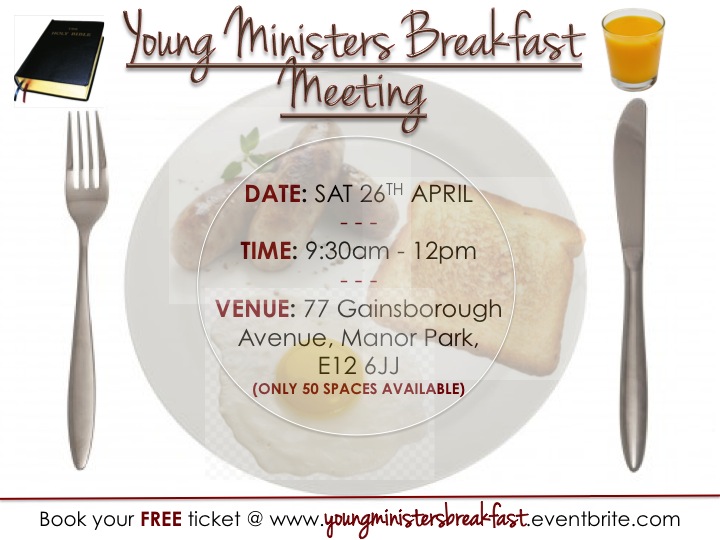 When & Where

77 Gainsborough Avenue
Manor Park
E12 6JJ London
United Kingdom


Saturday, 26 April 2014 from 09:30 to 12:00 (BST)
Add to my calendar
Organiser
House of Lights is a registered and regulated Charity in England and Wales (Charity No. 1145550).
We are passionate about reaching out to our community to inspire, educate, resource, and empower individuals. We believe every person has a potential be a better version of themselves for their own sake and that of others around them.
We aim support people in improving their current state of life in spirit, body and soul. We run programs to meet the needs of different social groups in aims to equip them with life skills and we specialise in human capacity development.
We believe that better Individuals, produce better communities, better communities produce better countries, and better countries produce a better world... it all starts with one individual.