Event Information
Location
None
Heffers Bookshop
20 Trinity Street
Cambridge
CB2 1TY
United Kingdom
Description
In Palestine today, a second generation of children and young people is growing up experiencing life under occupation. These are children who know only fear when they see an Israeli soldier or come across a roadblock; children who mourn for fathers and brothers in prison, for relatives beyond forbidden checkpoints whom they are unable to see...Yet at the same time, Palestinian children are much like children everywhere: they talk about their favourite books, foods, and football teams. They organise school plays and argue with siblings about clothes; they chat with relatives on Facebook and play video games with friends who live half a world away.

Join Anthony Robinson and Annemarie Young at Heffers as they discuss Young Palestinians Speak: their new book which provides a platform for children and young people, from all over this occupied land, to speak in their own voices about the day-to-day experience of living under the heavy boot of occupation. The talk will be illustrated with photographs from the book, and followed by a Q&A.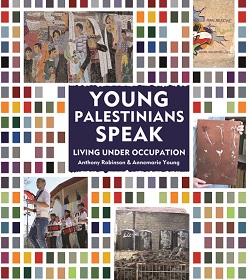 Anthony Robinson is a full-time writer and a former teacher. The main aim of his writing is to give a voice to those who are not heard, particularly children; his titles include Real stories from Street Children. Annemarie Young is a writer and series editor of non-fiction for older children and fiction for young readers. Her latest projects include Who are Refugees and Migrants?, What is Humanism? and What is Right and Wrong?. The authors' belief in the power of books to counter prejudice drove their first joint, award-winning non-fiction project Refugee Diaries.
Tickets for the event are priced at £4 in advance (£5 on the door) and can be purchased through this page, by calling 01223 463200 or in person at Heffers bookshop. Please note that tickets are transferable but not refundable.
Like this? See a full list of our events here.
Date and time
Location
None
Heffers Bookshop
20 Trinity Street
Cambridge
CB2 1TY
United Kingdom
Refund policy