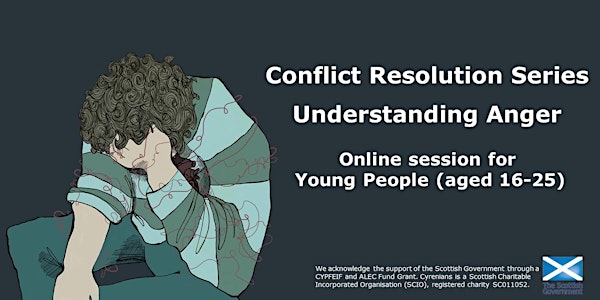 YOUNG PEOPLE EVENT - Conflict Resolution Series- Understanding Anger
THIS EVENT IS FOR YOUNG PEOPLE AGED 16-25 - Conflict Resolution Training Sessions - Understanding Anger
About this event
Are you a young person (16-25)? Want to learn more about conflict resolution?
There are a lot of things worth being angry about: fall outs with friends, getting told off at school, or bigger things such as what is happening in the world right now. Feeling angry is a totally normal and healthy emotion. Sometimes, though, that anger follows us home, and if we don't know how to handle it, it can lead to arguments, upset and the breakdown of family relationships. What if there were a way to get through the day without another shouting match with your parents or carers? Wouldn't it be good to feel cool, calm and ready to take on the world without these negative emotions weighing us down?
We've put together an online session especially for Young People (16-25), free to join, that shares some ideas on how to react when you or someone close to you starts to get angry. 'Understanding Anger' streams live online and you can reserve free tickets. The session is only 45 minutes long.
After the session, you'll be able to:
Describe what makes you angry
Understand 'the anger cycle', which describes the stages people go through when they become angry
Start to think about how you can control your anger and how to calm down an argument or situation before it gets out of control
The session will be delivered on the online platform Zoom by a member of the SCCR. If you book a place you'll be sent the details on how to join the session close to the date of the event; a full PDF document with all the information you need to know will be emailed to you. This session is at an introductory level and no knowledge of the subject is required.
Please note: Zoom offers video capability so you can join with your webcam on, but this is entirely up to you and this option can be turned off. However, we would love to see your faces and feel it is a more interactive experience with videos on.