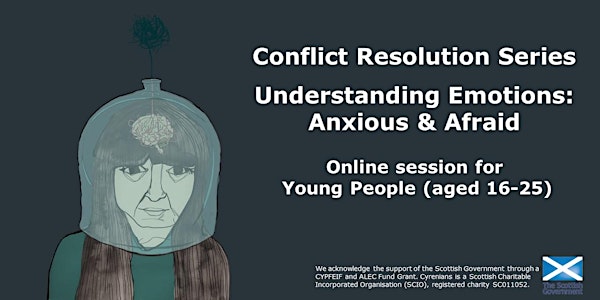 YOUNG PEOPLE EVENT - Conflict Resolution Series- Understanding Emotions
THIS EVENT IS FOR YOUNG PEOPLE AGED 16-25 - Conflict Resolution Training Sessions - Understanding Emotions: Anxious & Afraid
About this event
Are you a young person (16-25)? Want to learn more about conflict resolution?
Everyone has feelings of anxiety at some point in their life. Anxiety is an uneasy feeling, like worry or fear about what's to come, that can be mild or strong, last for only a moment or take longer to fade. It can be caused by worrying about sitting an exam, taking a driving lesson or meeting new people. During times like these, feeling anxious is perfectly normal. But sometimes some people find it hard to control their worries. If you often find yourself feeling nervous, have difficulty sleeping, and can't concentrate, perhaps you have some feelings of anxiety.
We can help you start to understand these feelings of anxiety and fear. We've created an online session 'Understanding Emotions: Anxious and Afraid' especially for young people (16-25). The sessions stream live online and young people can reserve free tickets. Each session is only 40 minutes long.
After the session, you will be able to:
Make a connection between the emotional state of being anxious and afraid and your experiences
Understand some of the science behind anxiety and fear, and will be better to be able to positively deal with these difficult feelings and emotions
The session will be delivered on the online platform Zoom by a member of the SCCR. If you book a place you'll be sent the details on how to join the session close to the date of the event; a full PDF document with all the information you need to know will be emailed to you. This session is at an introductory level and no knowledge of the subject is required.
Please note: Zoom offers video capability so you can join with your webcam on, but this is entirely up to you and this option can be turned off. However, we would love to see your faces and feel it is a more interactive experience with videos on.
We hope to see you online soon!