Are you a younger person living with pain who wants to meet other people in the same predicament? Then this group is for you!
About this event
Has your age ever held you back from joining a pain related peer support group?
Do you want to meet others who understand what you're going through?
If you've answered 'yes' to these questions then this group is for you!
Anyone aged 18 and over is welcome. For more information please see our poster.
Although this group is being held online we will be hoping to develop a face to face group based in Central Lancashire - if you would prefer this please get in touch with us and register your interest by emailing cad@lscft.nhs.uk
We look forward to meeting you on Wednesday 4th August!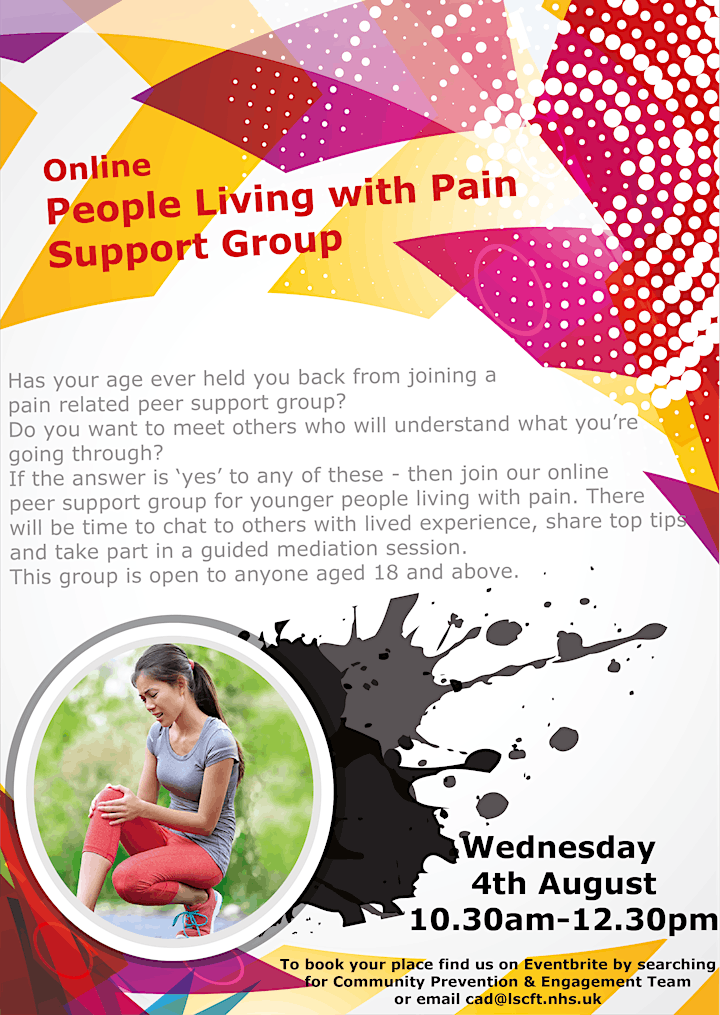 Organiser of Young People Living with Pain in Central Lancashire
The Community Prevention and Engagement Team [CPET] aims to involve people in their local communities via bespoke 1:1 personalised support. This will allow people to improve and maintain their mental health and wellbeing by making community connections, support networks and gain meaningful occupation. Through a recovery focused support plan; CPET aims to build service users confidence and resilience to achieve personal goals. By practicing person centred, strength based approaches we empower individuals to support their own mental health and wellbeing through social inclusion.
Furthermore, CPET aim to provide a wider range of resources to improve mental health and wellbeing within local populations. Using community cohesion to promote, develop and sustain local assets within communities through peer support, groups and projects to build more awareness, resilience and integration.