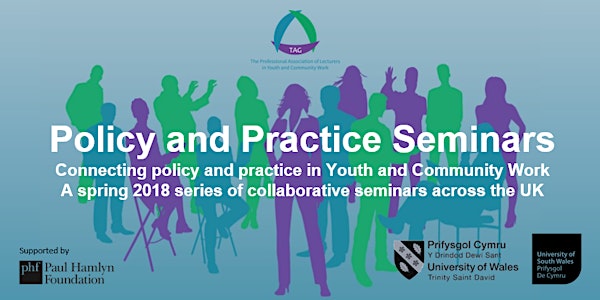 Young People, Resilience and Well-being (Newport)
Location
University of South Wales, Newport City Campus
Usk Way
Newport
NP20 2BP
United Kingdom
Description
The Professional Association of Lecturers in Youth and Community Work is funding a series of free national, collaborative 'Policy and Practice' seminars around the UK. The aim of these seminars is to foster greater levels of collaboration between higher education institutions and practice agencies in the profiling of challenges and opportunities facing youth and community work policy and practice across the UK.
This Seminar Title:
'Young People, Resilience and Well-being: issues for youth and community practice'
Hosted by the University of South Wales, and co-designed with the University of Wales Trinity Saint David, this event will include representation from practice agencies from across South Wales including youth work, youth justice and youth service agencies. The seminar theme will be repeated at the Carmarthen Campus of the University of Wales Trinity Saint David on 4th May, 2018 (follow this link if you wish to book in to the Carmarthen seminar).
This Seminar Brief:
The purpose of this seminar will be to explore practice, research and policy in relation to the growing profile given to young people's resilience and well-being. Research is providing an increasing insight in to how health and well-being experienced during childhood and adolescence can have a long-lasting impact on the individual (Green et al 2014); and a particular emphasis has been placed on this through The Wellbeing of Future Generations (Wales) Act (2015). It is intended that this seminar will highlight a number of opportunities to carry out further research in partnership with practitioners to help inform the well-being debate and to highlight the positive role that youth and community work can make within current policy agendas. This seminar will be run at both rural (Carmarthen) and urban (Newport) venues to encourage full participation from practice agencies and cross-institutional collaboration. These will provide an excellent opportunity for students, practitioners and academics to meet and explore the different approaches to promoting well-being with young people through a reciprocal seminar approach.
A copy of the seminar programme is available via this link
Who should participate?
We invite participation from practitioners, academics, researchers, agencies, policy-makers and activists from across the region who share a concern for the wellbeing of young people and communities. The seminar will include opportunities for participation and networking with a view to extending partnerships between academia and practice agencies.
How do I book?
Click on the green 'register' button to reserve your free space (which will include refreshments; and catering where a seminar includes a typical meal-time). Please select the booking category that best fits your status and you will be emailed a confirmation 'ticket'. Further updates and information will follow as the event draws nearer with final joining details and a full programme emailed a week in advance of the seminar date.
What other seminars are taking place?
This seminar is one of ten free 'Policy and Practice' seminars taking place around the UK - each with a unique theme and approach - and you can view the full list of events via this link.

*The Professional Association is grateful to the Paul Hamlyn Foundation for a grant that allows us to offer these seminars as free events to all participants. More information on the grant making activities of the Paul Hamlyn Foundation Youth Fund are available on their website via this link.