Young Professional Summit 2019
Description
Following the success of our first event we are happy to invite you to the 2019 Young Professionals Summit; on 2nd September 2019 comprised of a day conference and an evening reception.
Young Professionals face unique challenges which this event aims to address. By collaborating together, the European Association of Geoscientists and Engineers, the Petroleum Exploration Society of Great Britain and the Society of Petroleum Engineers are working together to support and celebrate our YPs, and that of the wider industry. Our program is developed by YPs from the societies involved to address the challenges and innovations the industries future leaders face.
The YP Summit aims to tackle critical issues faced within the industry. Given the recent turmoil the industry has faced we are keen to focus this inaugural Young Professionals Summit on the oil industry of the future, what is changing and how that will impact the way the YP's work.
Using examples of other industry sectors and how they have tackled similarly large challenges, we intend to explore the change in the energy mix and the impact that it is having on the industry, innovative and disruptive technologies, knowledge transfer; so the experience of a generation is not lost, and how YP's can build a successful career within the sector.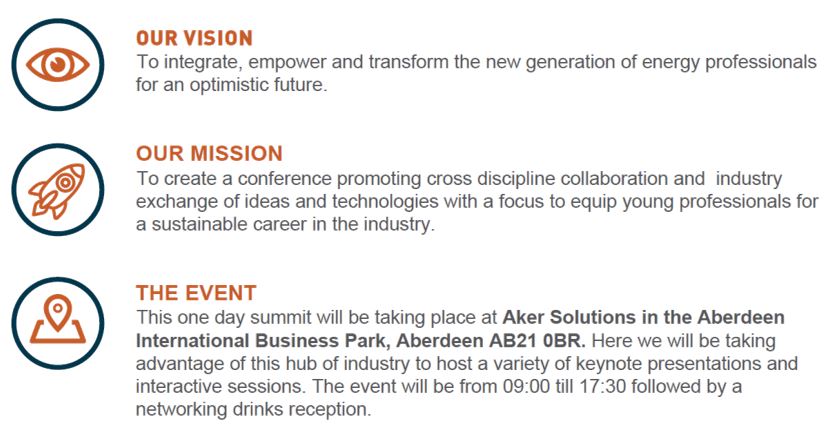 Day Conference
The day conference held at the hub of Industry in the Aberdeen International Business Park, will begin with registration at 8am with the first panel discussion starting from 9am. The day will comprise a variety of discussions, workshops, guest speakers. The conference will run until 5pm.
Awards
As part of this event we love to award those who have shown considerable achivements as well as those who have shown commitment to support YPs. Award catagories will be annouced soon so that you can nominate your condenders.
Evening Reception
Join us for an evening that celebrates the individuals at the heart of the industry's future.The Reception will begin as the conference closes and go on till late, the cost is included in your ticket price.
With limited tickets on sale, don't miss out, secure your tickets now!