We look forward to bringing the Young Stars Awards back as soon as we can - to celebrate incredible young people from across BaNES.
About this event
Please note this event is postponed until further notice due to the COVID-19 crisis.
In our region there are many extraordinary young people. Selfless and courageous children of all ages, who may have forsaken some of the joys and freedom of childhood to make special things happen in the face of adversity or personal challenges. We sometimes hear their stories through the media, but mostly the actions of these children are unrecognised.
This is why in 2018, Tim and Toni Warren, launched the 'Young Stars Awards', to help share the actions and incredible achievements of young people in Bath & North East Somerset. Following last year's success, Tim and Toni knew this had to become an annual event, and approached St John's Foundation to host and lead the organisation of the Awards moving forwards.
St John's Foundation is delighted to be hosting the Young Stars Awards on Saturday 2nd May at The Apex Hotel, and is inviting residents from across Bath & North East Somerset to join them for this special and inspiring event.
All guests will experience an evening of glitz, glamour, live entertainment, a delicious three course meal, and most importantly have the opportunity to show our region's young stars just how brightly they shine.
Join us and celebrate our Young Stars
It is so important that every finalist feels like a star for the night, which is why we are inviting you, your friends, family and colleagues to join us for what is sure to be a wonderful and humbling evening.
Tickets cost £65pp and included a 3 course meal, refreshments, live entertainment and of course the full red carpet experience.
Tickets can be booked individually or as a table of 10. To book a table please book 10 tickets via one purchase.
Thank you to our sponsors
We are incredibly grateful to have the support of Bath Rugby, RENGEN, Truespeed, and Wessex Water. With their support we can offer our Young Stars a night they will never forget.
If you are interested in sponsoring this year's Young Stars Awards, please contact rebecca.fox@stjohnsbath.org.uk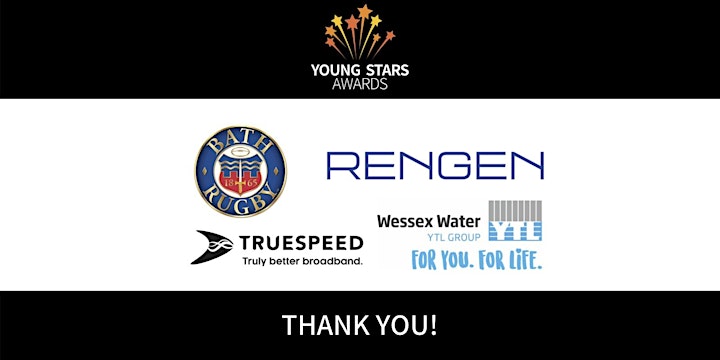 Organiser of Young Stars Awards
St John's Foundation works to build resilient communities by supporting people to overcome challenges, improve their lives and live as independently as possible.
We do this in a manner of ways. We provide quality almshouse accommodation; we award funding support to individuals and charitable organisations; we engage directly with the local community through The Bubble, our community space.