Young Voices Driving Change, China Week Friday Morning Session, 29th October 2021
About this event
Younger generations are often at the forefront of the climate debate, with the weight of current governance and policymakers' decisions bearing on their shoulders and profoundly affecting their future, which will inevitably be defined by climate change. This session aims to give voice to outstanding experts and representatives of a generation who has inherited enormous global challenges, but has the ability and competence to confront the status quo and craft distinctive solutions for global change. Questions still remain in driving dialogue, action and change globally, and specifically in the collaboration with China, which still remains an indispensable partner in the global fight against climate change. What role have climate and environmental issues played in China's foreign policy under Xi? Can climate issues still be considered a common ground for cooperation in China-Europe relations? How can young people be a decisive part of the global conversation in foreign relations and the climate movement? What is the pivotal advocacy role of the younger generations, and their CSOs, in building up a common, sustainable and equitable society? To answer these questions, we invite you to join us for a panel discussion on Friday the 29th of October as part of the Lau China Institute's inaugural China Week Forum (25th to 29th October 2021), ahead of the United Nations Climate Change Conference of the Parties (COP26) in Glasgow this year.
For this panel, we are pleased to welcome an exceptional line-up of young, leading international experts, who are taking an active role in shaping the future.
Speakers:
Gordon A. Mensah, Global Shaper (World Economic Forum) and sustainability researcher (ASTRID)
Gordon is a consultant at the World Bank, assisting various teams in the Water Global Practice on Water and Sustainable Development. He also works as a Public Policy Researcher at Fondazione Astrid with a strong focus on regulatory policy, new digital economy and infrastructures. Prior to this, he worked at the institutional level in Italy as a Trainee at the Presidenza del Consiglio dei Ministri (The Government of Italy) in the regulatory impact assessment unit and as Research Visiting Student at the European Parliament.He also has experience working for various NGOs, research institutions and corporates in Italy and Europe focusing on Policy, Sustainable Development and Human rights. As an advocate for sustainability and civil society engagement he is a Global Shaper of the World Economic Forum.
He holds a multiple LLM degree from the European Master in Law and Economics, having studied and obtained degrees from Erasmus University Rotterdam, Universität Hamburg and UPF Barcelona. He holds a Master of Laws in Sustainable Development from the Milan University School of Public and International Law, combined with a studying experience at the Paris-Descartes School of Law, Economics and Management. He holds a Bachelor's degree in Political Science and International Relations from the University of Parma.
Dr. Giulia Sciorati, Research Associate, Institute for International Political Studies (ISPI)
Giulia is Postdoctoral Research Fellow at the University of Trento. She also serves as Associate Research Fellow at ISPI Asia Centre for the China Programme. She earned a PhD in International Studies from the School of International Studies of the University of Trento in 2020. During her doctoral studies, she was a visiting researcher at the University of Nottingham and the European Institute for Asian Studies in Brussels. Giulia received an MA with honours in African and Asian Studies from the University of Pavia and a combined BA in International Relations/Foreign Languages from the Catholic University of the Sacred Heart. She was a visiting student at Beijing Language and Culture University during both degrees. Giulia is a member of the Italian Association of Chinese Studies (AISC), the European Association for Chinese Studies (EACS) and the American Association for Asian Studies (AAS).
Matthew MacGeoch, Founder and co-President, Oxford University Silk Road Society; Transition Analyst at Climate Bonds Initiative
Matthew is a Transition Analyst, in the Market Intelligence Team at the Climate Bonds Initiative. Passionate about international sustainable finance, he worked at UN DESA on using the BRI in 14 countries for attaining the SDGs, through the WEFM-e modified economic forecasting tool. Prior to this, he founded the Oxford University Silk Road Think Tank, working with NGOs and governments alike to create environmentally and socially sustainable solutions throughout the BRI. Matthew has also worked at the Afghanistan and Central Asian Association on CEDAW enforcement, the Oxford Institute for Sustainable Development, and as a trade consultant. A native of Hong Kong, Matthew is also fluent in Mandarin, Cantonese, Persian, and proficient in Turkish. He holds a BA in Oriental Studies (Persian and Turkish) from the University of Oxford.
Chair: Alice Politi, Lau China Institute
Alice is a Doctoral Student, Social Media Coordinator & Project Manager at the Lau China Institute at King's College London, where she is also a Graduate Teaching Assistant at the Department of War Studies. Her doctoral research focuses on the geopolitical and economic implications of the Belt and Road Initiative in Europe. She graduated from her Master's Degree in Language and Management to China at Ca' Foscari University of Venice, where she specialised in Chinese Studies, Management and International Law, with a particular focus on Europe-China relations. A recipient of the Hanban Scholarship, she has also studied at Fudan University in Shanghai. She previously graduated with First Class Honours from her Bachelor's Degree in Chinese and International Relations at Catholic University of the Sacred Heart in Milan. Alice has experience cooperating with think-tanks, governments and research institutes on issues ranging from national and international security to international cooperation, with a focus on China. She worked as a Consultant for the Strategy Directorate of the UK Foreign, Commonwealth and Development Office (FCDO), on a project on China and geopolitics. She also cooperated as an Analyst for two research projects at the Oxford University Silk Road Think Tank, one in partnership with the United Nations Department of Economic and Social Affairs (UN/DESA) and has experience as Research Assistant at King's College London. She has produced a policy paper related to Chinese investments in Italy as part of the BRI which was published by King's College London, the inaugural paper in the policy series "China in the World", a project by KCL Lau China Institute in partnership with KCL School of Security Studies. Her peer-reviewed publications have also been featured on the Journal of the Royal Society for Asian Affairs and the Italian Institute of International Affairs (IAI).
Primary Event Partner: Institute for International Political Studies (ISPI)
The event will be held at the Council Room, Strand Campus of King's College London. The venue is located on the second floor of the Strand Building.
This is a hybrid event which will be live-streamed.
To tweet about the event, use the tags @lauchinainst on Twitter, and hashtags #climatechange #COP26 #ChinaWeek2021 #lauchinainstitute #kingscollegelondon #youthactivism
For event and media inquiries, please contact lauchina@kcl.ac.uk.
This year's China Week forum at the Lau China Institute of King's College London is held in partnership with:
Chatham House (Asia-Pacific Programme)
Australian National University (ANU)
The China-Britain Business Council (CBBC)
The Great Britain China Centre
Society for Anglo-Chinese Understanding
Italian Institute for International Political Studies (ISPI)
China Biodiversity and Conservation Green Development Foundation (CBCGDF)
Oxford University Silk Road Society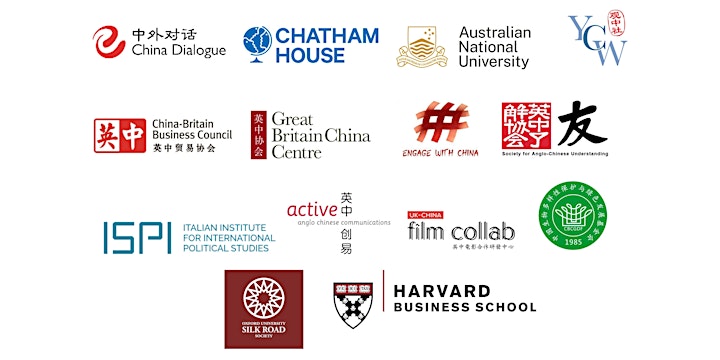 Organiser of Young Voices Driving Change
The Lau China Institute is a global centre for the research, study and understanding of contemporary China. We aim to study both China and work with Chinese scholars and others. As such, we seek research collaborations and deeper mutual understanding with the People's Republic of China, ensuring we sit at the heart of King's strategic approach.
Established in 2011, we now have a community of core academics and postgraduate students, including roughly 30 PhD students. We are based within the School of Global Affairs, yet work across all nine faculties and beyond, to engage in multi-disciplinary and innovative research.
The Lau China Institute is based in Bush House, North East Wing, 40 Aldwych, London, WC2B 4BG, part of King's Strand Campus.