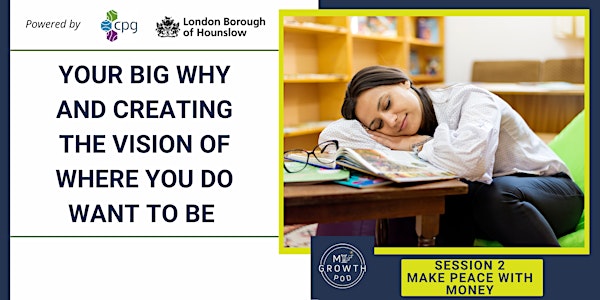 Your Big Why & Vision For Your Future - Make Peace With Money, Session 2.
Learn how to craft your "Big Why" and create a "Vision for the Future" to drive your business forward to where you want it to be.
About this event
Wednesday, February 9th, 2022
10.00 - 11.30 am
Make Peace With Money, Session 2 - Your Big Why & Creating a Vision for the Future.
Leading on from what you learned in session 1, you will now focus on understanding why you want to improve your relationship with money, we call this creating your 'Big Why'! You then turn this into your 'Big Vision', how you want your life to feel and look.
What we will cover in this session:
Unlocking your reasons for wanting to Make Peace With Money.
Understanding what you want to create for your future.
Learning about vision boards and the importance of images in helping you visualise what it is you want to achieve.
How to use and create a vision board to keep you on track.
And more...
This session is designed to help you untangle your current relationship with money. You will have the opportunity to uncover how you really feel about money and start to take positive steps towards financial freedom.
Lead by Kim Masters, a financial expert with personal experience in money worries, this is both a practical and a healing approach to money.
Kim will bring you through a series of (private) yet practical and easy to complete exercises that will help you uncover your habits to dealing with money and how you can implement easy money strategies that will help you begin to unwind you from your current situation.
Who is it for?
This programme is open to any Hounslow resident who wants to improve their relationship with money. You may be facing money challenges and want to learn how to become more resilient when facing them, or you may be financially secure, but feel trapped in a life that isn't fulfilling you.
Make Peace With Money - Everyone should explore their relationship with money.
The Make Peace With Money programme is rather unique because, as well as dealing with the practical side of money management, it also focuses on how you relate to money on a mental and emotional level (your relationship with money).
There can be a lot of fears and uncertainties around money, and it can be easy to get stuck in negative money cycles. The programme helps you to tackle these by exploring your relationship with money; with the aim of uncovering any negative money beliefs and money blocks, some of which you're probably not even aware of.
Once you have clarity around this, we give you tools and strategies that will transform the way you act, talk and think about money, both in your personal and business life.
You'll also learn some practical money skills, such as budgeting, cost management, saving, and dealing with debt. You'll be more in control of your finances, be able to plan ahead, and react quickly when faced with challenging situations.
The combination of the practical and healing approach will help free you to become more confident around money, it will help you to become more creative and it will free you to go after those big dreams and goals.
There are a total of 8 session in the programme; you can sign up to the others sessions through Eventbrite or go to www.mygrowthpod.com/hounslow; the full programme includes:
Session 1 – Tapping into your Relationship with Money.
Session 2 – Your BIG why and creating the vision of the future
Session 3 – Time to shine and creating affirmations
Session 4 – Getting on top of your finances
Session 5 – Breaking Free from Debt & you budget
Session 6 – Build Your Income & Start Healing the Past.
Session 7 – Releasing & Forgiving the Past.
Session 8 – Prosperity Practices & Review.
This programme is part of Hounslow Councils Innovate & Grow 3.0 Business Programme. Find out more at https://www.mygrowthpod.com/hounslow/