Join us for this hybrid morning event supporting businesses understand how to align with North Somerset's Green Economic Recovery.
About this event
The Coronavirus pandemic has had a profound effect on our daily lives and the economy. In North Somerset, transport, retail, the visitor economy and creative industries have been hit particularly hard. Unemployment has risen and there are fewer opportunities available for young people.
Yet North Somerset is a hive of activity and potential. The majority of businesses are independent SMEs, making best use of the beautiful coastline and natural outdoors whilst staying within commutable distance of key towns and cities.
In response, North Somerset Council is prioritising its economic renewal activity around inclusive growth and wellbeing, digital accessibility and supporting green and low carbon business activities. They have kindly sponsored this event as part of their commitment to support the local business community.
Hear from the North Somerset Economy Group and sponsors North Somerset Council to find out how you can make your business greener and meet other local businesses wishing to pursue their sustainability aspirations.
Together, we will lead our communities to protect and enhance our environment, tackle the climate emergency and drive sustainable development.
Expect informative talks, valuable networking opportunities and inspiring discussions to further support your ability to discover, collaborate and innovate.
This event has a focus on North Somerset but will be valuable to businesses everywhere looking to green their organisation.
More information to be announced.
Government guideline and pandemic dependent, this event will take place physically and virtually. Both options offer the full event experience, including networking, Q&A and our famous 60 second pitches. Virtual attendees will need to B-Y-O-Breakfast!
If you purchase a physical ticket but the event is moved fully online, you can choose to have your ticket fully refunded or attend virtually with a partial-refund.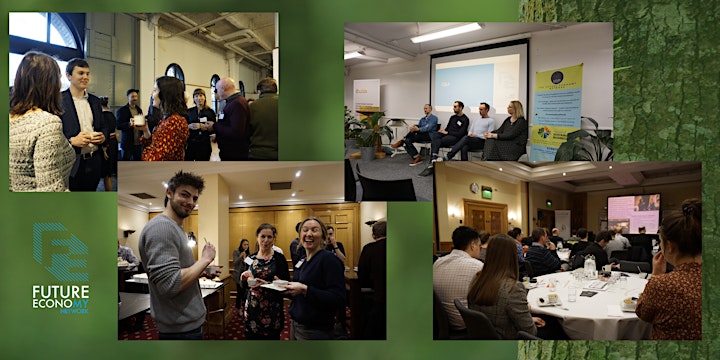 Owen Hewlett, Chief Technical Officer, Gold Standard
Owen will provide an overview of the North Somerset Economy Steering group, including a discussion of how the group can work together, with input from small and medium sized businesses, to make the foundation of green economic recovery a reality. He will set out some of the challenges and opportunities to achieving this and will invite businesses to engage and put forward their thoughts to help North Somerset be a viable location for green business investment and growth.
Agenda
07:45 – 08:10 - Registration, Breakfast and Networking
[Online Attendees: 07:45 – 07:50 Registration, 07:50 – 08:10 Group Networking]
08:10 - 08:20 - Introduction
08:20 - 08:35 – Bridget Petty, North Somerset Council
08:35 – 08:50 – Owen Hewlett, North Somerset Economy Group
08:50 - 09:05 - TBA
09:05 - 09:35 - Questions
09:35 - 09:40 - 60 Second Pitches
09:40 - 09:45 - Close
09:45 - 10:15 - Networking and Refreshments – Lessons Learned
[Online Attendees: 09:45 – 10:05 – Group Networking]
Meet The Speakers!
Bridget Petty, Executive Member of Climate Emergency and Engagement, North Somerset Council
Bridget Petty is the Green Party councillor for Backwell Ward and North Somerset Council Executive Member for Climate Emergency and Engagement. Bridget's previous roles in sustainability, community led housing, event co-ordination, rural development and the film industry puts her in an excellent position to engage with our communities on the challenge of responding to the Climate Emergency.
Owen Hewlett is the Chief Technical Officer of the highly respected Gold Standard Foundation, Switzerland. Owen's expertise is in developing robust climate strategies and the policy and financial mechanisms that can bind them together. He has worked extensively with policy makers, governments, corporates and markets to develop robust solutions. Owen lives in Clevedon and is part of the North Somerset Economy Steering group.
-----
You can also find out more about The North Somerset Sustainable Business Network at this event!
This network is an open, grassroots community of local businesses that provides peer support, acts as a forum and raises awareness of local sustainable and ethical business practices in the region.
-----
North Somerset Council declared a climate emergency in February 2019. They recognise that across the world, in order to avoid the most catastrophic effects of climate change, we need to make significant changes to the way we live, work, and govern. They see these changes as a unique opportunity to improve quality of life in North Somerset. This, in turn, will create an area that's healthier, better to live in and fairer for everyone.
We need to be ambitious to combat climate change. But North Somerset Council need your help. They need the residents, businesses and whole communities to come together to meet this ultimate goal of carbon neutrality by 2030.
----------------------------
Want to Know More?
If you would like to join our sustainable business community please get in touch via info@futureleap.co.uk or sign up easily here.
Follow the Future Economy Network on Facebook, Twitter, Instagram & Linkedin
Never miss what's next in sustainability by signing up to our monthly newsletter HERE
Opportunities, Suggestions and Conditions
Physical attendees must adhere to all safety guidelines sent in advance of the event.
You can get 20% off your next online event with us by choosing the add on option during booking.
Most of our events are available on demand here, however this does not include opportunities to network, take part in the discussions or do a 60 second pitch!
We will share your name, job title & company with the other event attendees for this event only. If you don't want this information to be shared please let us know when you have purchased your ticket.
We take photos at our events for marketing purposes, if you don't want your picture taken please let us know in advance.
We record some of our events for marketing purposes, if you don't want to be in the recording please let us know in advance.
We have included a £1 carbon offsetting fee to all event tickets in our commitment to being carbon neutral in our operations. You can find out about our chosen charity here.
Please let us know at least one week in advance if you require closed captions or have any other accessibility needs.
If you require a complimentary carers/assistant ticket, please email events@futureleap.co.uk at least one week in advance and we will be happy to support you!
#wegrowthhub #business #seminar #sustainable #sme #bristol #businesswithpurpose #climateaction #climateleader #sustainablebusiness #weston #wsm #tourism #sustainabletourism #visitoreconomy #sustainableretail #sme #networking #greenbusiness
Organiser of Your Business, Greener