Your Business Powered By Space
Description
Designed for companies who may not consider themselves to be in the space sector, but have the potential to use the assets of space, such of GPS, Satellite Communications, or Earth Observation data, to their commercial advantage, 'Your Business Powered by Space' will demystify this rapidly growing resource and introduce you to the advantages and opportunities on offer.
If you already have a relevant business idea, you may also be interested in our workshop the following day, designed to translate your idea onto paper and furnish you with a full, working draft document for submission to ESA Business Applications.
Event will include:
Panel sessions from businesses in the retail, financial, digital, logistics & manufacturing sectors, highlighting their surprising use of space

Presentations from major funding and support organisations - European Space Agency (ESA) Business Applications, InnovateUK and UK Space Agency
Brief, non-technical introduction to GPS, Satellite Imagery and Satellite Communications
Lunch included with a complimentary tour of Concorde
Agenda
9:00am Registration
9:30am Welcome & Newcomers Guide to Satellites & Space Applications
Space In The Real World – Presentations (25 mins each)
9.45am NearMeNow
10:10am DriverNet
10.35am Environment Systems
11:00am Skyrora
11:25am REFRESHMENTS BREAK
11:45am Space In The Real World – Panel Session
12:45pm LUNCH & NETWORKING
Innovation to Invoice – Presentations (25 mins each)
13:45pm ESA Business Applications
14:10pm UK Space Agency
14:35pm InnovateUK
14:55pm REFRESHMENTS BREAK
15:10pm Innovation to Invoice – Panel Session
16:10pm Closing Speech & Acknowledgments
16:30pm TOURS OF CONCORDE & NETWORKING
18:00pm CLOSE
Chair
Co-founder & former Chair of the Northern Space Consortium, Alan has now been tasked to identify commercial projects in the region that utilise Space to some degree (GPS, Earth Observation data, Satellite Communications) and assist them in the accessing funding and support from ESA Business Applications.
Speakers
NearMeNow pushes out the current shop front advertising beyond traditional boundaries, into the palms of the hands of each smart phone user nearby – whether sitting at home, in a coffee shop close by whilst on a lunch break or to those already on the high street looking to make the most efficient use of their time.
FLARE (Forest Loss Assessment through Remote Evaluation) uses Earth Observation imagery and GPS to address significant losses incurred in forest claims and inefficiencies within claims processes that reduce incentive for insurance cover uptake by forestry owners. The system reduces the cost of assessment as a percentage of premiums, speeds up processes and improves operational transparency within the insurance sector.
Designed for the logistics industry, and enabled by satellite positioning data, DriverNet offers a range of services and channels that seamlessly connects people, partners and processes together in more swift, safe, secure and sustainable ways.
Edinburgh based 'Skyrora', are one of the UK's leading 'New Space' companies, developing new launch vehicle technology to reduce the cost of space launches through the combination of proven technology and advanced engineering methods.
InnovateUK nurtures and supports both the technologies and applications from the space sector that impact the community as a whole, brokering introductions, sharing best practice, and helping with the costs and risks of development through proving funding.


The UK Space Agency is tasked to enable innovation and sustainable growth in the UK's Space industry across a number of sectors by working closely with a focussed set of Space sector stakeholders to develop and implement projects, programmes and activities where the UK Space Agency can provide strategic value.
ESA Business Applications provides funding and technical support to bring innovative commercial projects to market that employ a use of GPS, Earth Observation imagery or satellite communications. As the UK's Ambassador Network Co-ordinator, Ian works closely with his team of five regional Ambassadors, gaining unique insights into the commercial potential of space applications.


The Venue
Beneath the wings of the iconic Concorde, at Manchester Airport's Runway Visitors Park.
Attendance is free, refreshments and lunch are provided, and, at the end of the day, you'll have the opportunity to explore Concorde itself!
Dietary Requirements: Please email alan.cross@stfc.ac.uk for any specific dietary requirements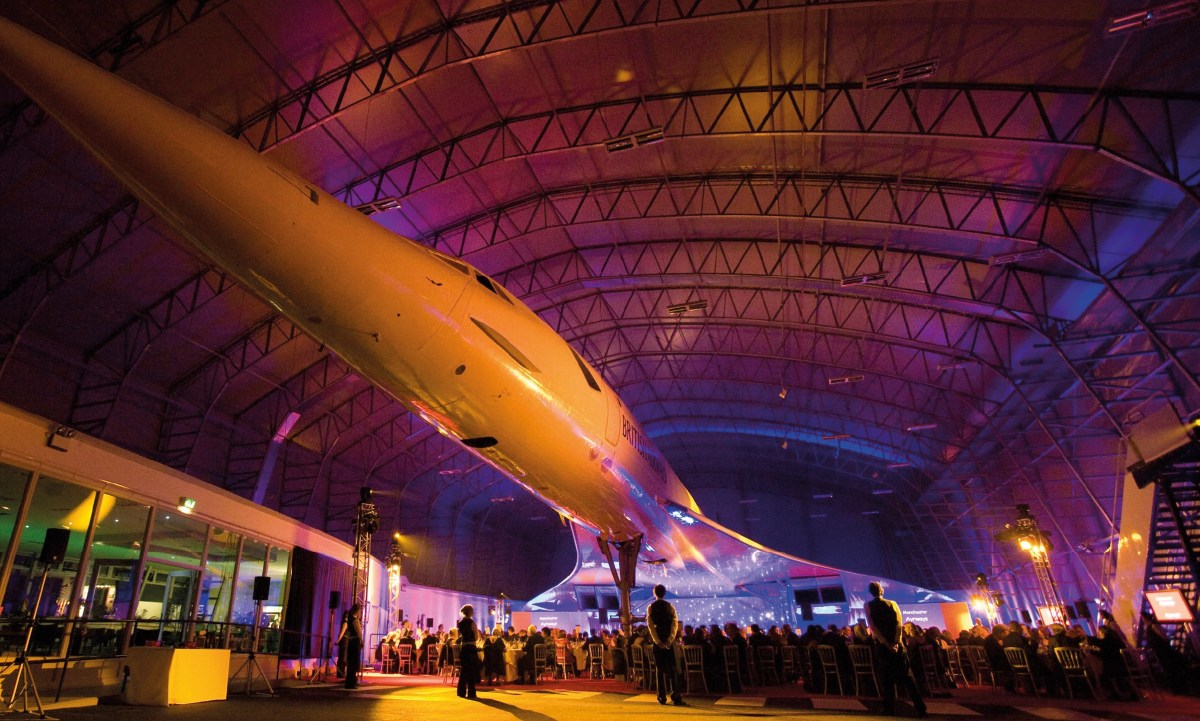 ---
This conference is organised and paid for by the ESA Business Applications Regional Ambassador (North West England & North Wales)
Five regional ambassadors are tasked with identifying and supporting individuals, companies, agencies and organisations across the UK who could benefit from the financial and technical support of ESA Business Applications.
Alan Cross, the Regional Ambassador for North West England & North Wales, is hosted by the Science and Technology Facilities Council (STFC), part of UK Research and Innovation (UKRI), in Daresbury, near Warrington.
For more information, please contact:
@ESABA_NW