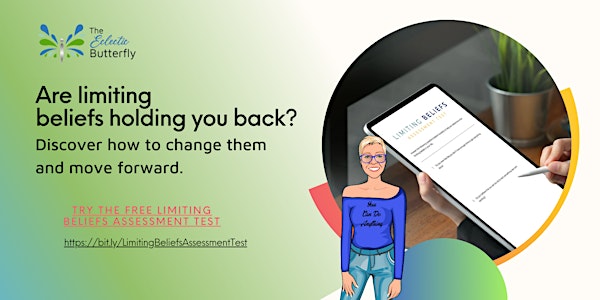 Your Limiting Beliefs - Discover how to change them and move forward
Refund policy
Contact the organiser to request a refund.
Eventbrite's fee is nonrefundable.
Identify the limiting beliefs that are holding you back, rewrite those beliefs into empowering beliefs, learn to take action & move forward.
About this event
Anyone that wants to learn how to be a more effective version of themselves will benefit from this course.
Is it the voice of nagging doubt that stops you doing things that you want to do? That voice that stops you fulfilling your ambitions and dreams because, "You'll never be able to make your dreams come true. That's just what they are - dreams."?
Have you ever wanted to move forward in life and gone through the whole self reflection or self check as to whether you can? Started to step forward and 'nagging doubt' whispers "You're not smart enough" or "It's difficult to succeed."?
And so what if you did, you held your head up, you pushed the little sh!t to one side and carried out, you've become successful and yet every so often you still hear nagging doubt whispering... "Others won't like you if you're successful" or "Money is the root of all evil."
It doesn't matter what your situation, where you are in life, nagging doubt will always be there for some of us, for most of us in fact, it's just how much it has been reinforced that makes the difference...
"Once a failure, always a failure."
If you're tired of hearing these things, if you want to move past nagging doubt, kick it to the kerb and start afresh, then it's time to come and meet someone who thought fuck it, I've had enough of that!
But don't be like me and wait...
I waited far too long before I believed I could make a change in my life and I openly share my journey, my limiting beliefs with you and the shocking way I made my change.
In this 6 week course you'll learn how to:
● Identify the limiting beliefs that are keeping you from achieving your fullest potential
● Rewrite those limiting beliefs with empowering beliefs that will transform the way you live every day
● Take specific action to put your new, empowering beliefs into practice
● You'll discover why you face the same situation over and over again
● You'll learn about the mental processes that make your situation worse - and how you can stop them.
● You'll identify the routines which contribute to your emotional chaos.
● You'll learn effective strategies to take control of your life, so you can move forward toward your goals again.
● You'll rediscover the real, wonderful YOU hiding beneath those negative beliefs.
● You'll discover the key secrets to being able to leave your limiting beliefs behind.
What benefits will I gain from this course?
You'll learn to identify the limiting beliefs that have held you hostage and kept you from achieving your full potential.
You'll learn how to replace those limiting beliefs with new, empowering beliefs that set you free and help you achieve your biggest hopes and dreams.
You'll learn specific actions that you can take which will help you overcome your limiting beliefs and reinforce your new, empowering beliefs.
You'll learn specific affirmations that will empower you to reach even greater heights and to leave behind the limiting beliefs that have kept you down.
This course is geared toward those who are tired of being held back by their limiting beliefs. This is about knowing now is the right time to believe in yourself. Because otherwise when is the right time?
Trust me! It's Now!
Find out how I changed my life around after walking away from a limiting relationship in the clothes I stood up in, to running two limited companies with a 6 figure turnover! stopped letting the myths and routines hold me back.
I stopped listening to the voices of people throughout my life telling me I couldn't, I shouldn't, I wouldn't! And I found a way to break away, to understand how to leave the past in the past, to know how wonderful I am, how wonderful we all really are, to keep hope alive and to...
Confront my Limiting Beliefs and to Crush my Limiting Beliefs, and now, I'm sharing it with you!
Overcoming your limiting beliefs is challenging...but it also feels AMAZING!
It's hard getting past inner obstacles, and yet once we learn how, NOTHING is the same. We feel FREE again. Unconstrained. Moving forward toward a bright future. And yes, sometimes it's just easier to stay in your same routines, unknowingly extending that stress, making you live failures over and over again, keeping you stuck where you are.
But I've learned one huge lesson learning to overcome your limiting beliefs is key to loving your life.
You can't be happy when you feel like you're stuck in the harmful effects of your inner obstacles, allowing the negative effects of your limiting beliefs to completely DESTROY the future that awaits you.
Knowing how to stop that negative spiral of failure and move forward is key!
But overcoming your circumstances takes some serious courage. Boldness. Even support from others. Which is why we also have a FB group that you can join once you sign up, where we support each other too.
Crushing Limiting Beliefs is a step-by-step training precisely for those who want to overcome their limiting beliefs, regain their confidence, and enjoy their life again.
Crushing Limiting Beliefs: How To Triumph Over Your Inner Obstacles
The course will guide you and teach you everything you need to know about leaving your limiting beliefs behind.
This has the power to TRANSFORM your life!
Delivered over 6 weeks ,a mixture of lives and pre-recorded webinars and presentations. All links will be accessed via the FB group and via email.
Schedule June 16th, 23rd, 30th, July 7th, 14th and 21st *
Sessions are 1.5 hours
*Subject to change