Description
Are you a member of a community organisation, a carer or a health practitioner; an occupational therapist, local history society or environment group; a service user, patient, client or participant linked to any of the above?
Do you work in the third sector or for a local authority; for the NHS or as part of the criminal justice system; with people in recovery?
Do you volunteer or work with volunteers? Do you want to improve your health, learn new skills and help your community?
If the answer is yes, then YOUR MUSEUM would love to meet you!
Drop in to our free event at Great Hall, Discovery Museum, Wednesday 22 March, 12pm - 3pm and find out how YOUR MUSEUM can support you and your work.
Throughout the afternoon, an inspiring programme of talks, tours, workshops and activities will give you a flavour of what we offer and how we can help you. Staff and volunteers from across Tyne & Wear Archives & Museums will be on hand to give support and advice.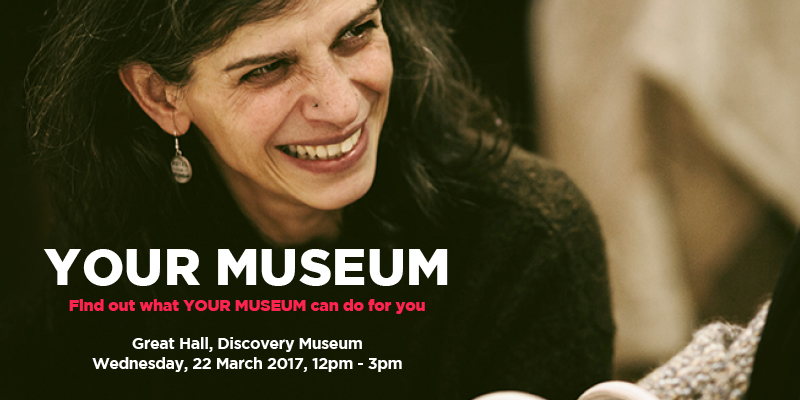 What can YOUR MUSEUM offer you and your community?
How can museums, art galleries and archives make a positive difference to people's lives?
How does a museum improve your health and wellbeing?
How can art galleries help you learn new skills?
How can you use an archive to find out more about your community?
You may have worked with Tyne & Wear Archives & Museums Outreach programme before. If so, this will be a great chance to learn more about current work and future plans.
It will also be an opportunity to network, meet people and learn about new experiences with the museum.
Tyne & Wear Archives & Museums provides archives services across the five local authority areas of Tyne & Wear and manages museums and galleries in Newcastle, Gateshead, North Tyneside and South Tyneside and for Newcastle University.
We look after a collection of over 1 million objects and have 14km of archives shelving!
This is YOUR MUSEUM and we want you to use it.
This event is free and open to everyone.
If you are interested please register your attendance.
To find out more, please contact: