Event Information
Location
Bobby Moore Academy (secondary school)
1 Siding Street
London
E20 2AE
United Kingdom
Description
It's your neighbourhood, so let's talk about it: join us at the Bobby Moore Academy (secondary school) on 19 March between 6pm and 8.30pm for an evening of information, questions and discussion. Whether you're interested in finding out the latest changes on the Park, new plans for the area, how you might be affected or ways you can get involved in the local community, stop by and join in this interactive forum.
The Marketplace
Running throughout the evening, the community marketplace is your opportunity to talk to representatives from a range of organisations about their work on the Park and in the surrounding area, and any plans they have for 2019 and beyond.
There'll be a host of organisations for you to meet, including: UCL East, East Wick and Sweetwater, Pro Bike Service, Stratford Waterfront construction, Telford Homes: Wallis Road, Madison Square Gardens, Friends of Bow Back Rivers, Centre for the Protection Rural England, the Yard Theatre, Copper Box Arena and London Aquatics Centre, London Borough of Newham, Get Living London, Park Champions, and more.
Your Views
Each of the new neighbourhoods across the Park will be home to a new spaces and services that a successful
community needs? Join one of our roundtable discussions, running at 6.30 and 7.30pm, to share your views
on what makes an ideal community centre. As we shape the future of these neighbourhoods we want to hear from you: what do you like, dislike and is there anything you feel is missing?
London Marathon Community Track Tour
We'll also be running tours of the London Marathon Community Track throughout the evening, at 6.15 and 7.15pm. As well as being home to Newham and Essex Beagles, a leading athletics club with over 25 Olympians among its alumni, the track is also available for public use. Booking is essential as places are limited.
Refreshments will be provided.


Any questions in advance contact YourNeighbourhoodTalks@QueenElizabethOlympicPark.co.uk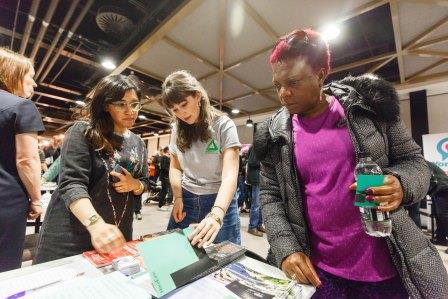 Date and time
Location
Bobby Moore Academy (secondary school)
1 Siding Street
London
E20 2AE
United Kingdom