Description
Join Your Office Space for the official relaunch of Gloucester House; a newly refurbished & serviced office space that is now a 24/7 state of the art smart office hub & cafe.
Click here to view the new Gloucester House amenities: https://youtu.be/2tZnPLAFLMk
The event will also be supporting The MK Community Foundation so any donations will be greatly appreciated.
The Business Live team are proud to welcome: Iain Stewart MP, Julian Hynd (Chair of IOD Bucks and MK), the Mayor of MK, Billy Schwer (former World Champion Boxer now motivational speaker for businesses) and Business MK for the official ribbon cut.
ALL local businesses are welcome for an evening of networking, mocktails and canapés.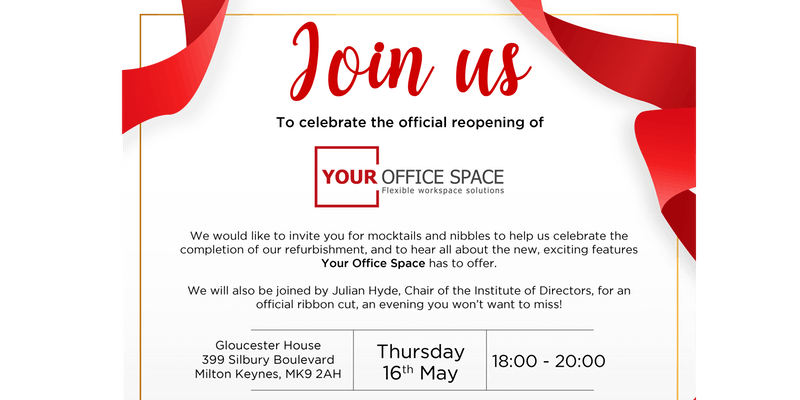 Itinerary:
1800 - Arrival and informal networking
1830 - Welcome Your Office Space team
1845 - Official opening - Iain Stewart MP, Mayor of MK, Julian Hynd - Chair IOD (Bucks & MK), SEMLEP, Natwest Business
1900 - Billy Schwer - Ex world champ boxer
1915 - Office show round
2000 - CLOSE
MK College will be kindly providing all the catering and refreshments on the evening
MEDIA PARTNERS - Business MK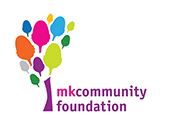 "MK Community Foundation is the leading grant-making charity in Milton Keynes working for and at the heart of Milton Keynes. We connect people and resources to projects and ideas to create positive change in our communities. Last year, we gave "roundabout" £2 million in support to the local Voluntary Community and Cultural Sector.
Each year, individuals and businesses help us raise funds for our Surviving Winter Appeal, through which funds raised to support older and/or vulnerable people to stay warm and well over the winter months. This may include the provision of emergency support and advice for those unable to pay for essential items or services relating to keeping warm and safe in the winter months, or support for preventative measures year-round."
Organiser of Your Office Space Official Launch Event
Victoria Beale Events LTD specialises in providing businesses with a unique, 12 month programme of commercial, lead generating and eventually 'self funding' events or new business development campaign to stimulate business growth.   The unique events programme encourages new, pre-qualified prospects to engage with the business and the brand, stimulate word-of-mouth increase membership of new, pre qualified customers to the company.
VBE LTD and trusted partners conceptualise a bespoke events programme, which will change every 12 months to retain interest, create a full sales and marketing strategy to promote the events, event manage logistics on the day of the events and follow up with any leads afterwards.  Each programme is tailored to the client's requirements, target audience and budget.
VBE provides an entire supply chain of promotional and production expert partners who work alongside the team to ensure a successful outcome.
Victoria Beale has over 20 years direct sales ( new business development, telesales, face to face) experience having had a career in Recruitment from 1999 to 2009.  Since 2009 Victoria has created and implemented a range of high profile corporate events, including 3 major exhibitions, conferences and a business networking lunch club - Business Live which she retains all the IP and the 10 year brand today.
Background
Victoria Beale's past 10 years experience, has been creating, promoting and implementing her own corporate and social events from small business lunches of 30 to 80 delegates to major exhibitions of 1500 to 3000+ delegates:
2009 - Make it Happen with Kriss Akabusi MBE – 200 delegates
2010 - Business Live LTD launched monthly in Milton Keynes 50 – 90 delegates per event
2011 – Business Live LTD launched monthly in Leicester 50 – 90 delegates per event
2012 – Business Live LTD launched monthly in Nottingham – 50 – 90 delegates per event
2013 - 1st Business Expo 3.0 – 2000 delegates
2014 - 2nd Business Expo 3.0 – 3000 delegates
2015 - 3rd Business Expo 3.0 – 2500 delegates
2016 to Nov 2017 – 3 x Landlord Summit MK – 75 -120 delegates per event
2017 - Property Live launched – 60 delegates
2018 - Business Live Conference and Expo – 100 delegates
2018 – The Property Network – 60 delegates
2019 – INN Q1 meet at Home House, London – 65 delegates
2019 - Official Launch of Your Office Space – 60 delegates
 VBE LTD currently has a network of over 20,000 investors, property developers, CEO's/ Senior Directors and decision makers. 60% in Milton Keynes and South East Mids region.