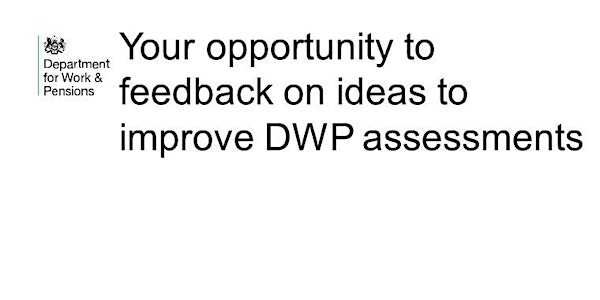 Your opportunity to give feedback on proposals to reform DWP assessments
Your opportunity to give feedback on proposals to reform future assessments
About this event
The Department for Work and Pensions (DWP) has recently published Shaping Future Support: the Health and Disability Green Paper, which contains more information on how we want to make the benefits system better.
This event will have a specific focus on health assessments.
DWP are running a series of virtual events to hear from people with disabilities and health conditions who have had direct experience of health assessments. We have been gathering feedback on assessments and would like to hear your views on our proposals. In the event, we will ask you for your views on one of the proposals – what you like or dislike, what changes you would make to it and whether it could work. The proposal we will be discussing at this event is: Testing the idea of a Health Impact Record so people can record the impact of their condition throughout their claim.
Once you have registered for the event we will provide you with more information about how the session will work. Each session will be 75 minutes long and there will be a scheduled break. The virtual event will be held on MS Teams and we will be presenting PowerPoint slides. Each event will be restricted to six people so if you sign up and find that you are unable to register due to the event being at full capacity, you will be added to a waiting list and notified when a space becomes available. Please let us know when you register if there are any individual accessibility requirements we need to be aware of to ensure you can fully participate in the event. To reserve a place please select register.
If you reserve a place at this event but then find you cannot attend, please cancel your reservation. This will let someone else attend in your place. Thank you.