Location
NOW Gallery
NOW Gallery
The Gateway Pavillions
London
SE10 0SQ
United Kingdom
NOW Gallery presents Your Ship Has Landed by Lydia Chan.
About this event
Please note that in response to the recent escalations in the pandemic, we are now requesting that visitors book with time-slots to ensure there is no overcrowding in the gallery. Walk-ins will be accepted during quieter periods.
NOW Gallery is delighted to announce that multidisciplinary artist Lydia Chan has been selected for the 2021 Design Commission. The aim of this Commission is to create a space for visitors to come and perform in, interacting with a narrative that explores the bubbly fantastical qualities of science fiction in a time where science is so filled with doom and gloom. Lydia has collaborated with digital artists Songyee Kim and Thibault Evrard to create an AR experience, a portal between digital and physical.
A self-defined maximalist, Lydia is a set designer and multidisciplinary artist who loves monsters, designer toys and cartoons. The artist's bold and narrative building aesthetic has established her as one of the most exciting young set designers working in the industry today, with clients including Vivienne Westwood, Stella McCartney, Vogue China, Gucci and Converse.
Lydia is interested in nature through the goggles of the artificial, exploring the idea that through isolation in our homes, the natural world becomes more foreign to us. Lockdown may be over but isolation remains in our subconsciousness. Like space explorers treading on a foreign planet, we are still acclimating to the attributes of our new environment. Through an alternative lens she has reinterpreted nature as an alien world.
This exhibition aims to bridge the gap between our new-found digital lifestyle and our renewed experience of the natural world. It will provide our eyes with the opportunity to be stimulated by an array of amazing colours, and delight in alien shapes beyond the everyday. Our spaceship has landed in a new and provocative setting.
Originally from Canada, Lydia sees this exhibition as being in vivid contrast to the pragmatism of adult life. This exhibition will have high intensity colours, funny objects and AR elements to create a totally unexpected fantasy experience. Install the filter, hold up your phone and you will be transported to another world: one that blends digital and physical.
With Lydia's love of cartoons, she has created a frivolous world which she hopes will make people happy, excited, and saturated with fun and colour. The aim is that you will feel like a child again. You can perform in this space and leave your mark in this new vivid world. Lydia is clear that this exhibition is for everyone, a visceral installation for all to enjoy. She talks of there being no grand concept as she is excited to see people enjoying the installation for its own sake: as a fabulous environment.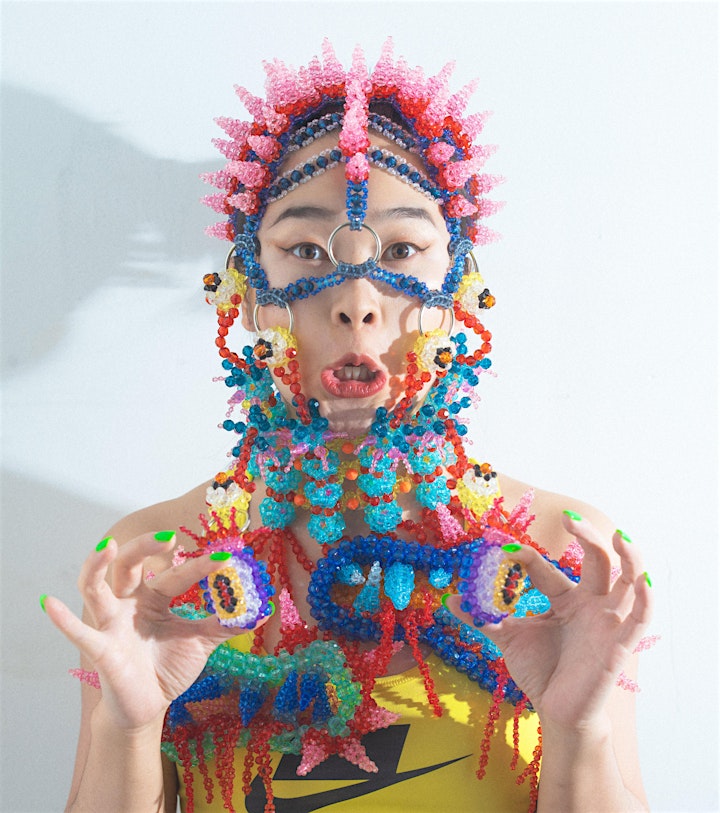 Lydia trained as an interior designer before studying Fashion Communication and Promotion at Central St Martin. As a child she was always interested in making things, working with her hands and experimenting with a variety of making techniques.
"When I was a kid, my Dad brought colourful beads back from Hong Kong and I learned this trendy 3d beading technique. As an adult I started developing this technique to create monsters."
Through developing this technique Lydia came upon a professor in the National Taiwan University who was exploring molecular aesthetics through beading. This ignited her interest in the regulated way atoms come together to create chaos.
"We are all a collection of cells like little dots coming together to make a whole person. We try to detach science from our daily lives – but we are bound by the properties of the physical world."
It is Lydia's hope that this exhibition can plant a seed of science fiction and fantasy in your subconscious. She hopes to open up conversations about reinterpreting science as fun, tapping into the science fiction that influences her. Science may appear sterile but she sees it as flamboyant, discursive and exciting.
The exhibition also expresses her interest as a maximalist, exploring how repetition of similar alien objects creates a vibration and rhythm resulting in an experience that is more than the sum of their parts.
"Lydia Chan's 'Your Ship Has Landed' is going to give us the energetic exhibition we all need. For our winter months we are going to be enticing people into a world with both her comic aesthetic and her colourful ethos. Fun is needed. Our objective is to have an environment where people are able to come and perform, dance, pose whilst also absorbing Lydia's perpetual curiosity in how the world works." NOW Gallery Curator Jemima Burrill
"Having the opportunity to design a large-scale immersive installation at Now Gallery is so amazing. As a set designer I spend most of my time making 3D objects that get experienced through 2D images. This exhibition at Now Gallery is the first time I get to create work that a large audience can experience in a 3D context." Lydia Chan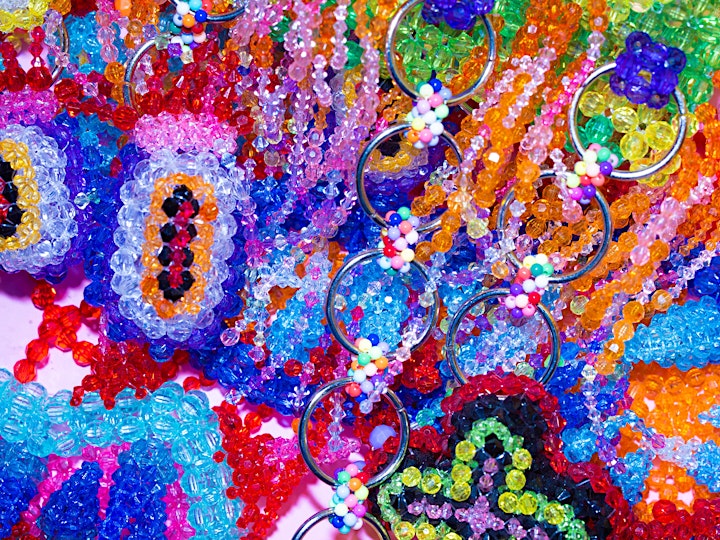 Please ensure that you have downloaded the NHS Covid-19 App before your visit.
Staying Safe During Your Visit:
In light of the ongoing COVID-19 pandemic, we've introduced additional safety measures to keep both visitors and staff safe. We operate a Covid Secure and ask that you familiarise yourself with the below guidelines before you arrive:
● If you are travelling via public transport, ensure that you wear a face mask on the journey, keep your distance from others and where possible avoid peak transport times.
● We've introduced screens, installed hand sanitisers, increased cleaning regimes and decreased touchpoints. Please ensure your hands are cleaned upon arrival, we will ask you to sanitise upon entry and exit.
● Our gallery staff will be wearing a face covering and we ask that all visitors wear one too (unless exempt) when inside the space to help keep everyone safe.
● Before making your journey to the galley please make sure that you have not been requested to self-isolate and that you do not have any of the following; a high temperature; a new continuous cough; a loss, or change to, your sense of smell or taste. If you do have any of those symptoms do not travel and contact NHS Direct.
● In the event that you start to feel ill on site please keep your face covering on, maintain social distancing and notify a member of gallery staff who will take you outside and advise how to proceed.
We will brief all visitors on our COVID-19 protocols upon arrival and are really looking forward to welcoming you back to NOW Gallery.